Reflect for a moment, if you will, on the hotel bar. It's a humble yet wildly important facet of any fortress of hospitality worth its salt. From its eclectic clientele, sometimes ostentatious demeanor, more-often-than-not steep prices and stellar location of a short stumbling distance to where you'll be spending the night, the qualities of a top-quality hotel bar can not be replicated anywhere else. Perhaps it's no coincidence, then, that some of the most iconic bars in the United States, in general, can be found inside hotels. From fancy cultural institutions and historical hideaways to ultra-hip meccas of cocktail, here's your guide to the country's most iconic hotel bars. Cheers to that.
Bemelmans Bar at Carlyle Hotel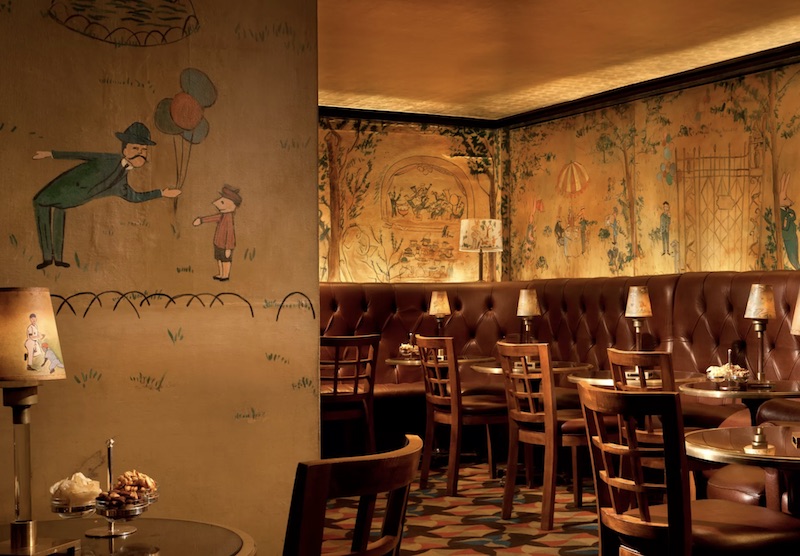 New York, N.Y.
The epitome of class and elegance, New York's Carlyle stands out in a metropolis full of world-class hotels. Hosting everyone from John F. Kennedy and Jackie O. to William and Kate, one of the crown jewels of the historic spot is Bemelmans Bar. Recently anointed by New York Magazine as "the most famous bar in New York City," the chic watering hole is plastered with original murals by the famed Ludwig Bemelmans (creator of the "Madeline" children's book series), has live entertainment every night (including former "Tonight Show starring Johnny Carson" pianist Earl Rose), and boasts stunning cocktails named after its famous clientele. That includes the aforementioned Jackie O.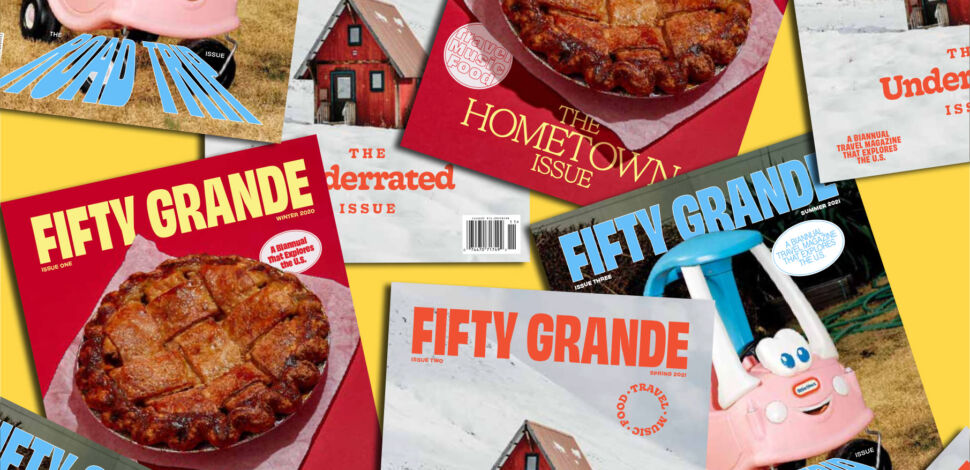 Lewers Lounge at Halekulani Hotel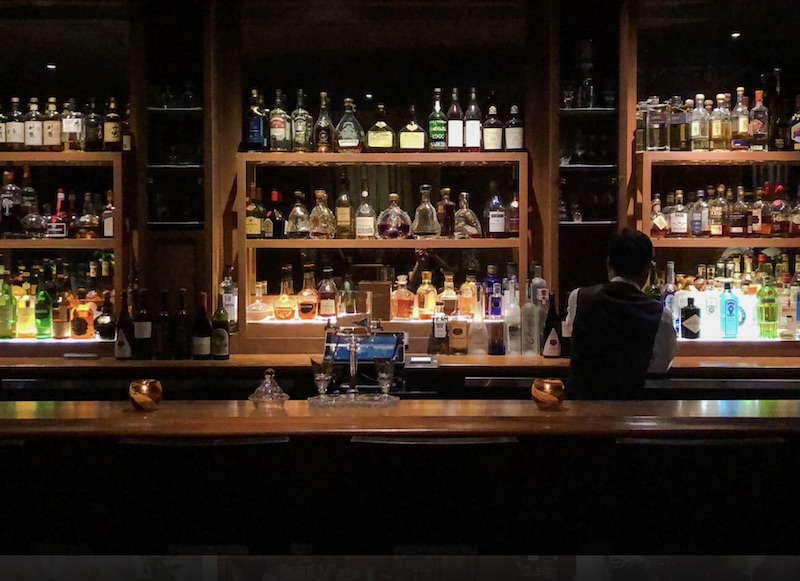 Honolulu, Hawaii
When it comes to hotel bars in Hawaii's idyllic Waikiki, you're probably thinking of too-sweet drinks, corny decor and a cadre of drunk, sun-burned families. Those decidedly are not the vibes at the famous Lewers Lounge in the stunning confines of stately Halekulani Hotel. Named after the Hawaiian word for "house befitting heaven," the 103- year-old Halekulani is a shining star in the vast galaxy of Hawaiian hospitality. The culture of the hotel arguably revolves around Lewers, where expert bartenders whip up an impressive array of top-quality cocktails and spirits, all to the tune of live musicians most nights of the week. But don't expect to waltz in wearing your bathing suit: dresses for the girls and jackets for the guys complement its classy atmosphere.
Bleau Bar at Fountainbleau Miami Beach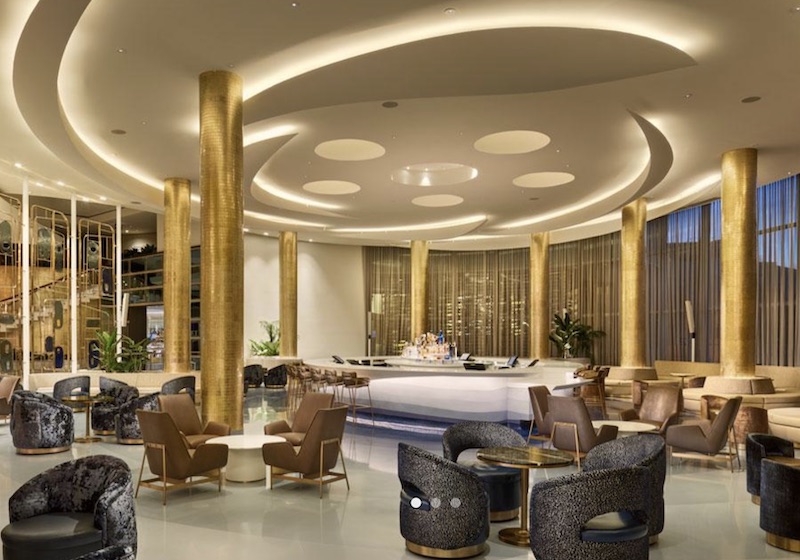 Miami, Fla.
The Fountainbleau is an extraordinary hotel that has attracted visitors to sunny Florida since the famed architect Morris Lapidus built the place in the 1950s. It only makes sense, then, that the elegance of the era would also be felt at the popular hotel's Bleau Bar in the present day. It's a lobby bar that takes the basic concept to another shimmering level. Splayed on top of marble floors, the sprawling bar was once a favorite of Frank Sinatra (his relationship to the hideaway was previously covered on Fifty Grande). These days, the bar still serves up bottles of Sinatra's favorite, Jack Daniels, as well as a menu full of libations meant to gear revelers up for a classy night on the town amid the palm trees of Miami Beach.  
Round Robin at Willard InterContinental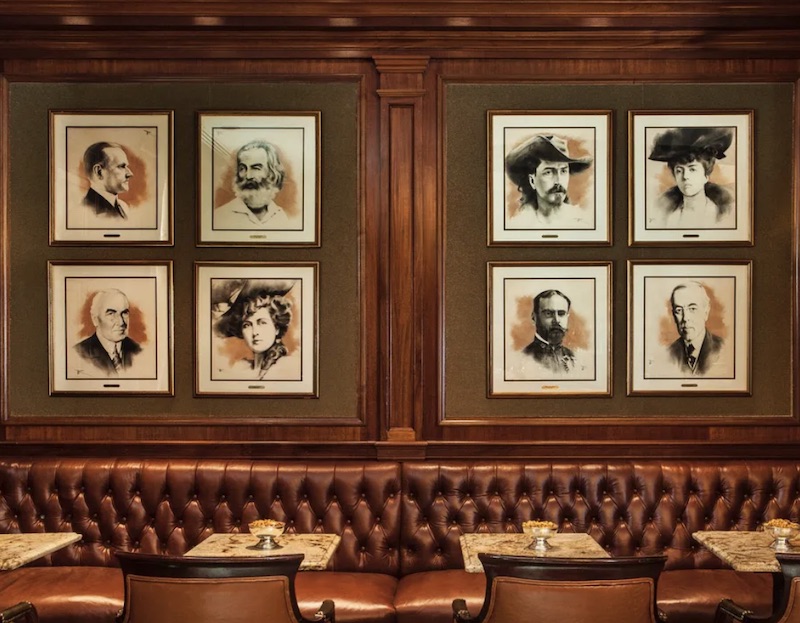 Washington, D.C.
The single oldest establishment on this list, D.C.'s famed Round Robin Bar can trace its history inside the Willard InterContinental all the way back to 1847. Since then, the oak-paneled enclave has gained a moniker as the "Oval Office of bars," thanks not only to its proximity to the White House but due to the fact it regularly draws many of the Beltway's boldfaced names. Forever immortalized in a poem by none other than Walt Whitman, the Round Robin menu of libations is known for its Henry Clay mint julep. An early variation of the classic cocktail, it's named after the 1800s-era representative from Kentucky who was a former patron.
Bar Marmont at Chateau Marmont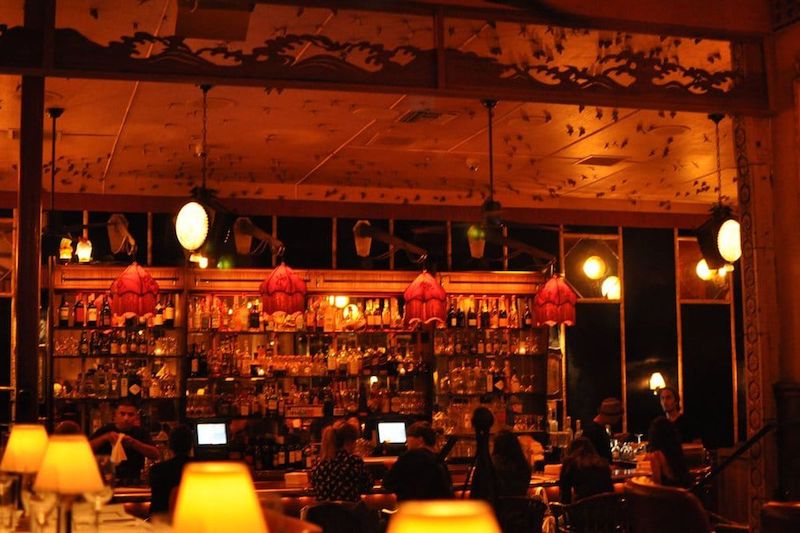 Los Angeles, Calif.
Nothing embodies Hollywood glamour like the renowned Bar Marmont at the cultural mecca Chateau Marmont, a bastion of hospitality that is like a Lana Del Rey song come to life. A go-to hideaway of the rich and famous for decades, its current cache is equally impressive with movers and shakers in film, television, music and beyond regularly drowning their sorrows or cheers-ing their successes within its French Gothic-slash-thrift store confines. Perhaps that's why the hotel and its adjoining bar have been favorites of everyone from F. Scott Fitzgerald to Hunter S. Thompson, and name-dropped in songs by everyone from Miley Cyrus ("Plastic Hearts") to the aforementioned Lana Del Rey ("Off to the Races").
King Cole Bar at St. Regis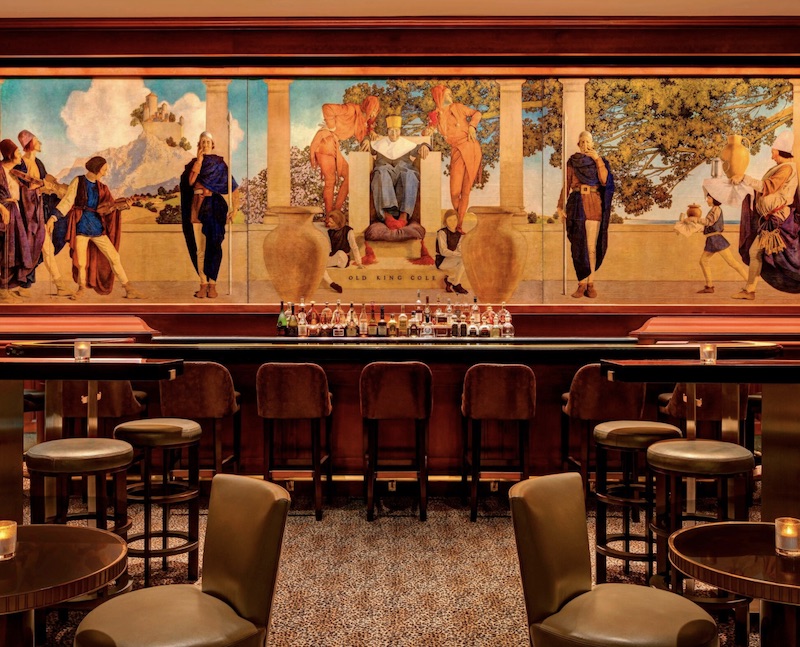 New York, N.Y.
Back in the bustling Big Apple, the resident bar located on swank Fifth Avenue at the St. Regis Hotel dubbed King Cole takes its royal title from an original 1906 painting by Maxfield Parrish which is perched above revelers. The history doesn't stop there as the bar and hotel is overflowing with anistory doesn't stop there, as the bar and hotel is overflowing with an impressive past. Take, for example, that it's the former home of the Spanish artist Salvador Dali or that the St. Regis is where John Lennon recorded a demo of "Happy Xmas (War Is Over)." More recently, the bar has been a filming location of everything from "Gossip Girl" to "The Devil Wears Prada." The King Cole will forever have a place in boozy history as it's (allegedly) where the Bloody Mary was first concocted. It's still on its menu today, under its original name: Red Snapper.
Lobby Bar at Roosevelt Hotel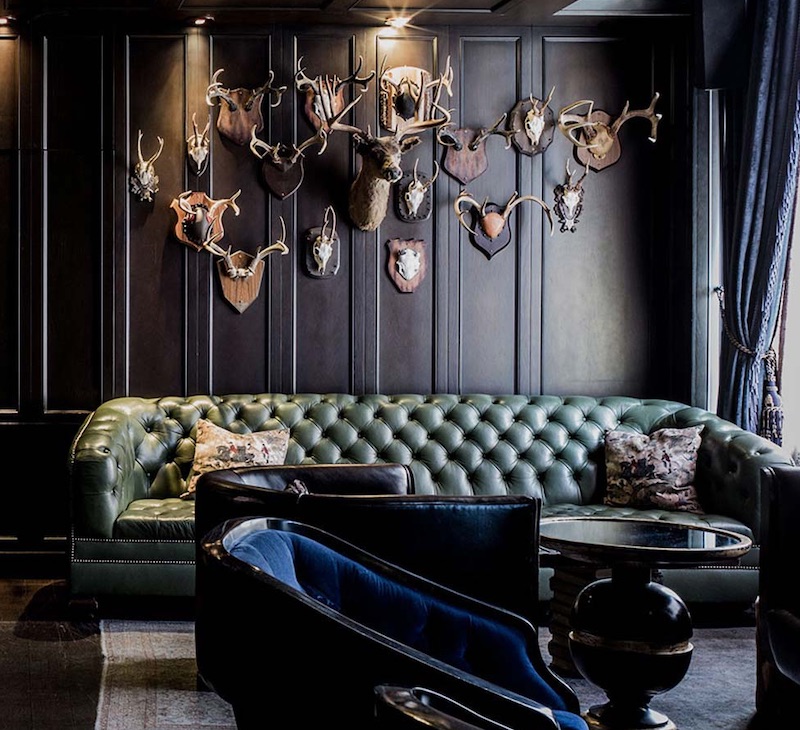 Los Angeles, Calif.
On Hollywood Boulevard, steps away from the instantly recognizable Chinese Theatre and along the city's famous Walk of Fame, lies the towering Hollywood Roosevelt. Named after President Teddy Roosevelt himself and originally funded by early Hollywood figures including Mary Pickford and MGM's Louis B. Mayer, the hotel is the oldest continuously operating one in all of Los Angeles and can trace its history back to a litany of famous guests, whether Brad Pitt or Marilyn Monroe. (In fact, the hotel's former nightclub, the Cinegrill, is where the latter bombshell met and fell in love with future husband Arthur Miller.) While the Cinegrill is long gone, these days the Lobby Bar, with drinks and food coming from the newly opened Barish Italian steakhouse, is the perfect place to pretend you're a Hollywood starlet.
Carousel Bar at Hotel Monteleone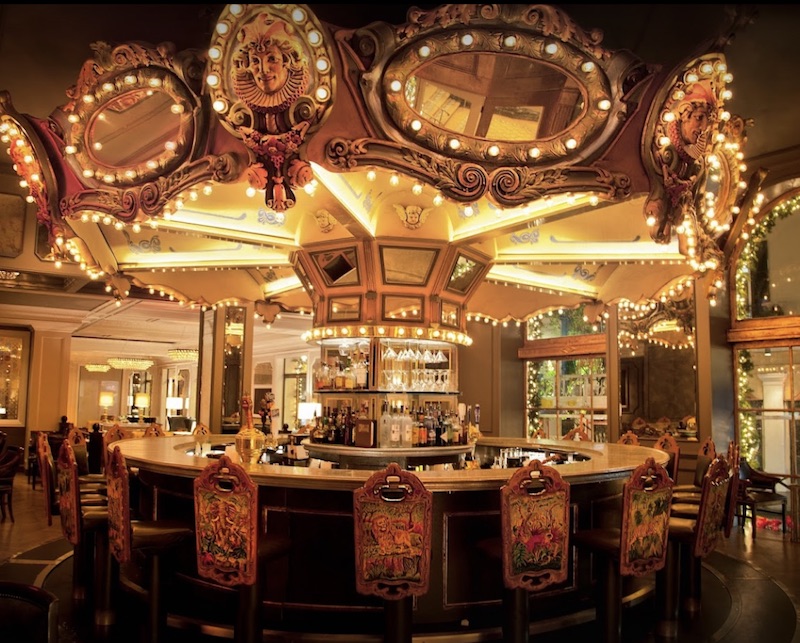 New Orleans, La.
An easy choice when it comes to trying to find a place to wash away your sorrows in the Big Easy, the Hotel Monteloene's Carousel Bar is true to its name as it literally revolves like a carousel. That means if you sit at one of its 25 seats, you won't only be spinning due to the spot's delicious drinks. Open in the city's French Quarter since 1949, the watering hole boasts a regular lineup of live entertainment and, due to its unique vibes, has been shouted out in literary works courtesy the likes of Hemingway, Faulkner and Capote.