It's an overused label, but Denver really is a city like no other. It's a place where you can shop, eat and enjoy art in an urban setting, and the next day drive out to the wilderness and casually summit a 14er (a 14,000-foot mountain, for those not down with Denver lingo) with your friends. And then after that, drink beer, eat amazing food and do it all over again the next day. You go to Denver to play hard and play hard some more. So when considering what makes a hotel cool in Denver, we thought about all of the things that draw people to the city: history, urban amenities, art, culture and cuisine and, of course, the epic beauty of the Rocky Mountains. Here are the coolest places to stay in the Mile High City.
The Catbird Hotel, River North
Upon entering The Catbird Hotel, you might think you accidentally walked into a chic co-working space. Or the home of an influencer about to Instagram the hell out of their home. That's how well-curated the midcentury decor and furniture is. The rooms come with a kitchen fully stocked with all the pans, plates and utensils you need — including the social media darling the Always Pan. With all the stylish and useful touches, you may never even want to leave your room. But you should, because there's also a rooftop with a bar, fire pits and hot tub. And the playroom is stocked with sports and fitness equipment, including bikes and fishing gear, and other items — like cameras and film — that you might want to borrow while you explore Denver and let your creative side go wild.
The Crawford Hotel at Union Station, Lower Downtown
Located right above Denver Union Station, The Crawford Hotel fuses modern decor and luxury with features authentic to the historic building. For example, the Pullman Rooms are modeled after 19th-century train sleeper cars, complete with vintage train advertisements adorning the walls. The Loft Rooms were made out of the original attic of the train station, so you'll find exposed timber and brick and sloped ceilings. The in-room iPad and Nespresso machine are nice reminders that you're actually staying in an upscale hotel. Also included in your stay: a daily scoop of ice cream at Milkbox Ice Creamery, a daily cup of coffee at PigTrain Coffee Co. and a daily craft beer in the Terminal Bar. You've really got everything you need, all in one building.
Halcyon, Cherry Creek
Halcyon's amenity game is strong. It's impossible to pick our favorite, so here's a few you'll enjoy without having to step outside: a 24-hour coffee bar, fresh fruit and baked goods, wine and beer every night and stations with sparkling and still water, fresh fruit and newspapers. Head to the Gear Garage to borrow outdoor equipment for all your adventures. But wait, there's more! You'll also have access to a day pass for the Denver Botanic Gardens, and special day passes for various Cherry Creek fitness studios including CorePower Yoga, SoulCycle, barre3 and more. Gather at the Kitchen Counter, a reimagined front desk of sorts, where you'll check in and out, hit up the concierge for whatever you need and also mingle while you snag those delicious goodies we mentioned above.
Hotel Teatro, Downtown
Ever slept inside a National Registered Landmark? You can check that off your bucket list at the Hotel Teatro. Originally built as an office tower for the Denver Tramway Co., the building has since gotten a face lift, partnering with local designer Studio Frank to incorporate contemporary design elements like marble columns and high ceilings with intricate molding. Speaking of locals: The hotel's Local Artist Program spotlights Coloradan creatives, showcasing their art and sharing the stories behind their work. And The Nickel — a restaurant named after the cost to ride the streetcar in the early 1900s — uses locally sourced ingredients and even ages its own spirits.
The Kimpton Hotel Monaco Denver, Downtown
Stylish digs with free booze and fitness equipment, the Monaco has everything you'll need for a well-rounded visit to Denver. The rooms are elegant and playful, colorful yet clean and modern, thanks to a mix of patterns, neutral tones, blues, leather and metallic accents. Every night, there's a happy hour in the lobby from 5 to 6 p.m., featuring wines, beer and apps from its award-winning Northern Italian restaurant Panzano. Speaking of which, if you're craving a big bowl of pasta or a perfectly cooked hunk of meat, you've come to the right place. Each room also comes equipped with a yoga mat, and you have complimentary access to bikes that'll make it easy to explore the city at your own speed.
The Maven at Dairy Block, Lower Downtown
Right in the middle of the hustle and bustle of the Dairy Block, The Maven is a great home base that puts you within striking distance of some of the city's best retail and dining options. The loft-style rooms are modern and bright, thanks to floor-to-ceiling windows. The workspaces are the perfect place for remote workers to post up and handle some business before heading out to explore the neighborhood. Guests get a margarita, glass of wine or craft beer at the front desk each night from 4 to 7 p.m., plus exclusive discounts on nearby restaurants, bars and retail stores. Rather stay on-site? Head to Kachina Cantina for some Tex-Mex or Poka Lola Social Club for an adult beverage. Make sure to get your complimentary coffee from Huckleberry, the onsite coffee shop that roasts and brews its own coffee.
The Rally, McGregor Square
Located just a hop skip and a jump away from Coors Field, The Rally is fittingly named after an age-old baseball superstition — the rally cap — in which fans wear their caps backwards or inside out for good luck. Hardwood floors, funky rugs and lots of leather accents make each room unique from the next. For the full experience, book a room on the eighth floor, known as the Mile High Floor because it sits at 5,280 feet in elevation. To really set the scene, the rooms here feature more dramatic design elements that mimic the color of sunset over the Rockies (think: dark wood, deep purple and shades of orange). Bonus: The whole hotel is pet-friendly.
The Ramble, River North Art District
It's fitting that in Denver's Art District, you'll find a hotel that's so well designed, you're going to want to move right in. For the shared spaces, the hotel's interior designers, Avenue Interior Design, drew inspiration from 17th-century French salons and their ability to create community and bring together the exchange of ideas. The guest rooms look like they're straight out of a home decor magazine, with cozy hardwood floors, Persian rugs, dark accent walls, art prints and chandeliers that make for a perfect mix of industrial-eclectic-luxurious. It's also the second location of New York City craft cocktail bar Death & Co., which has an extensive cocktail list and serves upscale bar food. The hotel also hosts DC/AM, a coffee and breakfast spot, and Super Mega Bien, a dim sum-style Latin American restaurant.
The Source, River North Art District
If clean and modern is more your vibe, you'll feel at home at The Source. The rooms feature a mix of wood and concrete, plus minimal color and clean lines. Book the Mountain View Suite for its view of the Rockies, and stay for the freestanding soaking tub. The Marketplace below the hotel brings together a mix of vendors selling food and retail goods. You'll find wood-fired pizza, smoked meats, upscale Mexican cuisine, New Belgium brews and even a homegoods and floral shop. If we had to pick, our vote for the hotel's best feature is the rooftop restaurant and bar, which has indoor and outdoor seating, live music during Sunday brunch and a swimming pool. What more could you ask for?
Thompson Hotel, Lower Downtown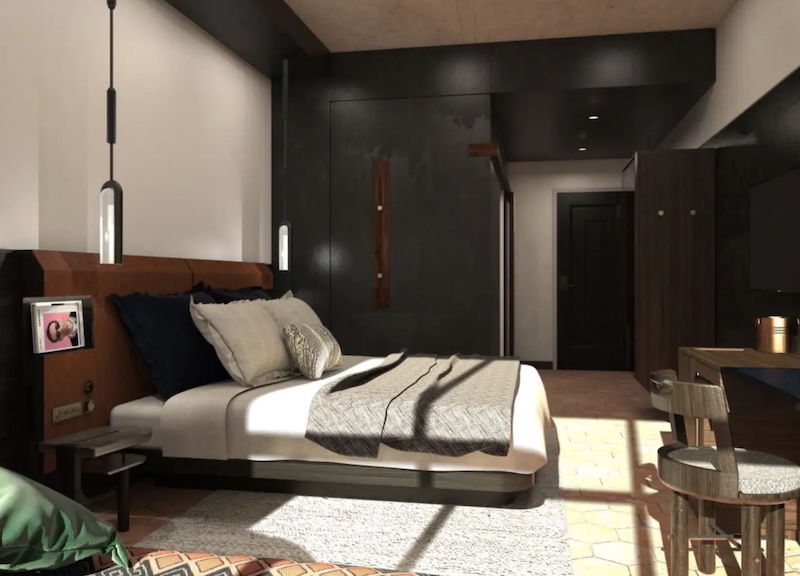 One of the newest hotels in town, Thompson Denver is a Hyatt property that looks nothing like a chain hotel. The luxurious-yet-casual mountain-style decor created by design firm Parts + Labor stands out in a sea of bright and modern spaces. We love those spaces too, but this is the only hotel on the list that feels like you've dropped into an upscale and tranquil ranch in the countryside, not a hotel in downtown Denver. Interestingly, the onsite restaurant, Chez Maggy, is French, but chef Ludo Lefebvre makes sure to incorporate ingredients native to Colorado for a more close-to-home experience. After dinner, grab a drink in Reynard Social as you take in the views of the Rockies and the Denver skyline.