Pictured: Murals inside Assembly Brewing in Portland.
Exploring a new city can be overwhelming, especially when there's as much to see and the neighborhoods are as varied as Portland's. Our tip, especially if you only have a few days to explore the Rose City, is to start drinking. Each neighborhood has at least one destination brewery, and using it as an anchor makes discovering the city less overwhelming. Plus, beer. Here's how I traversed these funky, suds-soaked streets, through a yeasty, malty fog, with just a few days to see Portland's breweries.
Assembly Brewing in Foster-Powell
Though nobody's confusing Portland with Detroit, the immigrant enclave of Foster-Powell in southeast Portland is about as close as you'll get to a neighborhood with grit. The older homes that line the streets haven't yet been overtaken by something new, and it's there that I passed through first-generation restaurants like Tambayan (Filipino) and the An Xuyen Chinese-Vietnamese Bakery. I grabbed a lumpia and bao bun and tasted flavors the rest of the city didn't match. Not far away, I visited Portland Mercado. There the foods were even more ambitious, so I made a mental note to stop back next time to sample the small Latin American eateries ranging from Colombian to Costa Rican.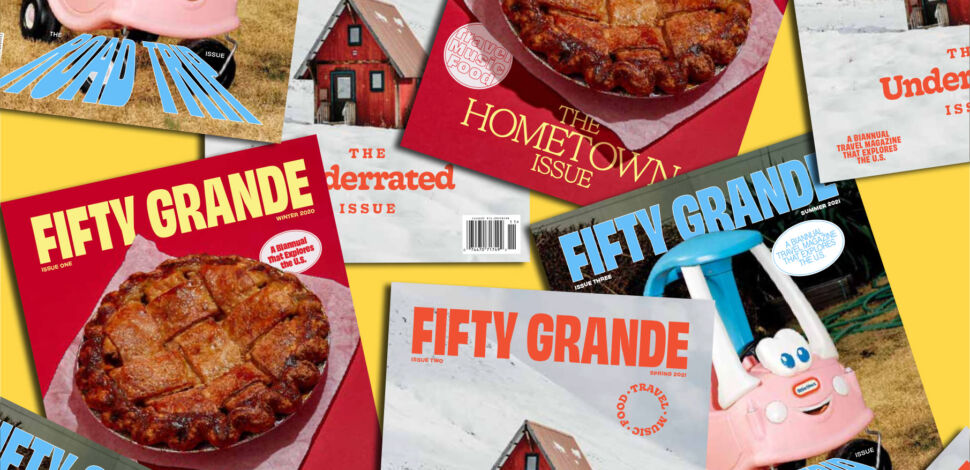 I decided to hike it up Foster Avenue to Assembly Brewing, which is just less than a mile away. A full block away from the brewery is when I first began to notice the aroma of deep-dish, burnt-cheese delicacies.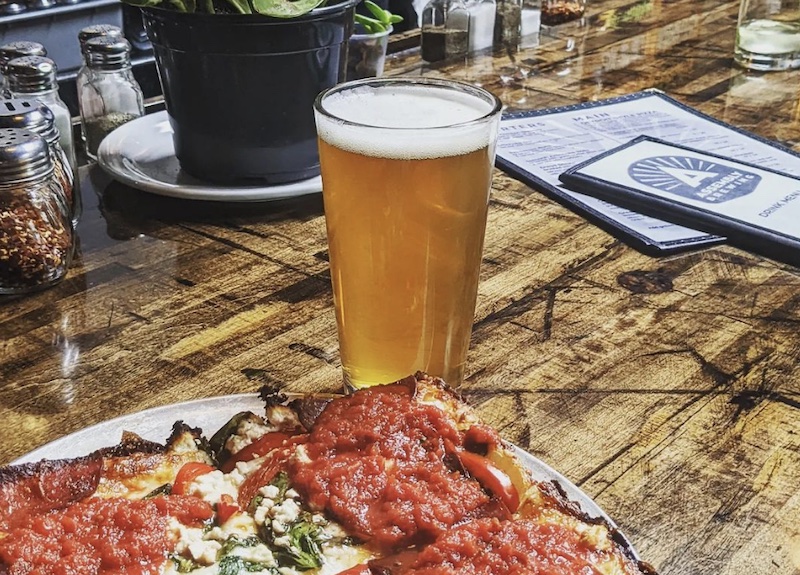 "Nobody makes Detroit pizza right here," says Motor City native George Johnson, the founder of Assembly Brewing and one person who certainly hasn't confused Detroit with Portland. "So I wanted to make it the way we had it back in Detroit."
His large-scale production brewery is almost as well-known as a pizza destination as it is for beer. Once inside, you find a beer hall lined with vibrant Rust belt-reminiscent murals that depict workers toiling away. There are 10 authentic Detroit-style pizzas on the menu, plus a custom option. When perusing the beer menu I was disappointed to learn they didn't have Fire-Brewed Stroh's on tap, but a Michigan-bred beertender walked me through other highlights, like the tangerine-coconut tropical IPA and the easy-drinking Golden Ale.
Ecliptic Brewing and North Mississippi Avenue
The area around North Mississippi Avenue used to be the center of Portland's Black community during the first part of the 20th century. Using a self-guided audio tour (the Albina Soul Walk) that started on Vancouver Avenue, I learned about the jazz clubs, dance halls and historic youth centers that made the area so vibrant before urban renewal bulldozed the once-thriving community.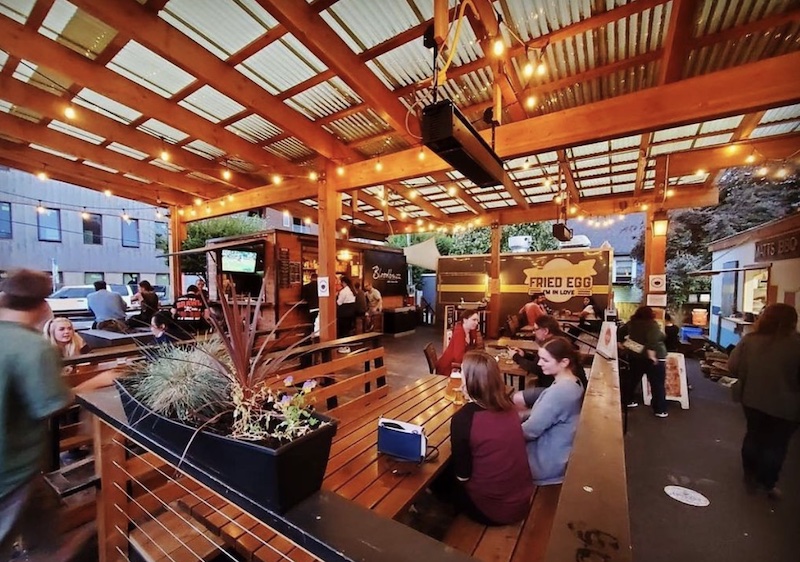 After the walking tour, I bellied up to the bar at Prost! beer hall on the north end of Mississippi Avenue. It anchors the Prost Marketplace, a yard of food trucks ranging from barbecue to Thai. With a long day of liquid bread consumption ahead of me, I bypassed the food options and hoisted a stein of Dunkel that I'd never heard of.
From there, I began a long, leisurely stroll through Portland's hottest food and drink neighborhood — the historic Mississippi District. Along North Mississippi Avenue I wandered into seed stores, clothing stores and even a recycled home décor shop full of young hipster couples looking to fashion their homes in the oldest designs.
About midway down North Mississippi Avenue I spotted a line winding out of Por Que No, the city's popular taco shop. Waiting in lines for food is against my religion, but a skinny man in skinnier jeans swore to me it was worth it for the pollo verde tacos. I took his advice and pressed on. A block later I found Stormbreaker Brewing, which on this sunny day was an ideal spot to enjoy a mango hazy IPA outdoors and people-watch, which, in Portland, is an exhibition of creative body art and face piercings.
The journey ended just around the corner from the end of Mississippi Avenue at Ecliptic Brewing, a massive space-themed brewery run by local craft-beer legend John Harris. You may not know Harris' name, but you probably know his work, as he served in a number of roles in Portland breweries. He was the original head brewer at craft-beer heavyweight Deschutes, where he developed the award-winning Black Butte Porter. Later, he was the brewmaster at Full Sail, where he oversaw the development of the Brewmaster Reserve line, among others.
"I was just always into space," the gray-bearded beer legend told me as he looked around the intergalactic murals that cover his brewery. "So when I started my own brewery, I thought, let's do something with space."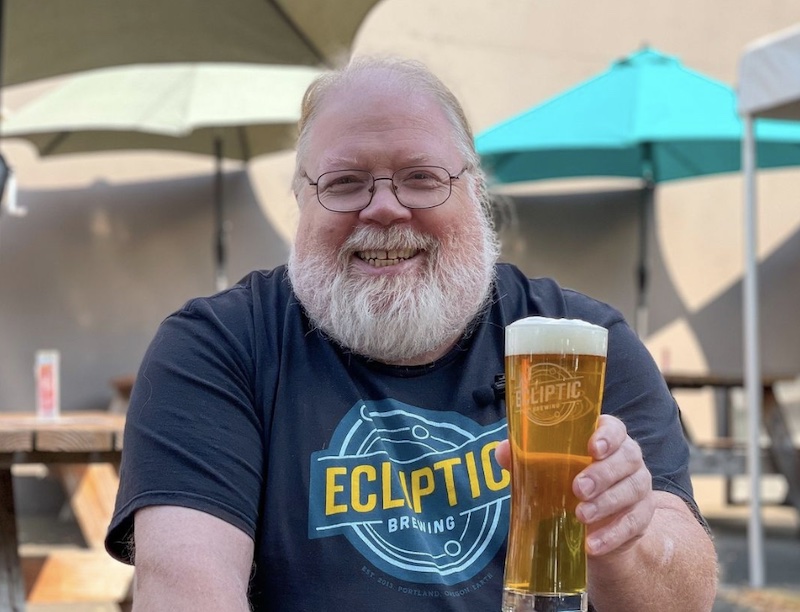 It was a little like drinking beer with Santa Claus after a bong rip (and to clarify — I have no idea if Harris did or not, but he was much more ha ha ha than ho ho ho), as Harris happily switched from subject to subject, and humbly downplayed his role in Portland's craft-beer history. As I left, he doled out presents and sent me out the door with six-packs of Starburst and LIGO West Coast IPAs.
A cadre of breweries in the Alberta Arts District
If a city has a robust arts scene, there's always a neighborhood that's the center of it all, with galleries, small restaurants and street musicians. That pretty much describes all of Portland, but from what I saw, it's most concentrated in the Alberta Arts District. It's where I wandered through blocks of street murals and impromptu performance art, past a roving massage cart and in a handful of art galleries. Alberta reminded me of what neighborhoods like Wynwood and Venice Beach used to be before big money moved in. No one's accusing Alberta of selling out yet, but I found myself trying to appreciate the area, as I realized any of the art galleries I wandered through could easily be a Lululemon soon.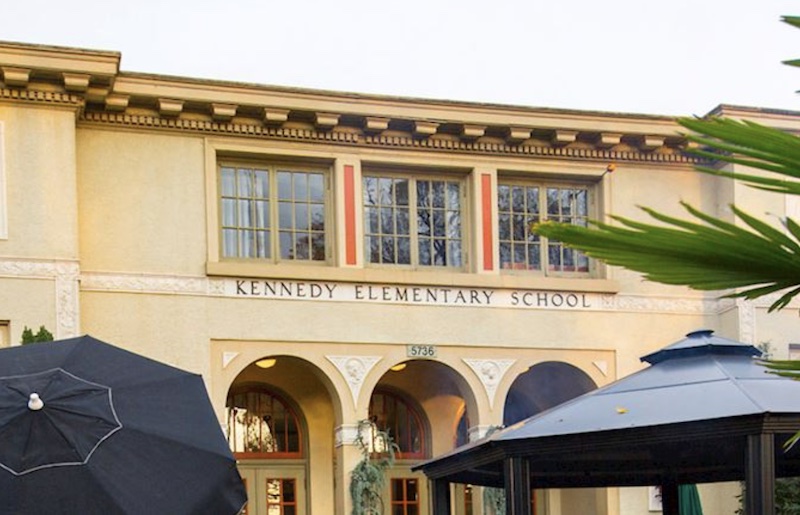 Though it didn't sit on Alberta Street proper, I couldn't be this close to McMenamins Kennedy School Hotel and not check it out. The Boiler Room bar was definitely the best place on property to grab a drink, but since this was a beer mission I instead opted for the six-barrel Concordia brewhouse in what used to be the girls' room.
Back on the main drag, I found a trio of Portland breweries beckoning me. Though I was tempted by the underground cave tours and Old Town, that seemed a little risky six beers in. Great Notion Brewing's taproom beckoned with a full liquor bar, too. But the joyful noise inside Baleric's Alberta District beer hall was too much to ignore. And while many inside told me I "just had" to visit the brewery across town, this place was too much fun to leave. 
Steeplejack Brewing in Northeast Portland
When I peeled myself away from the Alberta Arts District, I explored the rest of the northeast quadrant, home to most of the funky businesses that have given Portland its reputation. The dive-motel-turned-boutique Jupiter Hotel sits on East Burnside Street and has a live music venue in its lobby restaurant. It's just down the street from Union Jacks, a SuicideGirl strip joint that embodies everything that's different about strip clubs in the Rose City.
As I began to fade into a beer haze, I popped into Voodoo Doughnuts and grabbed a Memphis Mafia donut topped with bananas, peanuts and other king-killing deliciousness. The sugar rush snapped me out of my 6.5% ABV lethargy, giving me the vigor to make it to my final stop: Steeplejack.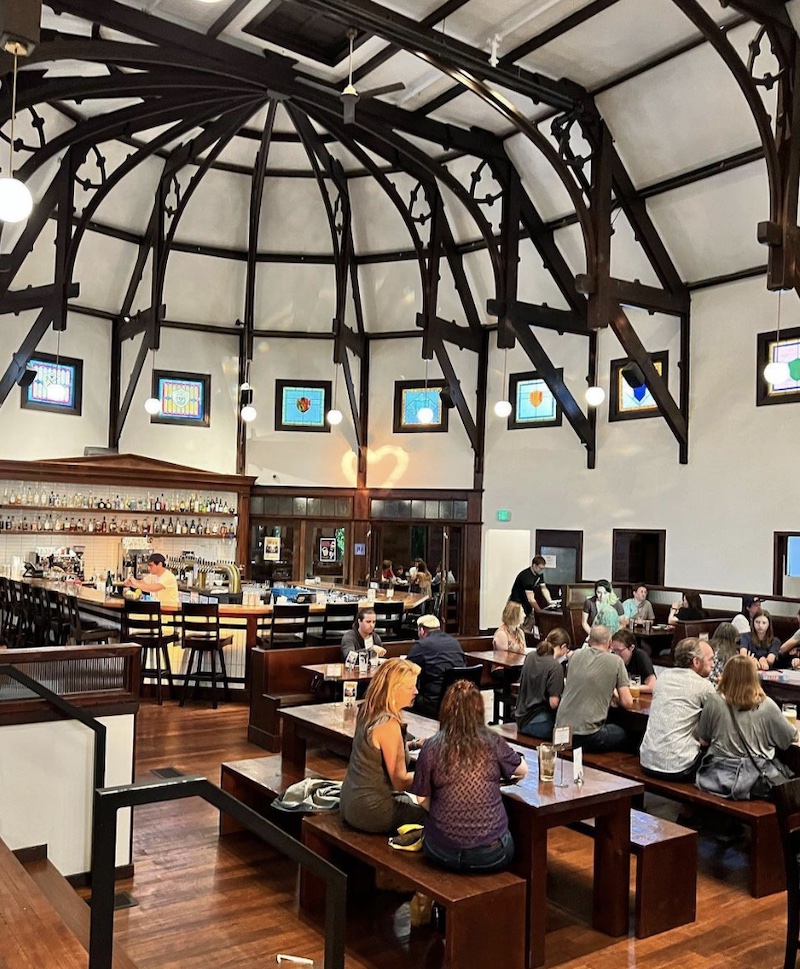 Arriving here at the end of a beer crawl is a religious experience, mostly because the brewery is set inside a 112-year-old church. It's a marvel of upcycling, where old floors and beams have been transformed into beer tables and bars and sunshine pours through the original stained glass. The chapel is now possibly America's most stunning beer hall, where the smell of an old church still lingers, lightly covered by the aroma of roasted malt.
A small collection of fermenters and mash bins sits near what was once the back of the church, and owner Brody Day happily regaled me with the logistical nightmares of how he got them inside and pointed out tiny details in the architecture, like the fireplace in the old pastor's office and the old church coffee room repurposed as an all-day café for mobile workers.
Steeplejack is the kind of brewery where I wanted to spend some time chilling out and taking it all in, so I soaked up the surroundings. But Day doesn't let the building overshadow his beer, no matter how impressive it is. The Sawyer Table Beer is a cleaner-tasting version of the cheap cans of High Life my dad drank after work. The thought gave me pause, in a Proustian moment, that almost made me well up, before I switched to a crisper tropical pilsner, 6.4% ABV.
I'd hit a limit and stopped short of ordering any of Steeplejack's craft cocktails. But, much like the Latin American restaurants in the Mercado, I made a mental note to save them for next time. I'm sure there's plenty more to see in Portland beyond its beer scene. And so maybe that list for next time should also include the abundant nature of Forest Park, or the Indigenous art collection at the Portland Art Museum. Timbers and Blazers games could also be cool. But through the hoppy haze of an IPA buzz, this city never looked better.