I'm in Kansas City to eat barbecue when I'm struck by a thought: Few things showcase humanity's stupidity like waiting in long lines for food. If you live under the rule of a communist dictator, then yes, I understand. But we're fortunate enough not to, so waiting in an hours-long food line is like choosing to write your dissertation with a crayon. But here's the thing. If you want to eat barbecue in Kansas City, waiting in line is inevitable. The key to eating here is knowing which ones move fastest, and which are worth it.
On this hot July afternoon, the line at Joe's Kansas City BBQ is brutal. It's probably 30 to 40 people long. Joe's is a Midwestern tradition — set in a gas station on the Kansas side of KC — but this line is tough to take. "Are we really waiting in this?" I ask Steve Walls, a barbecue enthusiast and local sportscaster who's showing me around town. "This is nothing," he says. "On the weekend? This wraps all the way outside and down the block."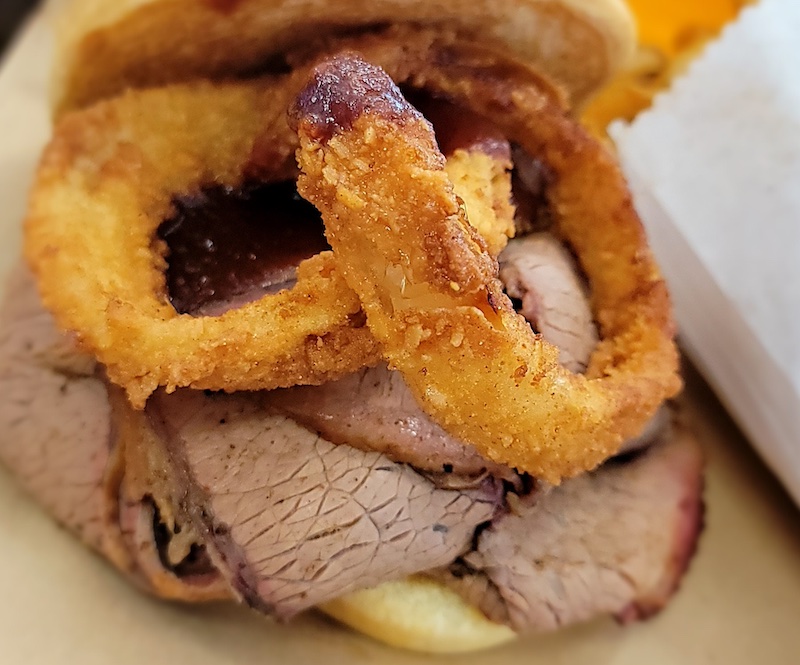 At Joe's the go-to order is a Z-Man sandwich, and as enticing as it looks — thin-sliced smoked brisket topped with provolone and two crispy onion rings on a kaiser roll — nothing seems worth standing outside in the soul-crushing midsummer Kansas City heat. This is what I open my phone to report (complain about) in an Instagram story. Yet, before I'm able to post we're at the front of the line. Once inside, Walls insists I order the Z-Man with fries. It seems like a shortcut to triple-bypass surgery, yet five minutes later it's sitting in front of me — a heavenly mix of smoky, sweet, creamy and crunchy. Joe's famous fries arrive covered in a powder with hints of cayenne pepper and, based on how addictive they are, I can only assume meth. I devour the plate.
I'm still on a meat high on the way out, and I buy a bottle of the french fry seasoning and some of Joe's spicy Night of the Living Bar-B-Q sauce. The lunch rush has started, and people are lined up back to our car; my advice to them is "the Z-Man is totally worth the wait."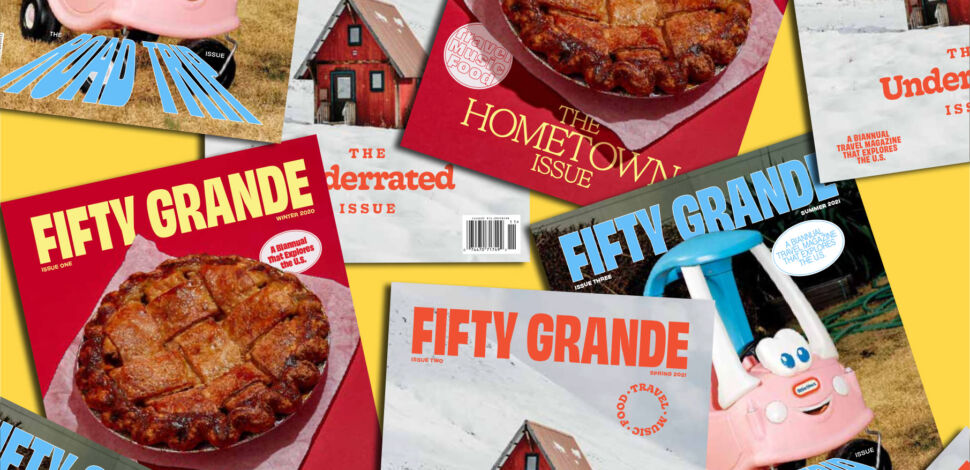 ---
We're in line at Gates Bar-B-Q on Main Street on the Missouri side of Kansas City, one of six locations in the Kansas City area, when Walls gives me a warning. "They're going to yell at you," he tells me in much the same way my Marine Corps recruiter warned me about drill instructors. "Know what you want when you walk in. And make sure you know how to order."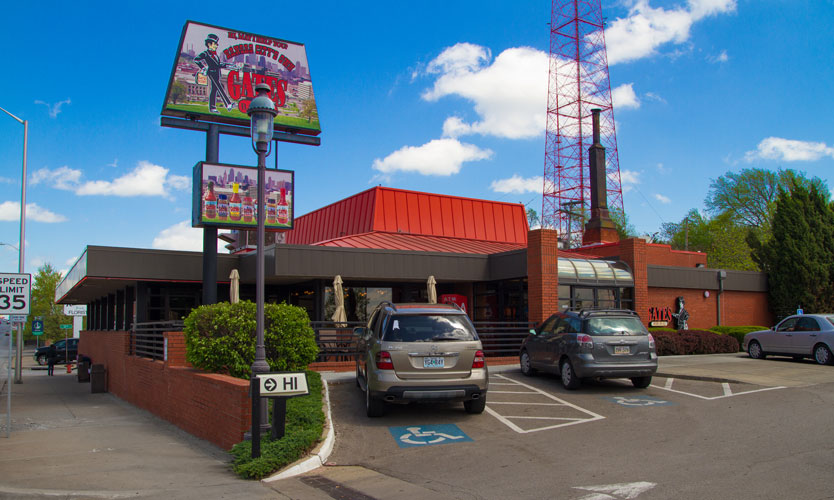 This seems straightforward. The curveball is that Gates has its own lingo that makes first-time ordering altogether intimidating. A sandwich is called a "bun," and brisket orders aren't just brisket. They're center-cut, short-end and long-end. Say any of it wrong and you'll get an aggressive eye roll or, possibly, verbally shit on. Imagine if Seinfeld's Soup Nazi hired a group of take-no-bullshit Black women, and you've got an idea of the Gates staff.
The man in front of me shouts his order over the counter to the woman running the expo line and I'm suddenly a little nervous.
"NEXT!" she yells. Walls elbows me.
"Bun with turkey and a side of fries," I say.
"It comes with fries!" she yelled back in a way that implied I was an idiot. "Next!"
"Can I get a double-decker, with half turkey and half brisket?" a woman, who I learned while waiting in line was visiting from California, asks.
"YOU GET ONE MEAT!"
"But can you just put…" the Californian, clearly used to asking for meatballs with no meat, shouts back.
"One meat. Which one you want?" the woman interrupts impatiently. As the Californian tries to decide, she's stopped with a robust "NEXT ORDER!"
Thanks to Gates' closed-pit style, everything in there is saturated in smoke, in a good way. I soak my exquisite turkey and bun in the sweet and spicy sauces. As I finish my sandwich, I notice my California friend walking to a table with two plates, each one containing a single meat sandwich. I'm starting to understand the business savvy of never allowing modifications.
---
While much of Kansas City barbecue eating is done in sticky booths, un-air-conditioned patios and smoky dining rooms, a handful of full-service, sit-down restaurants do it too. The best, I'm told, is Fiorella's Jack Stack Barbecue, whose Freight House location is a few blocks from downtown. It's a giant, ranch-style dining room with pitched ceilings, brick walls and multistory chandeliers. It feels a little like the main hall at a dude ranch, minus the taxidermy.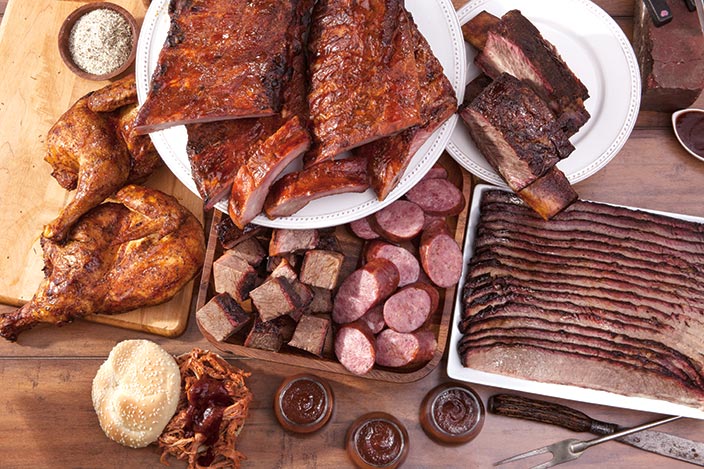 As I walk up, I see something unfamiliar — no line. I have a moment of pure happiness until the hostess tells me there's a 60- to 90-minute wait for a table. That sounds like torture, so I opt for an open spot at the bar. Next to me is a late-fifties couple who look like they'd rather be dining with anybody else besides each other. "This place is known for their sides," slurs the wife, who seems to be enjoying chardonnay for dinner. "You gotta try the broccoli."
Eating broccoli at a barbecue restaurant seems like getting chicken fingers at a trattoria, but who am I to argue with a half-drunk Midwestern grandmother? I get a combo plate of sliced brisket and turkey. For sides, I go with the broccoli and garlic butter, cheesy corn bake and cheesy potato bake. Fifteen minutes later, the bar in front of me looks like a summer church picnic. I offer the couple some of my food; the husband shoots the wife a look that says "Don't you dare," and she politely declines.
The meat is moister than what I've eaten at more rustic joints, but far less flavorful. The sides, however, live up to the hype. If you've ever had butter-covered garlic rolls at an Italian restaurant, the broccoli was essentially those, with a few less carbs. In the world of KC barbecue, this passes for health food. The corn bake is rich, creamy and satisfying, but I can only finish a bite or two at the risk of filling up on sides. Ditto for the potato bake. Apparently, they're designed to be shared, so Jack Stack is great if you're going with a group.
---
We pull up to Slap's, which sits on a hillside in Kansas City, Kansas, with a direct view of the big city skyline. "This place you're going? This is the best spot," my Uber driver tells me as we cross the Missouri River. "People say Gates or Joe's, but this one's the best."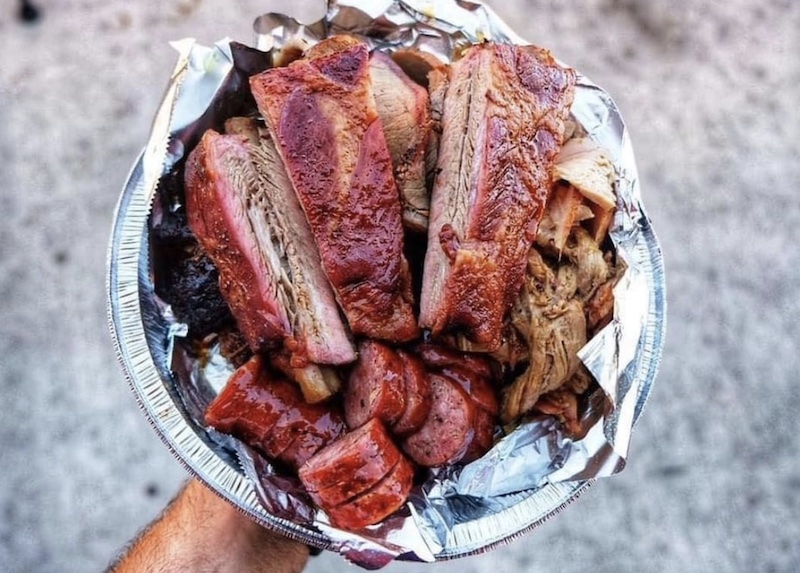 I think I've impressed my Uber driver or, at least, I have his seal of approval. If the night ended now, I'd be happy. He was, in fact, a local — never mind that he recently moved here from Cuba — and I liked to believe he knew the best barbecue.
The early lunchtime line is short, especially for a Saturday, and filled with families, a handful here for after-Little League lunches. I'm through the line in less than 15 minutes, and move outside to a big, screened-in patio filled with communal picnic tables. This is what most people picture when they imagine eating at barbecue restaurants, and seems the most social of any of the places I've eaten. I sit next to a family of five, who offer to share their barbecue sauces with me before I'm settled.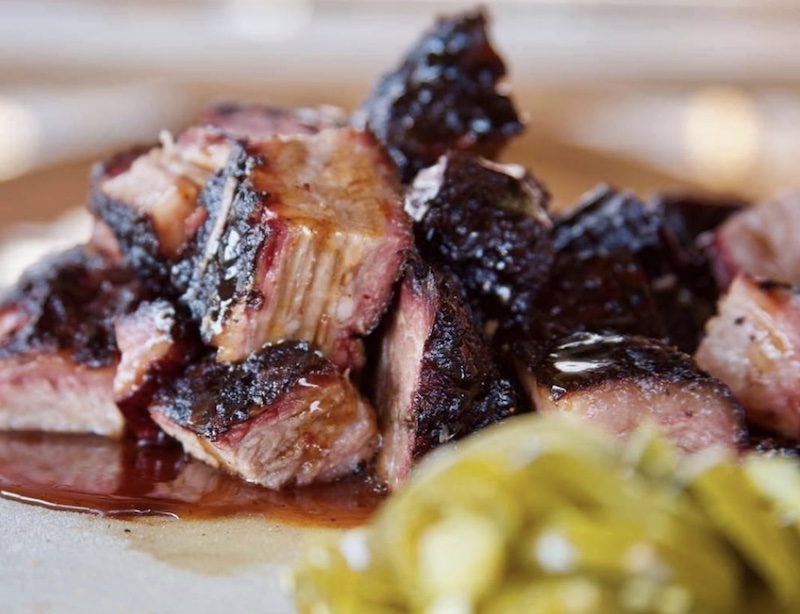 As they poke for details about my life story, I slowly savor a Cattleman's Plate of brisket, burnt ends and beef Polish sausage. The meat at Slap's, well, slaps. It offers more spice and complex flavors than any other. Slap's specializes in sausage, the parents tell me as their kids mutilate a jalapeno-cheddar link. The father says the beef Polish was a good call. I tell him my Cuban Uber driver spoke highly of the place.
After a full work week of sampling Kansas City's finest barbecue, my laundry smells distinctly of smoke and meat sweats and I'm about ready for a vegetable. But, I'm told, I can't leave KC without hitting Arthur Bryant's, named after the "King of Ribs" who started the place. When I get there a little before noon, the line is already out the door and down Brooklyn Avenue. It becomes immediately apparent that Arthur Bryant's is Kansas City's version of Franklin's in Austin — an endless line that people swear is a "must -do." This seems a little like an Angeleno telling me I can't leave L.A. without hitting rush hour on the 405.
After 30 minutes of sweating my way through the outdoor portion of the line, I mercifully arrived inside. Rather than an ordering window or cash register, I'm met with another line, continuing through rows of red vinyl-covered metal chairs into a Disneyland-like queue that wraps past the front counter.
Patrons pass by with towering barbecue sandwiches, like Katz's Deli with slow-smoked meats. Each plate also includes what looks like a pound of fresh-cut french fries. The food looks fantastic, but after five days of brisket I decide to throw in the Wet-Nap.
"There's another spot about half a mile from here," my friend suggests, looking up from his phone. "Wanna just walk there?"
I nod and step out of line. I'll miss this must-hit in Kansas City because the city has dozens of barbecue restaurants, and they're all pretty great. Turns out waiting in line for stellar barbecue isn't the worst thing in the world, but spending half your afternoon waiting for something you can find everywhere is still pretty stupid.