While many may think of major Chicago festivals, such as Lollapalooza, Riot Fest, or Pitchfork, as designated for summer, a new festival will bring headbanging into the freezing fall. Heavy Chicago, Chicago's only heavy metal festival, will host its inaugural event over two weekends at Avondale Music Hall. Advertised as a haven for metal debauchery—a different look and form perhaps than Lollapalooza drunk suburban teenager debauchery — the festival will be three days long, falling on October 28, November 4 and November 5. 
Chicago — Chicago suburbs, to specify, sorry Chicagoans — metal band Trouble, one of the pioneers of the doom metal genre, is set to headline after a five-year hiatus from performing. Other headliners include Corrosion of Conformity and Milwaukee band The Crosses, who will be joined by Die Kreuzen's Dan Kubinski for an entirely Die Kreuzen set.  
In addition to the shows, the festival will serve burgers from Kuma's Corner, a heavy metal-themed Chicago restaurant that has often earned the title of the best burger in the city, and even the country. To celebrate the first year of Heavy Chicago, Kuma's will serve up a specialty burger just for the festival starting on November 1st. Additionally, PBR drink specials will be available. For those who want to keep the party going between weekends, after shows at Avondale's sister venue, Live Wire, will occur throughout the week. 
The Specs 
Avondale Music Hall capacity is 350.

Tickets are as follows: Three-day passes cost $100; two-day passes cost from $70 to $80; Single day passes cost from $35 to $45.

Check out Fifty Grande's guide to Chicago

here

. 
FAQs
What is the closest airport to Heavy Chicago?
O'Hare International Airport, as well as Chicago Midway International Airport, are both in close proximity to the festival. 
What kind of bag can I bring into Heavy Chicago?
Small, handheld bags and clutches (4.5" x 6.5") are often accepted into Avondale Music Hall, with larger backpacks, bags and purses being prohibited. 
Which artists are on the Heavy Chicago lineup?
Trouble, Acid King, Bongzilla, November's Doom, Corrosion Of Conformity, Nebula, The Crosses (performing all "die Kreuzen" set), Speedfreak, Dust Biters, DRI (40th Anniversary), Repulsion (World exclusive show for 2023), Macabre, Embryonic Autopsy, and The Suffering.
2023 Poster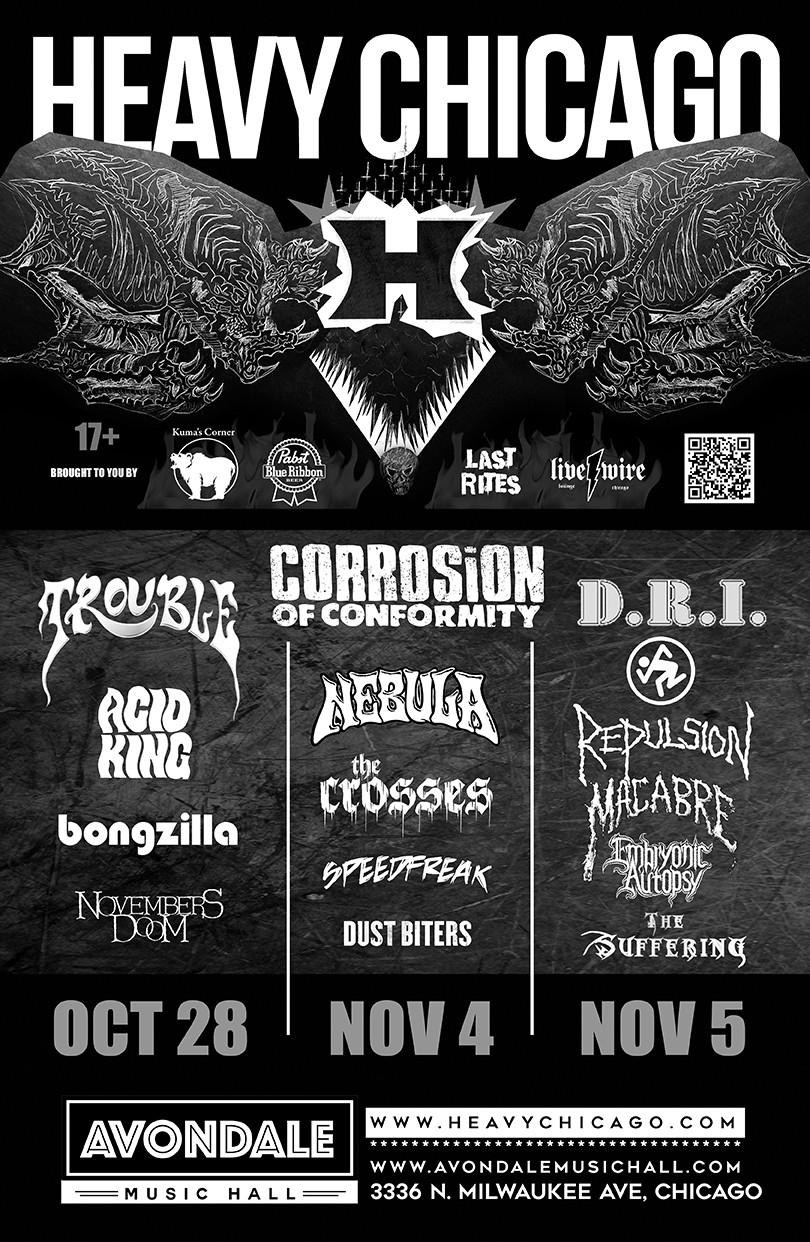 Videos