All I wanted to find in the mountain of candy was a Mounds bar. I have shining memories of running up the stone steps to my house dressed as a "Creature From the Black Leather Lagoon," fluorescent orange pumpkin pail in hand, eager to pour my Halloween loot out on the living room floor. The neighborhood kids and I would sort through the candy to find our favorite sweets and trade the ones we didn't love. While I rarely came across a Mounds bar (it's kind of a grown-up candy), annual traditions like these laid the foundation for my love of all things Halloween.
I'm making Halloween plans before I've emptied the ice chest from Labor Day weekend. Like a giant bowl overflowing with full-sized candy bars, America is brimming with fantastic Halloween festivals. From nightly séances and historical parades to retro-fitted coffin races and terrifying haunted houses, we've conjured up America's best Halloween festivals.
Anoka Halloween – Anoka, Minn.
Dubbed the "Halloween Capital of the World," Anoka was one of the first places in America to commemorate the spooky holiday with a city-size event. Just a 30-minute drive from Minneapolis, the modest suburb first held a costume parade in 1920 to distract local kids from plotting pranks like tipping over outhouses. Nearly 100 years later, Anoka Halloween has morphed into a month-long celebration with a kids' fall festival, the 5K Gray Ghost Run, movie nights, a traditional Pumpkin Bowl football game and much more. You can attend two parades, including the Light Up the Night parade on October 22, where illuminated floats parade down Main Street, followed by the historic bonfire. But Halloween in Anoka is all about the Grande Day Parade, one of the largest in the state, and a great excuse for families to wear their most creative costumes. The kid-friendly event will kick off on October 29 and is all about wholesome Halloween fun, so wear your favorite non-gory costume.
Castle of Muskogee Halloween Festival – Muskogee, Okla.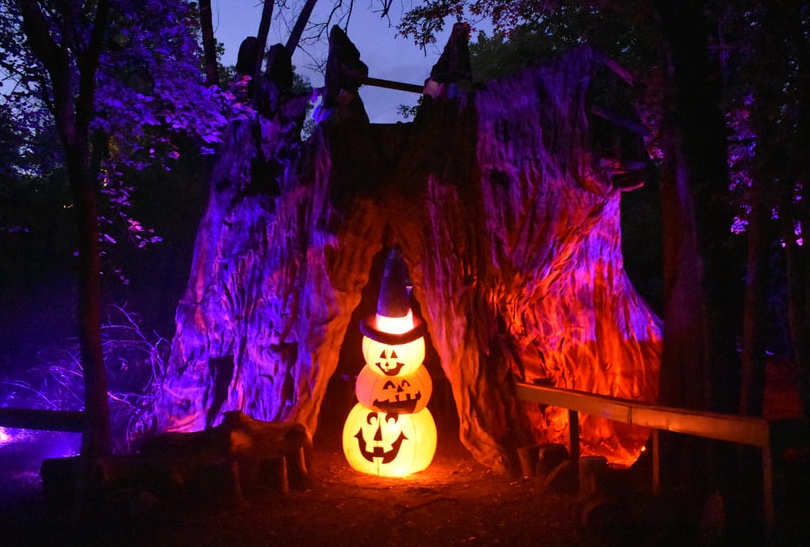 As straightforward haunts go, the Castle of Muskogee Halloween Festival is up there with some of the spookiest in the country. Scares here range from "Fall Fun" to "Consider Yourself Warned": You can take a gentle and spirited train ride or navigate a jester's chilling funhouse. A monster dance kicks off the festivities each evening at 6 p.m. in the Village area, a family-friendly hub with games, crafts and smoked turkey legs. There are nine attractions, such as the haunted hayride and the "Domus Horrificus," full of classic horror villains to give you the heebie-jeebies. Tickets for activities range from $10 to $20, with combo packages costing between $40 and $90. We double dog dare you to follow the ultra-eerie "Trail of Blood" and find your way from the woods back to safety. The festival will run through October 29 across 14 acres at Castleton Village.
Emma Crawford Coffin Races and Festival – Manitou Springs, Colo.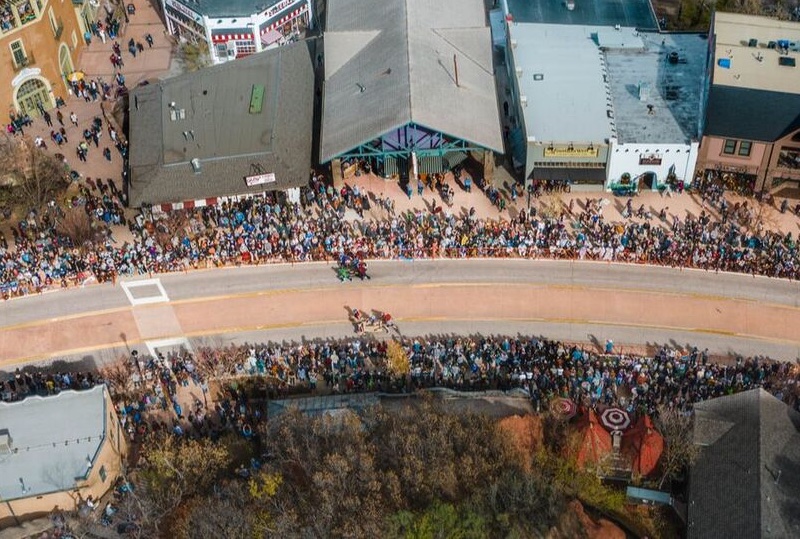 Get thee to Manitou Springs to celebrate one of America's most lightheartedly macabre local traditions. Each October, Coloradans head to the suburban city just six miles from Colorado Springs for the Emma Crawford Coffin Races and Festival. The story goes that Emma Crawford visited Manitou Springs in 1889 seeking a cure for her tuberculosis, as she'd heard rumors that the city's mineral spring had healing properties. While Crawford didn't find a cure, she loved Manitou Springs so much that she stayed until she died in 1891. Crawford's last wish was to rest six feet under the top of Reed Mountain, and with the assistance of 11 locals, her lover carried her coffin up to the summit and buried her nearly 7,200 feet high. Fast forward to 1929: after a considerably rainy season, Crawford's coffin slid down the mountain into the city, and a group of local children found her bones.
Today, Manitou Springs celebrates Crawford's memory at the annual coffin race. Costumed teams of five, consisting of four coffin pushers and one "Emma" driver inside the vessel, race 195 yards through the city. At the finish line, winning groups receive awards for the best coffin, best entourage, best Emma and the three fastest finish times. While you're in town, check out other Halloween happenings like Ghost Stories of Old Manitou Walking Tours, the Skeleton Craze decorating contest, horror movie nights every Friday in October and Emma's Wake Viewing the day before the October 29 race. 
Festival of the Dead – Salem, Mass.
Salem is probably most often associated with the infamous 17th-century witch trials and the sassy black cat from "Sabrina the Teenage Witch." Now much more occult-friendly than when its residents prosecuted suspected witches, the seaside city hosts Festival of the Dead throughout the month of October. The annual event is less of an opportunity for visitors to dress up as their favorite "Hocus Pocus" character and more of a chance to learn more about witchcraft and magic while connecting with the spirit world. The occult-curious explore necromancy, conjure up animal spirits with a witch doctor and attend nightly séances. Clairvoyants and palm readers sell the secrets of the future at the Psychic Fair and Witches' Market throughout the month, as well as curios such as spell kits, voodoo dolls and crystals. Make sure to snag tickets to the Salem Witches' Halloween Ball on October 28 for a Halloween warmup of music and dancing at the Hawthorne Hotel.
The Great Jack O'Lantern Blaze – Croton-on-Hudson, N.Y.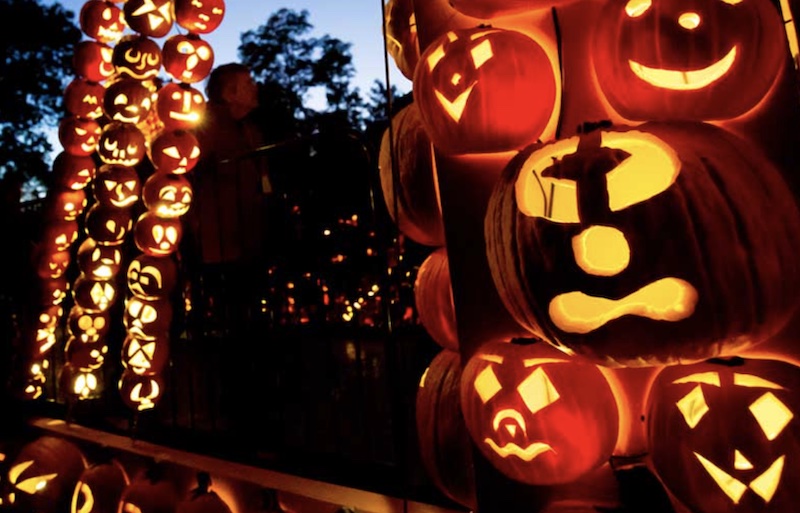 Situated in the historic Hudson Valley, The Great Jack O'Lantern Blaze, oft referred to as "The Pumpkin Blaze," is a spectacle of over 7,000 pumpkins carved by local volunteers. The hand-hewn gourds are spread about the landscape at Van Cortlandt Manor and built into elaborate light sculptures that glow beside the Hudson River. A 45-minute walking tour takes you through pumpkin installations both new and old, including a pumpkin bridge, planetarium and a headless horseman that nods to Sleepy Hollow, which sits just 20 minutes south. The stroll pairs best with warm cider donuts, so grab some provisions when you arrive at Van Cortlandt Manor. The festival will run through November 20.
Halloween in Sleepy Hollow – Sleepy Hollow, N.Y.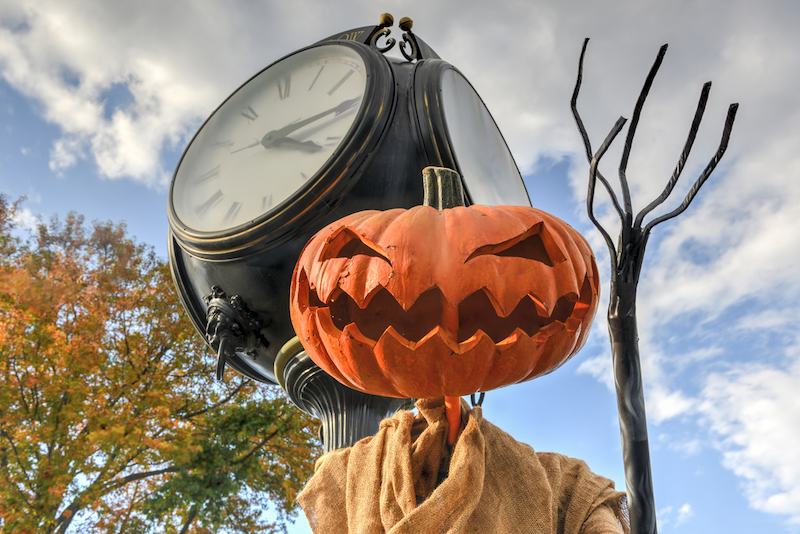 Speaking of Sleepy Hollow, you're probably familiar with Washington Irving's gothic tale "The Legend of Sleepy Hollow" written circa 1820, if not from the book, then from the 1999 film adaptation "Sleepy Hollow" starring Johnny Depp and Christina Ricci. The story follows Ichabod Crane as he attempts to win over the heart of Katrina Van Tassel. During his pursuit, Crane encounters the Headless Horseman, a towering, headless figure that rides a dark horse. Over 200 years later, the tale of Ichabod Crane endures, and Halloween in Sleepy Hollow hosts numerous events honoring Irving's seminal work. Through October 23, Crane-iacs (if such a group exists) can attend "The Legend," an immersive adaptation of the original story told with "Headless Horseman" holograms and circus performers. Haunted hayrides, Sleepy Hollow cemetery tours and a literary-themed scavenger hunt at Washington Irving's estate are but a few other ghoulish attractions in the area. Families with children should visit nearby Tarrytown on October 29 for the annual Halloween parade that starts at Patriot's Park, the location of Wiley's Swamp where Crane first spots the Headless Horseman.
Jack-O-Lantern Spectacular – Providence, R.I.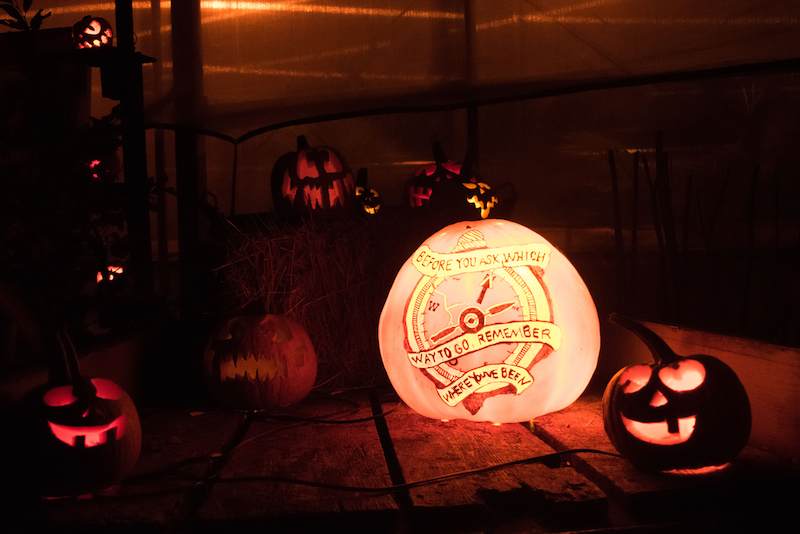 Providence is always a good idea, but Rhode Island's capital city is especially enchanting when illuminated by an armada of well-designed pumpkins. Over 5,000 pumpkins are meticulously carved each October — ranging from small gourds to pumpkins that weigh over a ton — and displayed at Roger Williams Park Zoo for the Jack-O-Lantern Spectacular. The festival has gone through a Rolodex of themes, and this year, it celebrates 75 years of television. Volunteers will carve pumpkins into thousands of jokes, scenes and portraits from shows like "The Twilight Zone," "Stranger Things" and "I Love Lucy." Kids can meet their favorite superheroes and fairy tale characters at Family Fun Themed Nights, and if you can swing a weekday, entry is discounted from Monday through Thursday nights. Our favorite way to view the glowing gourds is 115 feet above the ground via the Soaring Eagle Zip Ride.
Krewe of BOO! – New Orleans, La.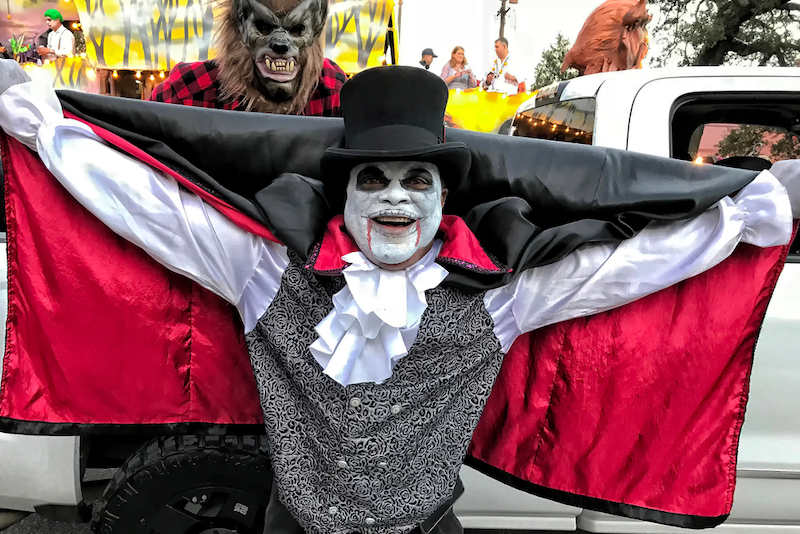 Everything New Orleans touches turns into some kind of party, and the Krewe of BOO! parade is no different. Blaine Kern Sr., the genius behind the papier-mâché floats at Mardi Gras, threw the first Krewe of BOO! parade in 2007 to raise money after Hurricane Katrina devastated the city. This year, the festivities kick off under much more favorable circumstances on October 21 with the Royal Luncheon and second line jazz parade through the French Quarter, followed by happy hour at Pat O'Brien's — it's touristy but get a hurricane — and a Captain's Masquerade Ball. If you've limited yourself to one hurricane (or if you magically don't get hangovers), rise and shine for the New Orleans Zombie Run the following day. Each year, runners are encouraged to dress up like the undead and run two miles through the Warehouse District while being chased by zombie killers played by the Big Easy Roller Derby gals. The spooky shindigs culminate at sunset on October 22 at the massive Krewe of BOO! parade. Ghouls, goblins, vampires, monsters and Frankensteins will march down the streets of downtown New Orleans, accompanied by music and over-the-top floats. Expect to have candy and beads thrown to you as the floats glide by. If you've still got steam in your engine, head to the post-parade Monster Mash costume party at Generations Hall.
Neewollah Festival – Independence, Kan.
Independence, Kan., may not be the first place that comes to mind for Halloween celebrations, but the Neewollah Festival is the state's largest annual event. If you squint, you can see the name of the nine-day festival is just "Halloween" spelled backward. Like Anoka Halloween, it started in 1919 to keep local kids straight-laced. The festivities begin on October 21 and include three parades: a Kiddie Parade for children, a DooDah Parade for costume-loving adults and the Grande Parade, which will close out the festival on October 29. By the time the Grande Parade rolls around, the population of Independence will balloon to nearly 75,000 people, all of whom visit to marvel at elaborate parade floats, enjoy the marching band competition, eat fried pumpkin pie or caramel apples and attend the carnival. For travelers hoping to make a week out of it, there's an annual chili cookoff, a 5-10K fun run, comedy nights, an arts and craft show, a pumpkin-carving contest and the Queen Neelah Pageant and Coronation.
Spirit of Halloweentown – St. Helens, Ore.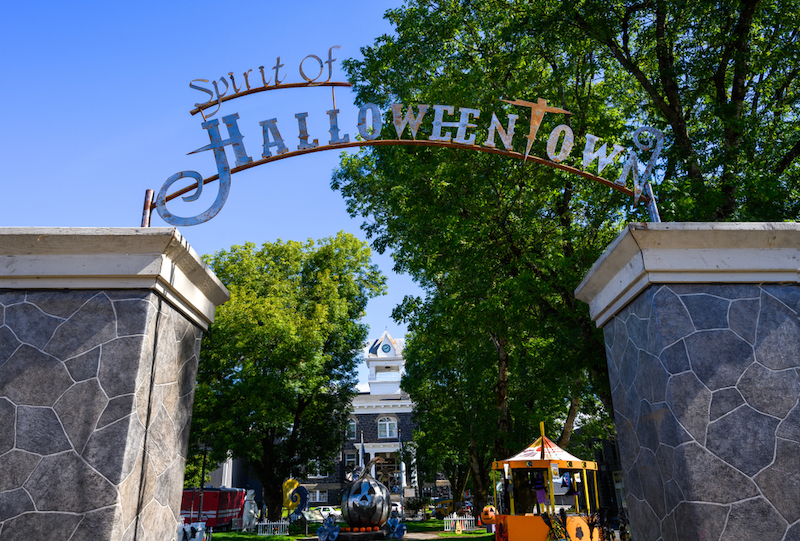 If you grew up in the '90s, you've likely seen the Disney Channel cult classic "Halloweentown" starring Debbie Reynolds. It's wholesome and lighthearted, and made many a Halloween lover want to dress up in Marnie's velvet cloaks and explore the Halloweentown square for themselves. If that is you, you're in luck. Each October, "Halloweentown" fans can celebrate the legacy flick at the Spirit of Halloweentown in St. Helens, where the movie was filmed, roughly 45 minutes outside of Portland. The festivities kick off at the St. Helens Courthouse Plaza with the lighting of the big pumpkin, an iconic centerpiece in the flick. From then until Halloween, you can play games by pumpkin light and watch street performers in the plaza. St. Helens also has walking tours of filming spots for both "Halloweentown" and "Twilight," the latter of which was also partially filmed in town. This year, "Twilight" actors Ashley Greene and Peter Facinelli, who played vampires Alice Cullen and Doctor Cullen, respectively, will visit the town on October 29 and 30 for photos and autographs. Those of us who don't know Edward from Jacob (or who have younger kids) can take a water shuttle across the Columbia River to Sand Island for a scavenger hunt among a path of pumpkins.
Village Halloween Parade – New York, N.Y.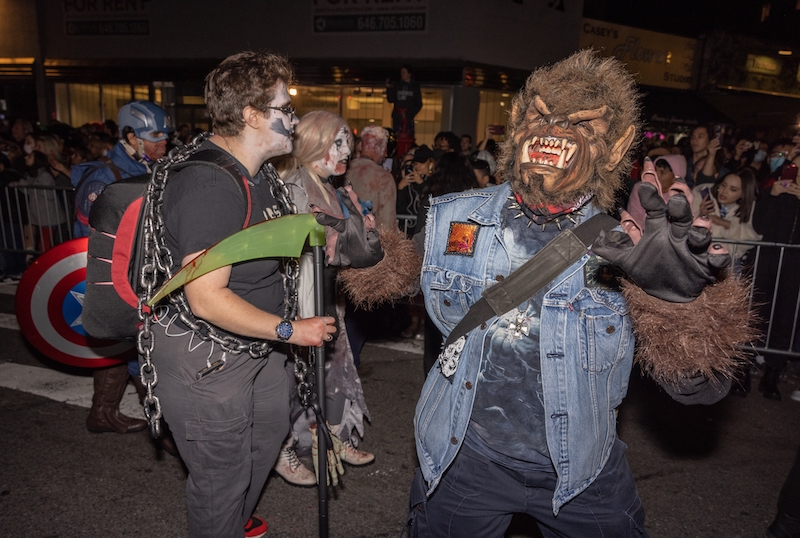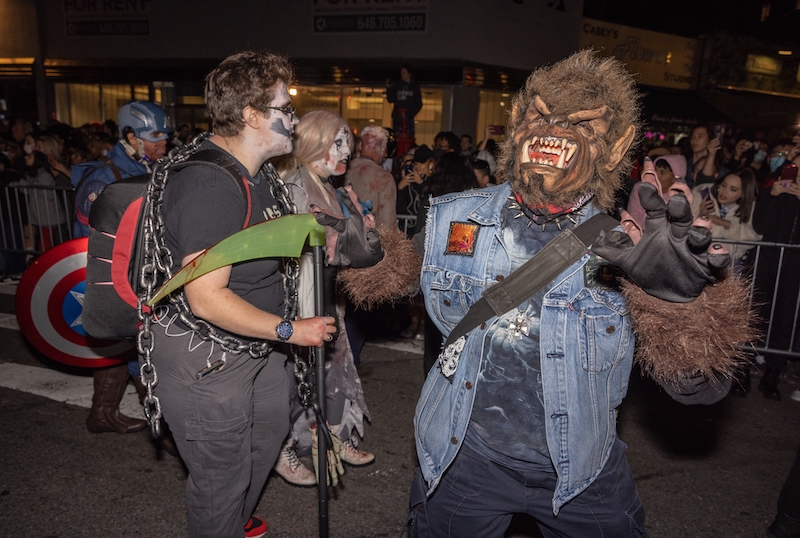 No surprise that New York hosts a Halloween parade befitting of the country's largest and most fabulous city. On October 31, the Village Halloween Parade will celebrate 49 years of New Yorkers strutting through Manhattan's Greenwich Village neighborhood in their most campy and creative costumes. The event draws over two million spectators each year, making it the largest public Halloween celebration in the country. Add to that 50,000 vibrantly costumed participants, marching bands, floats, pre-parties, after-parties and after-after-parties, and you've got the makings of a chaotic night of ghoulish revelry. The parade was created by cerebral puppeteer Ralph Lee in 1974 and remains one of the Big Apple's most beloved annual bashes.