In Washington, DC, a destination hardly known for its Alpine scene, guests cozy up at the Viceroy Washington DC's plush, après-ski outdoor Winter Lodge to sip lattes and warm themselves by the fire pit. Meanwhile, on the opposite coast, the all-luxury-all-the-time Beverly Wilshire in Beverly Hills has gone back to the land — sort of. Deep-pocketed travelers can now forgo the usual room or suite for urban glamping in the hotel's decked-out, Moroccan-inspired rooftop glamping tent.
These are just two examples of how hotels are repurposing their outdoor spaces to create novel, socially distanced experiences for guests. While the new offerings may look effortless, they've required some heavy lifting — creatively and physically — to bring to life. As Stephen McCall, CEO of London-based edyn group, said in a May 2020 Instagram Live, "The hotel industry is not particularly quick to innovate; it usually takes a push. And while nobody would have wished for this, COVID-19 is going to accelerate the evolution of the industry."
Under the stars
For many hotels, that push has been more like a hard shove. Such was the case in Sedona, Ariz., at the Hilton Sedona Resort. When the management realized their game lawn — a social hub where guests challenge each other to ping-pong, foosball, or Jenga — was exactly the kind of high-touch, close-quarters environment the virus favors, they quickly brainstormed how to make it safer and more inviting for guests. They landed on igloo dining (with a s'mores nightcap around a private fire pit) under the starry desert sky. The experience is "quite magical," says K.C. Kinsey, Hilton Sedona's general manager. "Dinner under the stars in a private illuminated globe is ideal for couples, friends and families." 
Hasbrouck House, located in in Stone Ridge in New York state, also went for an under-the-stars approach. They refashioned their bluestone patio into a tented restaurant and movie theater — an extension of their Sunset Flix series. Seven nights a week from May to October, the al fresco theater and accompanying snack shack are open to guests and the local community. This summer, Hasbrouck House is planning to use portions of its great lawn for a series of smaller activations and local makers' markets, plus live music on select weekends.
Food and drink popups
In tony Watch Hill, RI., a series of outdoor food and beverage popups has kept guests guessing at the Ocean House. In the summer, the boutique hotel reconfigured its oceanside resort deck into the Secret Garden, complete with boxwood hedges and champagne cocktails featuring Veuve Clicquot. For the colder seasons, Fondue Village, on Ocean House's putting green lawn, transformed three defunct ski gondolas into whimsical private dining rooms for up to six, with radiant-heat wood floors and plush seating.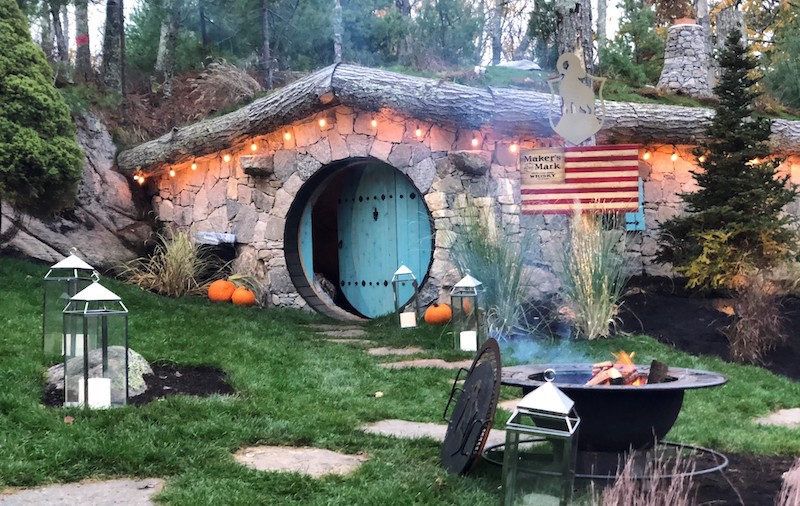 Meanwhile, sister property The Preserve Sporting Club has made a splash with its Maker's Mark Hobbit House — multicourse private dining in a diminutive stone structure carved out of the hillside. This summer, The Preserve will debut, within its 3,500 acres of woodland, a new vintage-inspired safari tent for sampling Bowmore scotch and Cohiba cigars.
Across the country, at the Viceroy Snowmass in Snowmass Village, Colo., planning began last September for a new post-slopes experience. In the winter, the staff reimagined the hotel's outdoor pool deck into a luxe ski-in, ski-out après tent. The 20-foot-by-50-foot tent features electric heaters, string lights and plush blankets for warmth and ambience. Two open sides promote airflow. Guests can — you guessed it — schuss from the mountainside into the tent and lounge, listen to live music or hang out with their besties in the VIP section.
Outdoors art
Other hotels and resorts are turning to art to enrich the guest experience. While not a novel concept — some luxury brands even employ on-staff art curators — the pandemic has created an environment where the safest way to enjoy art is outdoors. Dave Seidler, co-founder and CEO of Muros, an art agency that brings together local artists and businesses, believes hotels are especially well-suited to these outdoor art experiences. He says, "Hotels, especially boutique properties, create moments to evoke a feeling for travelers."
He adds, "Art has the ability to create a sense of community."
Bottom line
Creating these novel guest experiences is no small feat. For Fondue Village at the Ocean House, for example, it took more than four weeks to paint and retrofit the gondolas with heated flooring, seating areas and interior décor, plus landscape the lawn. In order to withstand the vagaries of weather, the Hilton Sedona's igloos required nearly a week of prep, including the installation of subfloors and securing the units to the ground. They also brought in new electrical wiring to power the HEPA air purifiers. For the Viceroy Snowmass, space transformation meant boarding over one of its hot tubs and reclaiming an area usually used for poolside seating to accommodate their tent.
Costs vary depending on the amount of work involved in reconfiguring the space and the purchase of new equipment. More modest projects like the Hilton Sedona's run about 7,500 dollars, whereas the tent at the Viceroy Snowmass tallied 17,000 dollars. Outdoor art experiences can cost anywhere from 10,000 to 50,000 dollars.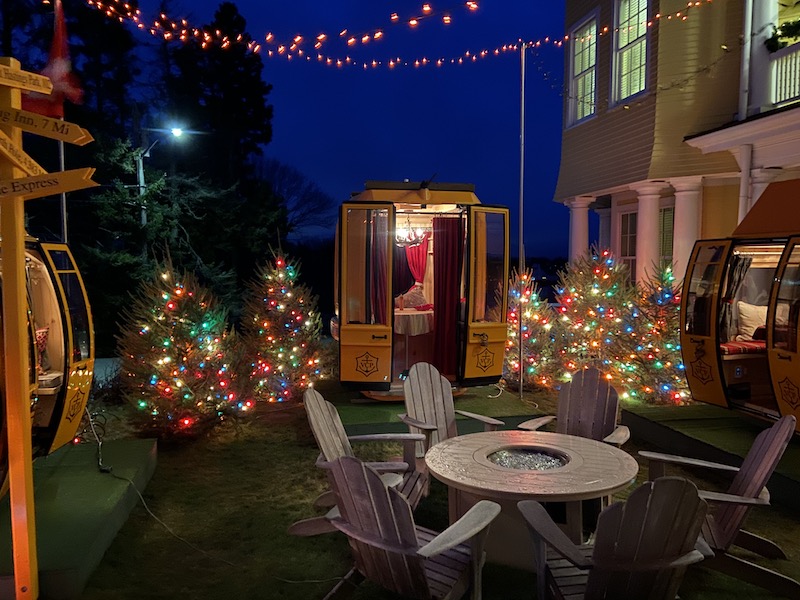 Amid all the aesthetic upgrades, hotels still have to keep guest and staff safety top of mind. At Fondue Village, for instance, the gondolas were arranged for optimal physical separation between parties, but close enough to not further complicate service. They were disinfected between guests and allowed to air out before the next party was seated. (As with most hotels, staff are required to wear masks and gloves, and hand sanitizer is readily available.)
The effort hasn't gone unnoticed. Robert Purdy, general manager of the Viceroy Snowmass, says, "The response has been overwhelmingly positive. In fact, we have doubled our poolside bar revenue."
"The hotel guests loved the new amenities," echoes Ashley Ruprecht, marketing manager of the Hasbrouck House. "We actually had a few guests who planned or booked trips around their favorite films."
Looking forward, she says, "We will absolutely keep using the space this way post-COVID. We will hopefully just expand and invest more each year with additional programming, décor and amenities."