What's that old saying? We accept the state fair we think we deserve? I think it goes something like that, though I've eaten so much fair food that my brain may have deep-fried itself at this point. It's 6:30 p.m. on a Saturday, I've just returned from a day at Seattle's Fremont Solstice Fair, and somewhere between my third and fourth corn dog, I had a revelation: I've never been to a state fair. Sure, I know all about the splendor and pomp of state fairs, I've seen them featured in countless films and television shows, but I've never actually attended one. 
I have, however, romanticized the state fair my entire life. I've imagined the smell of cotton candy filling the air, the far-off cry of excitement from a roller coaster ride, winning an oversized stuffed animal after haphazardly throwing a dart at a balloon and even viewing the neon-lit landscape from atop a towering Ferris wheel.
That said, the state fair has come a long way from its days of simple midway rides and carnival games. While you can still enjoy these nostalgic and beloved activities, state fairs have upped the ante with concerts performed by top-billing musicians, art and history exhibitions, expansive livestock showcases and deep-fried delicacies that would blow Willy Wonka's mind. Step right up to the most iconic state fairs in the country this summer and take a bite out of deep-fried Americana on a stick — I know I will.
The Big E – West Springfield, Mass.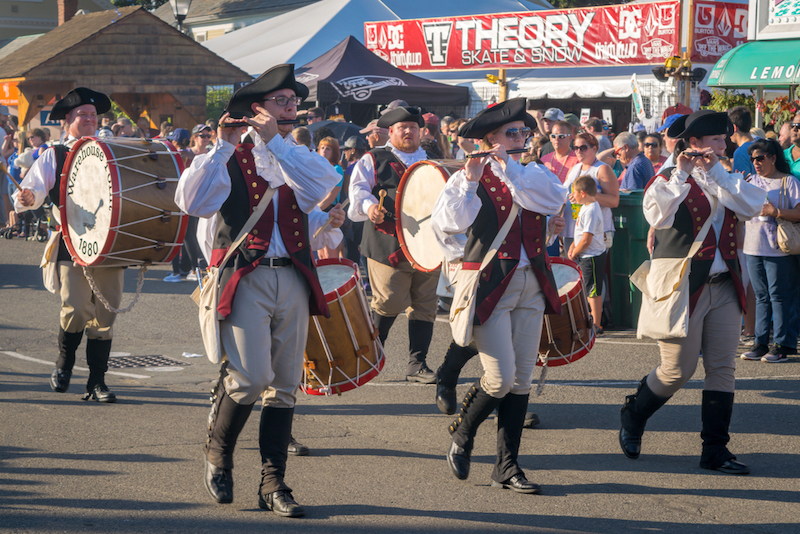 Fairgoers rarely get to see and experience the best of six states at once, but The Big E offers merrymakers the opportunity to do just that. Officially known as The Eastern States Exposition, The Big E is the only multi-state fair in the world, bringing together New England's great states for one of America's most significant and educational affairs. One of the fair's biggest draws is the Avenue of States. This corridor showcases replicas of New England's original statehouses and offers visitors the chance to brush up on history while perusing signature keepsakes and indulging in local delicacies. The usual fair suspects are also at play here, like midway rides, carnival cuisine and a daily Mardi Gras-themed parade. Before heading to The Big E Arena for the Dropkick Murphys concert, swing by The Big E Bakery and grab one of their famed cream puffs draped with chocolate ganache.
When: September 16-October 2, 2022
Iowa State Fair – Des Moines, Iowa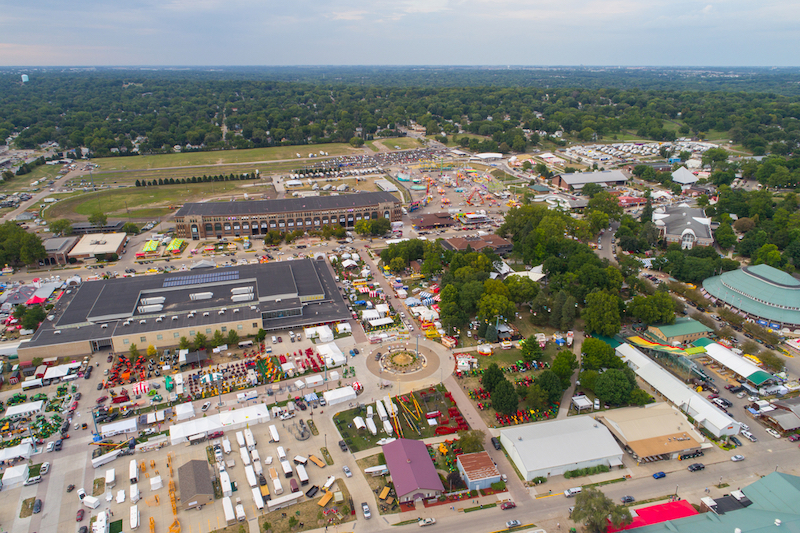 The Hawkeye State may be known for its seemingly endless amount of corn and hogs, but the impressive and vast Iowa State Fair keeps people returning to the Midwest hub year after year. Held in the capital of Des Moines each August, the fair is 11 days and is one of the most significant state events in the country, with more than a million visitors annually. You can taste your way through the grounds at over 200 food vendors serving treats on a stick like chocolate-covered Key lime pie, deep-fried cherry pie and salad on a stick for those trying to get their greens in. Carnival rides and concerts are aplenty, but you're here for the uber-exciting livestock shows and contests that would bring a tear to Jed Clampett's eye. Think cow chip throwing, hog calling, rooster crowing competitions and open-class shows for the likes of dairy cattle and llamas. Iowa's fair is also known for staggering butter sculptures that have formerly included depictions of the emblematic butter cow, Garth Brooks and Leonardo da Vinci's "The Last Supper," to name a few. Fun fact, the fair was also the setting for the 1933 Henry King film "State Fair," starring Will Rogers and Lew Ayres.
When: August 11-21, 2022
Kentucky State Fair – Louisville, Ky.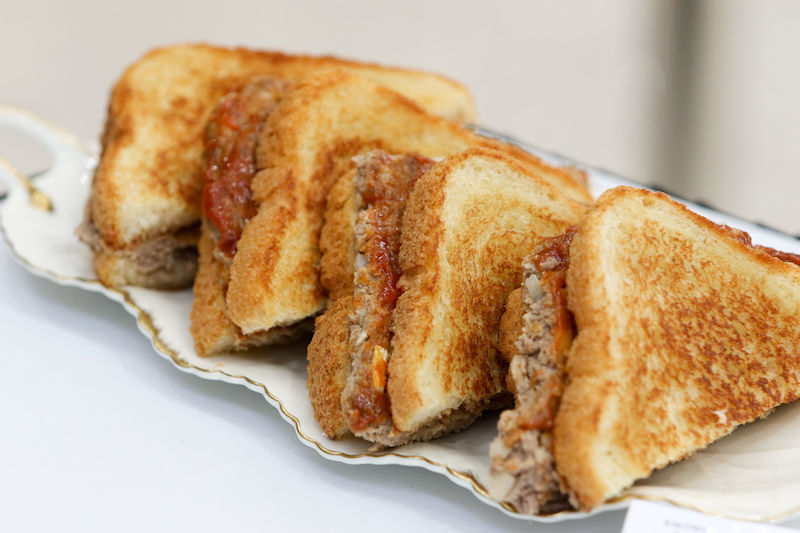 If your Kentucky Derby invitation from Drake and Jack Harlow got lost in the mail, you could still enjoy Louisville's charm at the horse-heavy Kentucky State Fair — sans the overpriced mint juleps and wide-brimmed hats, of course. Spread across 520 acres of indoor and outdoor exhibitions, the Kentucky State Fair features all the pomp and circumstance you've come to love about fairs alongside a Quarter Horse Show and a 4-H Horse Show. In conjunction with the fair, the Bluegrass State also hosts World's Championship Horse Show, a statewide tradition that dates back to 1902 and features horses and competitors from around the globe. After taking in the foals and colts while listening to Megan Thee Stallion (sorry), tuck into some Kentucky-inspired fair food like pork butt on a stick and bourbon pickles.
When: August 18-28, 2022
Minnesota State Fair – Saint Paul, Minn.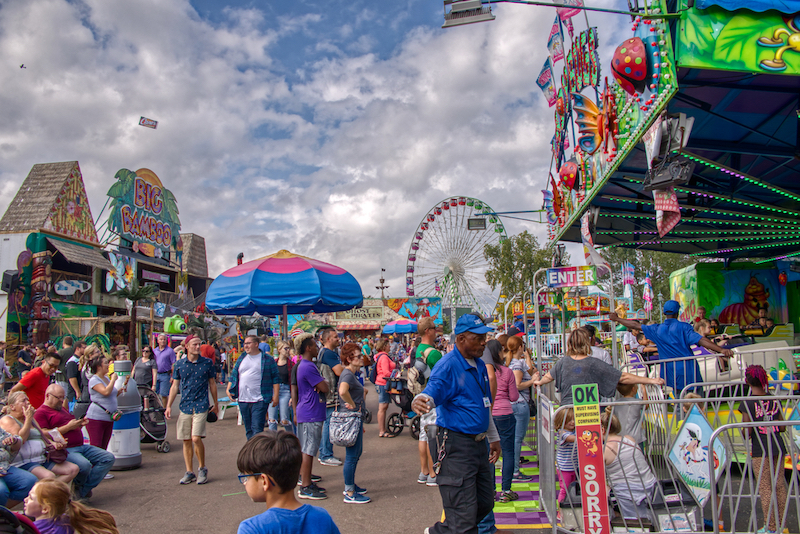 Situated near the University of Minnesota in Saint Paul, the Minnesota State Fair is a family-friendly fête ideal for broods who don't mind rubbing shoulders with their fellow chummy Midwesterners. Nicknamed "The Great Minnesota Get-Together," the fair spans 12 days and is the largest in America by daily attendance. Luckily, the Minnesota State Fair has something for everyone, including 11 shopping complexes and mega livestock barns for showcases and open-class livestock competitions. The stately fairgrounds also feature over 20 stages for shows ranging from concerts by heavy-hitters like Alice in Chains and Diana Ross to comedy showcases by bacon enthusiast Jim Gaffigan and three different amusement parks for thrill-seekers of all ages. Whether you spend your day scaling a rock climbing wall in the Adventure Park or taking a ride through the dark tunnels of Ye Old Mill, make sure to stop by Sweet Martha's Cookie Jar and grab one of their iconic buckets piled high with legendary chocolate chip cookies.
When: August 25-September 5, 2022
The Great New York State Fair – Syracuse, N.Y.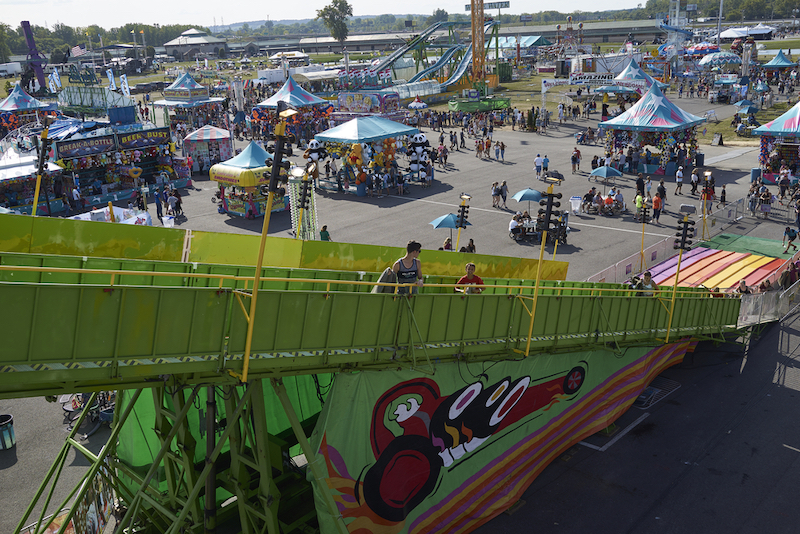 While the price of everything from gasoline to groceries may be astronomically soaring, tickets for The Great New York State Fair continue to be a steal at less than $4 a pop, making it the most inexpensive state fair in the country. The Syracuse shindig is America's oldest, operating since 1841, and is committed to highlighting the best of New York's agricultural, educational and technological industries while keeping festivities affordable and inclusive for all. Stand-out fair fare (I had to do it) includes the famed jumbo 20-ounce State Fair Bloody Mary served with stuff like N.Y. State cheddar cheese and Buffalo chicken for all you "Hot Ones" aficionados. In addition to familiar fair amusements like midway rides and funhouses, the fair features free concerts by acts like Foreigner, TLC and Boyz II Men and spectacular fireworks spectacles on opening night and Labor Day.
When: August 24-September 5, 2022
Ohio State Fair – Columbus, Ohio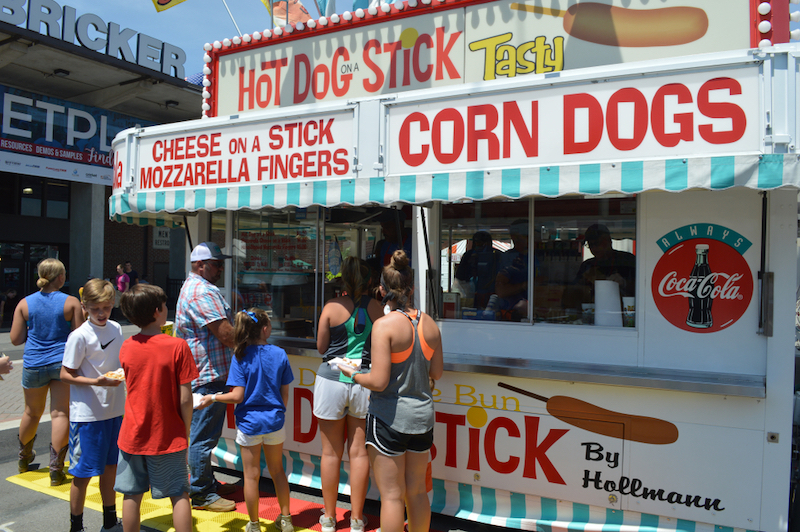 There's something about Midwestern fairs that just makes them outshine the rest. Maybe it's because they're located in the heart of the country, or perhaps it's because they excel at exhibiting the agricultural history and a deep-fried passion for American traditions. Either way, Midwest extravaganzas, like the Ohio State Fair, are some of the nation's most family-friendly affairs. Located in the capital of Columbus, the kid-friendly event has been playing the hits since 1850 with thoughtful exhibits like a low-impact playground with a barrel maze, the kids' fishing pond, a little farmer's agricultural show and an adorable petting zoo. Elsewhere, the beloved fair mascot, Butters D. Cow, marches in the daily parade, and the concert series includes live performances by Kidz Bop and Willie Nelson. The fair also features a myriad of classes, including dog training, kayaking and activities like the $10 camel ride, in case you can't make the 6,020-mile trip to Cairo.
When: July 27-August 7, 2022
Oregon State Fair – Salem, Ore.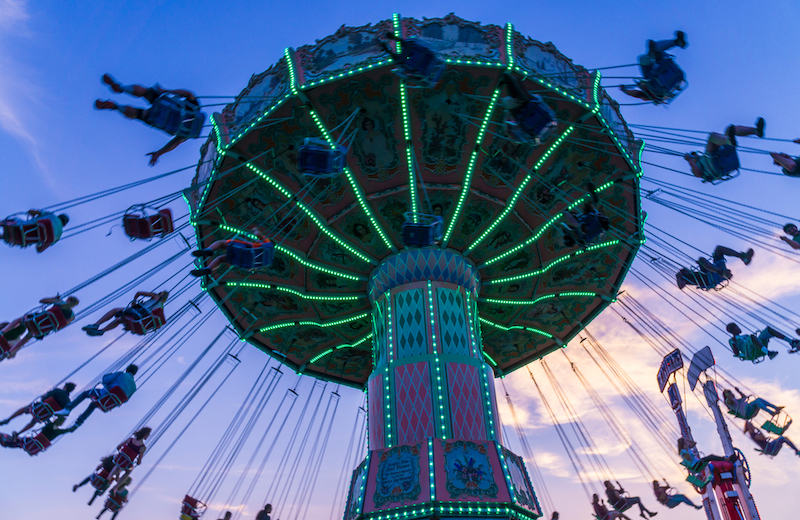 The natural splendor of the Pacific Northwest is its pristine and wild landscape, proximity to fish-forward rivers and the outstanding Oregon State Fair. Visitors of the 11-day festival, set in the capital city of Salem, will get the standard fair treatment, including 40 midway rides, live music performances by The Beach Boys and agricultural exhibitions that range from Hog Showmanship to a Dress-Up-Your-Animal contest. What sets the Oregon State Fair apart from the rest is its emphasis on the wondrous world of the great outdoors with self-guided tours about everything from crabbing and clamming techniques to wildfire safety — an increasingly important topic to be well-versed in, especially for West Coasters. The fair also has special competitions surrounding honeybees and gardening. Besides the exhibitions and watching the very PNW-y Paul Bunyan Lumberjack Show, we urge you to carve out some time (and stomach space) for deep-fried coffee and apple pie fries.
When: August 26-September 5, 2022
State Fair of Texas – Dallas, Texas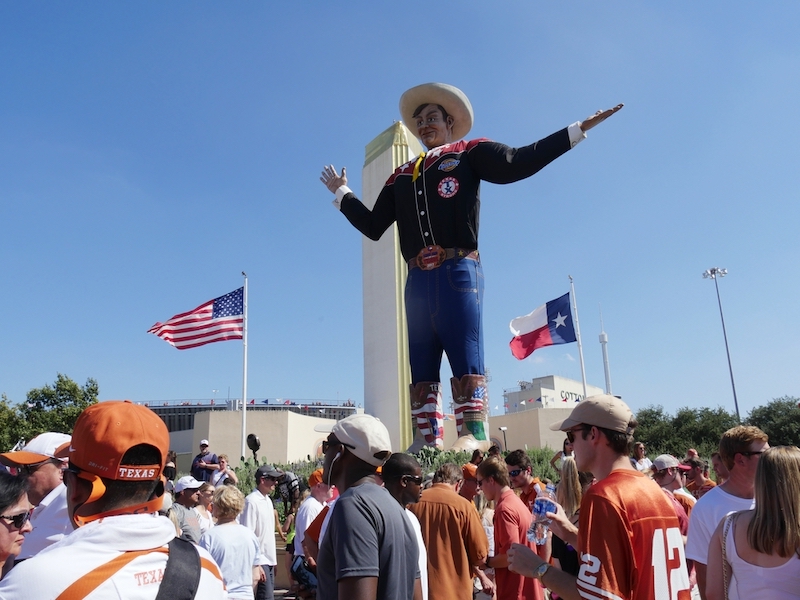 If you are well-versed in the fine art of state fairs, then you've likely heard about the awe-inspiring State Fair of Texas. Any fair stereotype (fair-eotype?) you've heard is probably because of the annual Texas shindig — we're not saying that Texas invented the fair, just that they perfected it. Upon arriving at the massive grounds at Fair Park in Dallas, you'll be greeted by icon extraordinaire Big Tex, a 55-foot-tall cowboy wearing a 95-gallon bucket hat and a smile, as if to say, "Howdy, y'all!" The fair is America's largest, boasting an annual attendance of over two million. The fair lasts 24 days, a perfect amount of time to enjoy nightly parades and light shows, free concerts by the Preservation Hall Jazz Band and Fitz & The Tantrums, pig races, dog races, rodeos, auto shows — seriously, folks, this one has it all. Highlights of the fair include the annual Red River Showdown football game (it's not Texas without football) between the University of Texas and the University of Oklahoma, played at the Cotton Bowl Stadium since 1929, and the impressive Texas Skyway Gondola, which transports fairgoers across the expansive grounds. That said, the most prominent centerpiece of the fair is the food, and oh baby, get ready to eat. We're talking deep-fried delicacies like fried shrimp étouffée, surf and turf, butter and of course, it wouldn't be Texas without deep-fried sweet tea, you know, to quench your thirst.
When: September 30-October 23, 2022
Washington State Fair – Puyallup, Wash.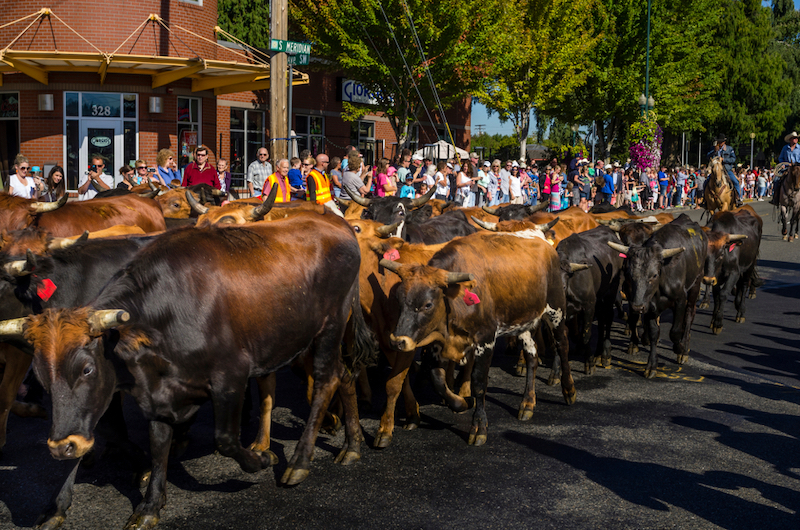 Each September, just before the annual rain shadow covers the entire western half of the state, locals and visitors flock to the Washington State Fair to soak up the last bit of sunshine — at least until next July. Situated in Puyallup, just an hour away from Seattle, the fair spans an impressive 160 acres and proves to be the largest get-together in the state annually. Attendees come for the Puyallup Rodeo featuring a Western Rodeo Parade & Cattle Drive and activities like skating at the retro roller rink, ax throwing, floral showcases and the Washington State Photographers Exhibition. Before heading to see Mr. Lover Lover Shaggy and TLC perform, tuck into the beloved Fisher Scone, a signature warm and fluffy biscuit-meets-muffin lacquered in fresh butter and raspberry jam. It may not be deep-fried, but it's a Washington tradition that will make you forget about the basic old corn dog.
When: September 2-25, 2022
Wisconsin State Fair – West Allis, Wis.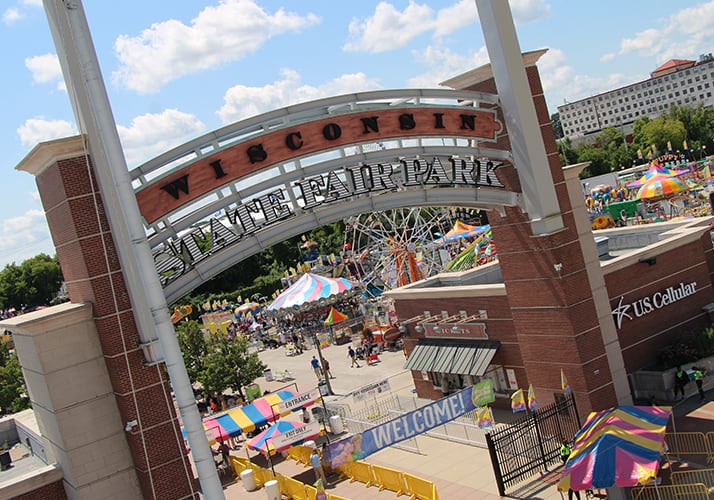 Cheeseheads, rejoice! The family-friendly, dairy-fueled Wisconsin State Fair is around the corner and happens to be one of the biggest and brightest in the nation. The 11-day fair is held just outside of Milwaukee proper and initially kicked off way back in 1851, with Abraham Lincoln even giving the annual oration at the 1859 ceremony. Travelers come from near and far to take in the splendor of the Milwaukee Mile, a one-mile ovate racing circuit on the fairgrounds that is also the oldest continuously operating motor circuit on the planet. Each year, fairgoers fill the grandstands and bleachers to cheer on motorists at races and exhibitions before test-driving the broad swath of midway rides. The fair also has seven shopping pavilions and a one-of-a-kind milking parlor with regular demonstrations. Those itching to shake their dairy-ere (I'll show myself out) can watch musical performances by acts like Nelly and Ginuwine before pairing an iconic and whipped-cream-stacked cream puff with a $1 glass of ice-cold milk from the fair's very own Milk House.
When: August 4-14, 2022