This story is part of our first-ever music special, which includes the results of our music survey, the resulting top music cities ranking and an in-depth look at the most travel-worthy music cities across the country. See all the coverage here.
---
This week we're sharing the results of our first-ever music survey and taking a close look at America's top live music destinations. We asked 1320 Fifty Grande readers and social media followers — a group of active and engaged travel, music and food enthusiasts — for their thoughts on various aspects of music as it relates to traveling. Below are the results, including the top 10 live music cities, according to our survey. For the complete ranking of the top 20 cities, see the full wrap.
For all the coverage, see this.
1. On a scale of 0-10, with 0 being the least and 10 being the most, how would you rate your interest in music?
(Average score was 8.9)
When asked to rank their interest in music on a scale of one to 10, almost half (49%) voted 10, followed by nine which had 20%, eight had 15%, seven with 9% and six and five had 3% each. No respondents voted for four or below.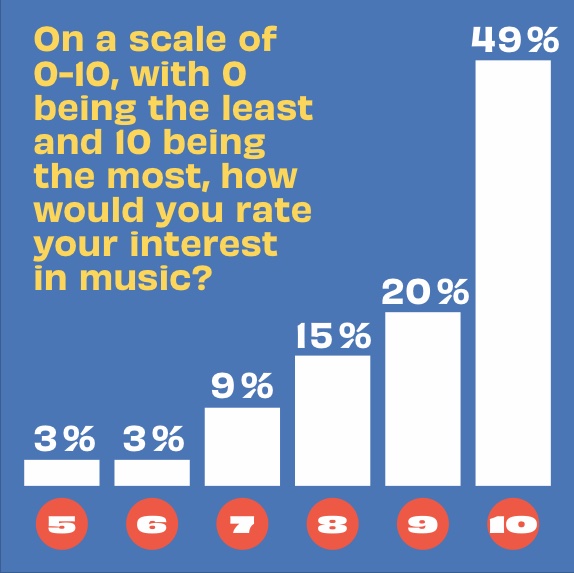 2. Have you ever taken a trip to experience live music? (like a music festival or event, to see an artist on tour in another town, to experience a city's local music scene, etc.)
Almost everyone surveyed has taken a trip for a live music experience, with 95% of those surveyed responding "yes."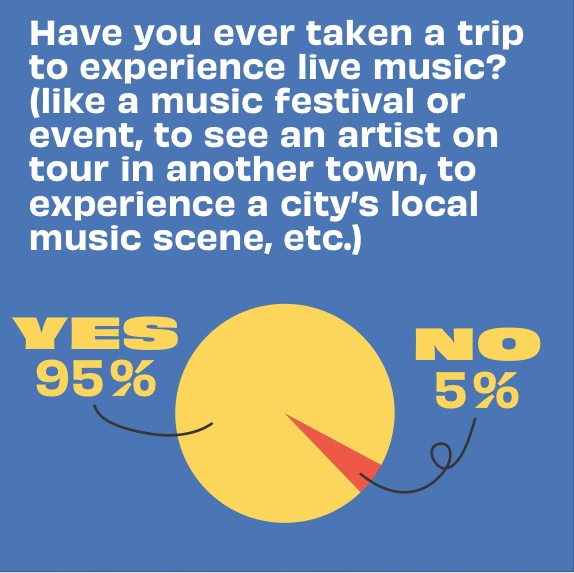 3. How many times a year do you travel specifically to see live music?
The highest number of respondents (40%) said they travel to see live music once or twice a year, followed by three to five times a year (31%), none at all (18%), six to 10 (6%) and 11+ (5%).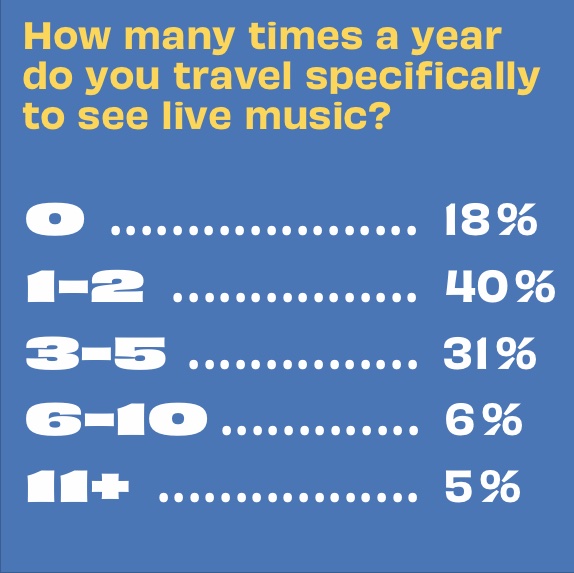 4. When you travel to see live music, is it most often for an event, an artist on tour or local live acts?
When asked about the prime reason that readers travel to see live music, seeing a favorite artist in a different city led the way (55%), followed by experiencing a city's local music (30%), and then attending a festival (15%).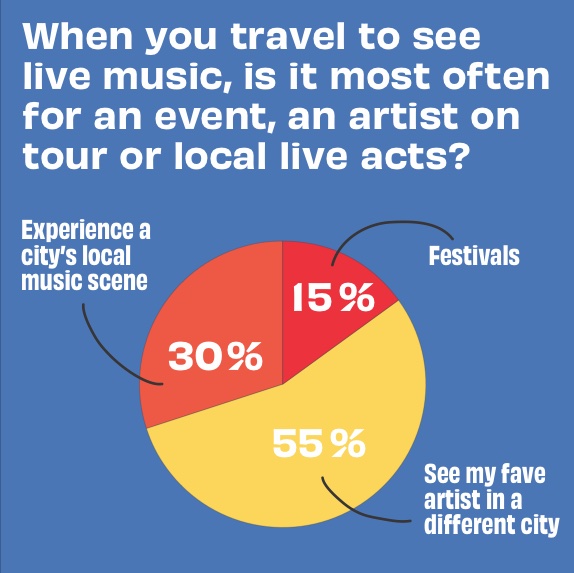 5. If you've attended local music shows in the past, which of these cities are your favorites to see local live music?
Respondents were allowed to choose as many cities as they wanted from a list and were given an option to add a city, as well. Respondents were asked to vote for cities only if they had actually visited and attended a music show.
For the complete ranking of the top 20 cities, see the full wrap.
10. San Francisco
9. Denver
8. Memphis
7. Chicago
6. Las Vegas
5. Los Angeles
4. Austin
3. New York
2. New Orleans
1. Nashville