This story is part of our first-ever music special, which includes the results of our music survey, the resulting top music cities ranking and an in-depth look at the most travel-worthy music cities across the country. See all the coverage here.
---
Anyone who's looked for a meal at a rock show has most likely come out of that search with a shot, a beer and maybe a bag of chips. The vast majority of music venues have pretty much always been just that — gritty, sticky places to see live shows late into the night. There might be a bar that'll heat up a slice of pizza for you or a hot dog stand around the corner, but, for the most part, the country's best rock clubs have almost always been concert-first experiences. 
That's changed, though, as more and more venues have realized that concertgoers want to make their evenings out into full-scale experiences. Grubby bar kitchens have stepped up their culinary game and venues have expanded, opening up adjacent restaurants and enlisting chefs and other seasoned restaurant professionals to help get their food game on point. These are spots that keep fans (and bands) coming back in search of a good meal. Here's our guide to 11 of the best venue restaurants in the country.
Cocina 10 Kitchen at the Crescent Ballroom in Phoenix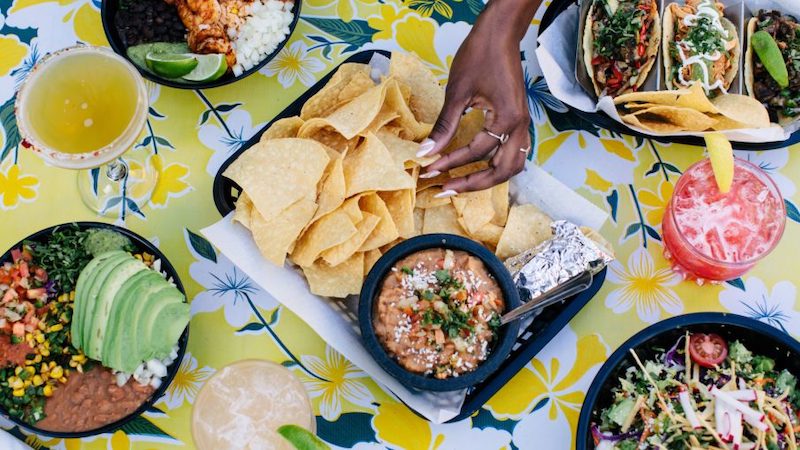 Located in downtown Phoenix, the Crescent Ballroom is a cool, 500-person rock club nestled inside a century-old building that was once an automotive garage. The in-venue restaurant, Cocina 10, serves a healthy roster of Arizona-centric fare, which the restaurant says is inspired by "the I-10 and people and places that surround it." There are tortilla soups and tacos, burritos and bowls. Start your meal with chips, salsa and guacamole, or maybe a little shrimp ceviche. The restaurant has an extensive vegan menu, too, which is great if you're looking to grab a bite that won't leave you feeling sleepy during the opener. If you're into sweets, you can snag a bag of doughnuts to carry into the showroom where you'll be able to catch acts like Lucero, Rory Scovel and Sunset Rollercoaster.
Dusek's at Thalia Hall in Chicago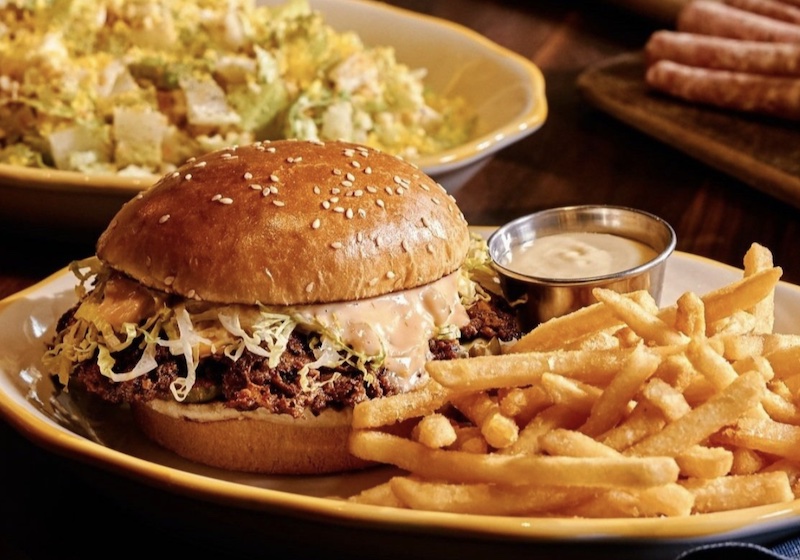 When Thalia Hall opened in Chicago in 2013, it wasn't just a venue: the 130-year-old multi-story building houses a primo music hall where fans can catch podcast tapings, rock concerts and sold-out comedy shows, as well as restaurants and bars, including one that specializes in boozy punch. Its marquee restaurant, Dusek's, serves two spaces — a dining room and a tavern, with two separate menus. Tavern fare is a little less fussy and slightly quicker, though you can still snag some oysters or a nice beef tenderloin, and in the dining room you'll be able to choose a four-course meal from a prix fixe menu. Options may include venison tartare or Arctic black cod, which can be paired with the bar staff's very-solid wine picks.
Pappy and Harriet's in Pioneertown, Calif.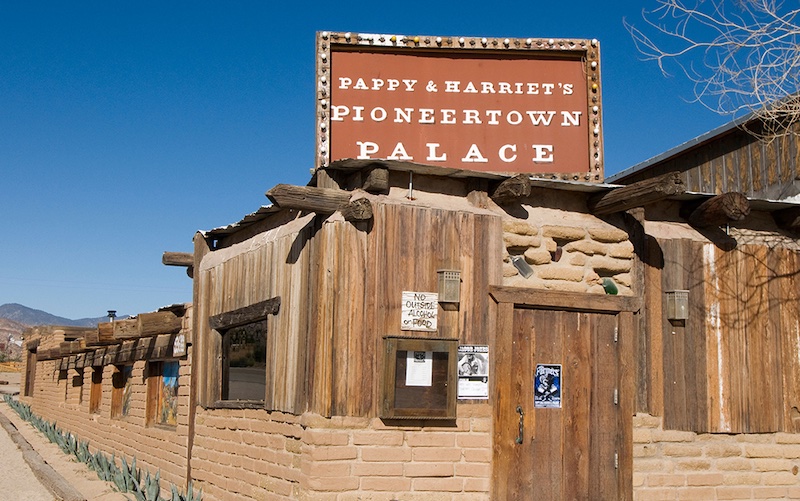 A country-fried restaurant and venue out in the California desert near Joshua Tree, going to a show at Pappy and Harriet's is one of those experiences every music lover should do at least once. Founded in the '40s, Pioneertown itself was created by movie folk looking to build a living location where they could shoot cowboy pictures all year round. Pappy and Harriet's took over one of those frontier facades in the early '80s and opened a full-service venue that still offers great music, but what it calls "the best open-fire Santa Maria BBQ west of Texas." Its menu is full of chili, nachos, steak and ribs, though meat-free diners will find a smattering of veggie fare, too. The restaurant also slings excellent desert-inspired cocktails and a wide range of microbrews. Once you're done, you can head over to the showroom, where you'll be able to catch acts like Violent Femmes, Godspeed You! Black Emperor and George Clanton.
The Triple Door in Seattle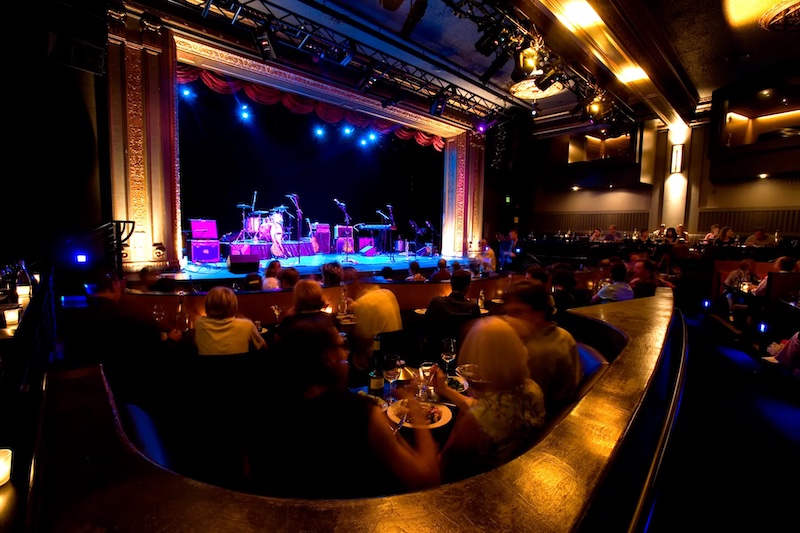 The Triple Door draws chiller, more mature acts like Sondre Lerche, Ron Sexsmith and Booker T. Jones and couples them with a Pacific Northwest supper club that serves seafood, locally grown produce and Asian dishes inside the actual showroom. The club's menu includes pad Thai, Wagyu beef satay and Hanoi tuna, as well as sweet-sounding dessert options like chocolate mousse and coconut sago.
Johnny Brenda's in Philadelphia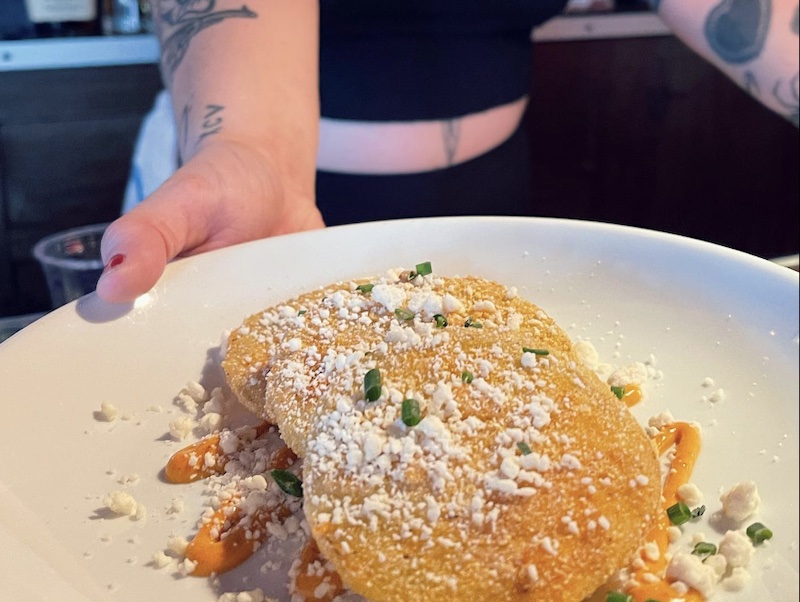 An independent rock club set on a corner in Philadelphia's Fishtown neighborhood, Johnny Brenda's has hosted touring bands and local acts for over 15 years. The 250-cap showroom gives fans a double-decker view of the on-stage action. The club's restaurant has a bar menu with a touch of class and serves venue patrons as well as the bands backstage. You'll find appetizers like fried dilly beans with a vegan Cajun aioli and mozzarella-stuffed smoked meatballs. Snag a burger or a Cuban sandwich as an entree, or step up to something more substantial like bangers and mash or a curried vegetable pot pie. As a bonus, the venue's also open for brunch and lunch every day starting at 11 a.m., should you be more interested in the food than the post-show festivities.
DC9 in Washington, D.C.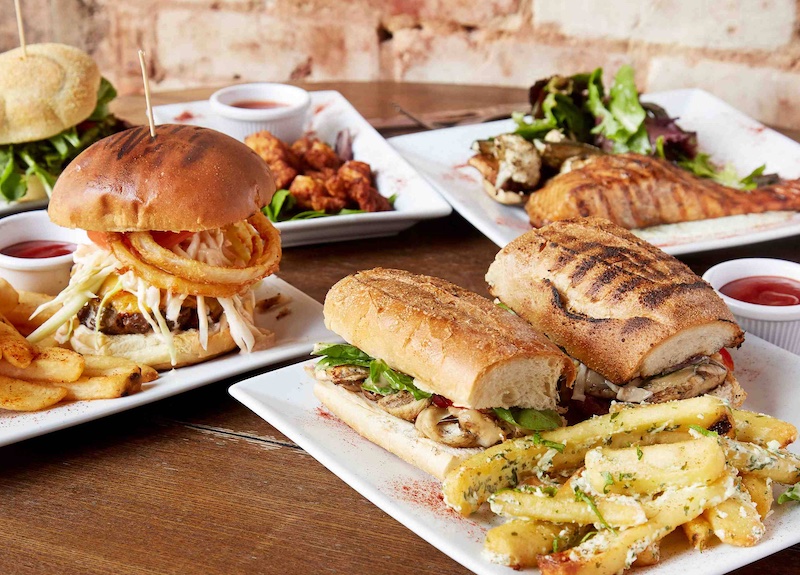 If you're looking for fancy fare at DC9 in the nation's capital, you won't find it. The tri-level club is a hip, if slightly gritty, hangout, with a basement bar, double-wide showroom on the second floor and a glass-enclosed rooftop bar up top. The restaurant is known mostly for finger food and fried fare. That doesn't mean what they make isn't great, though. People swear by the venue's burgers, which are made from all-natural beef and served with garlic fries. There are five different pre-crafted options to choose from, including a Southern-style "Jezebel," which is covered in jalapeño cream cheese and a sweet and spicy sauce. And if you feel bad about eating a bunch of fried food, consider this silver lining: The venue turns all of its old fryer oil into biodiesel fuel, meaning your cheese curds or hush puppies could help someone get where they need to go.
Brooklyn Bowl in Nashville, Brooklyn and Las Vegas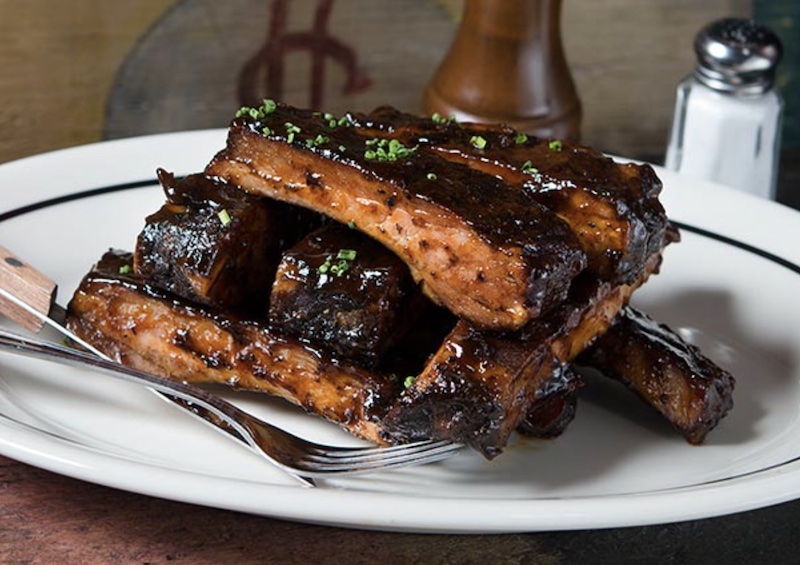 Brooklyn Bowl is part music venue and part bowling alley, but you can think of it as a sort of an adult Chuck E. Cheese, but with popular bands instead of animatronic entertainers. The company has teamed up with New York City's Blue Ribbon — the original location is in NYC — to craft its menu, which all centers around an excellent plate of fried chicken. There are other options, of course, like French bread pizzas and a big ol' BLT, but the chicken's the star, all plated up with bread, mashed potatoes and a heaping helping of collard greens. If you go with friends, you can order platters to share — but remember to wipe your hands before grabbing a bowling ball.
Stubb's in Austin, Texas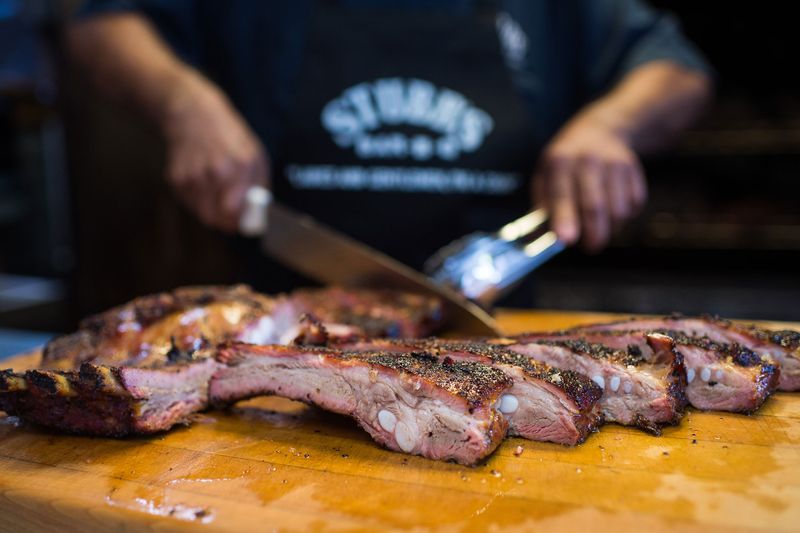 First up, a disclaimer: there is better barbecue in Austin than what they serve at Stubb's. That being said, Stubb's BBQ is still pretty damn good, especially if you're not a native Texan. The Austin institution has paired smoked meat and music for decades now. The venue's original Lubbock location has fed and hosted acts like Stevie Ray Vaughan, Joe Ely, Willie Nelson and Johnny Cash. In Austin, the centrally located venue can hold 2,500 music-lovers in its massive outdoor space while the restaurant inside keeps everyone full of ribs, brisket and Texas hot links. There are salads, too, but who really wants those?
Checker Hall at Lodge Room in Los Angeles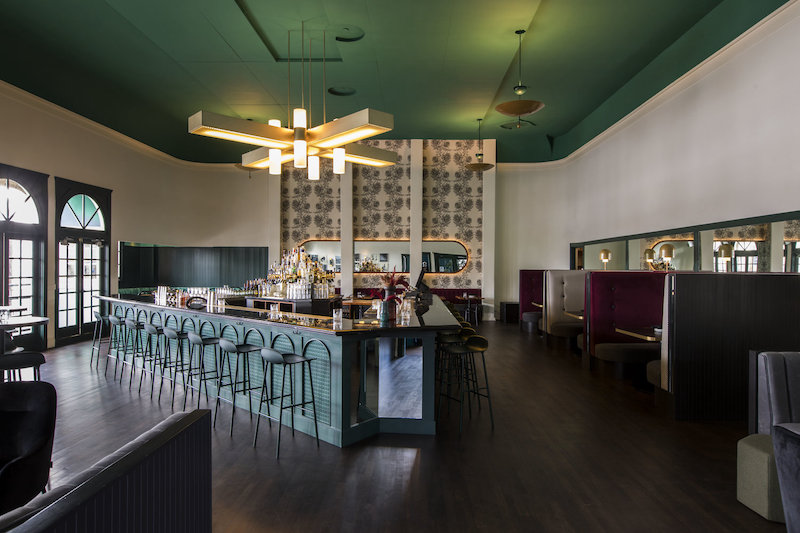 Checker Hall is a swanky restaurant set in an old Masonic lodge in L.A.'s Highland Park neighborhood. The second-floor eatery has a varied but Mediterranean-skewing menu including three different dips, all served with warm za'atar pita. If you're feeling peckish, choose from a slate of four skewers, including chicken shawarma, shrimp and swordfish or a range of small plates to share. If you're hungrier, Checker Hall also offers four entrees, including a lovely whole branzino. When you're done, you can head into the beautifully restored music space to check out acts like Melody's Echo Chamber, Kali Malone and Tamino.
Parts & Labor at Motorco Music Hall in Durham, N.C.
The in-house restaurant for Durham, N.C.'s Motorco Music Hall, Parts & Labor holds tight to the venue's automotive theme while serving delicious bar fare. Within walking distance of Durham's downtown, Motorco is in a 90-year-old building that once housed the Weeks Motor Co. auto dealership — hence the name. Today, the 400-capacity venue is one of the best spots to see music or just to hang in Durham, in part because the restaurant has both an indoor space and a large outdoor patio where diners can mow down plates of poutine, wings, latkes or samosas. Most of the dishes on the restaurant's menu are handheld, with the exception of a few salads, meaning you'll be able to tuck into something delicious even if you're standing up.
Snug Harbor in New Orleans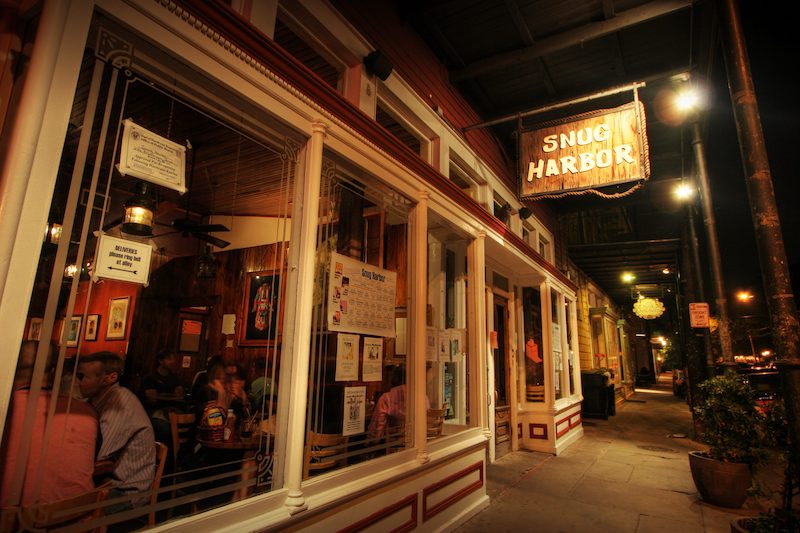 While there's certainly no shortage of places to eat in New Orleans — it was voted America's best food city in our first annual survey last year — you can take in dinner and a show at the legendary Snug Harbor Jazz Bistro. Tucked into a little space on Frenchmen Street, Snug Harbor has fed and entertained NOLA residents and visitors for over 30 years. Before dipping into the showroom to check out local jazz icons like Jason Marsalis, Herlin Riley and Charmaine Neville, patrons can sup on New Orleans classics like red beans and rice, barbecue shrimp or a bowl of gumbo. There's an extensive bar menu as well, because nothing says New Orleans like a good stiff drink.