It's early March and I can almost taste spring. The gnarled branches of bare trees will soon flourish with bright green leaves again. Daffodils, tulips, sweet peas and daisies will start to line my favorite streets, and the sun will occasionally rear its ugly but necessary head from the rain clouds. I'll start sneezing again, and the pink and white petals from the ephemeral cherry blossom trees will start to cover the windshield of my car, but I won't care. It'll be spring again and that's all that matters.
My fascination with April showers bringing May flowers aside, as the world begins to thaw out from a long winter, America's national parks are a great place to visit when you're ready to finally get out of the house and explore the great outdoors. Luckily, we rounded up a list of some of the best national parks to visit between late March and May last year. Below, we have this year's lineup of stellar spots to greet the first blooms of the seasons. 2023 could be the year you slide down sand dunes that resemble fields of snow or hike up volcanoes bubbling with molten lava. Just make sure to check in with the National Parks Service for each park to learn about potential closures and weather conditions before you go.
Arches National Park – Utah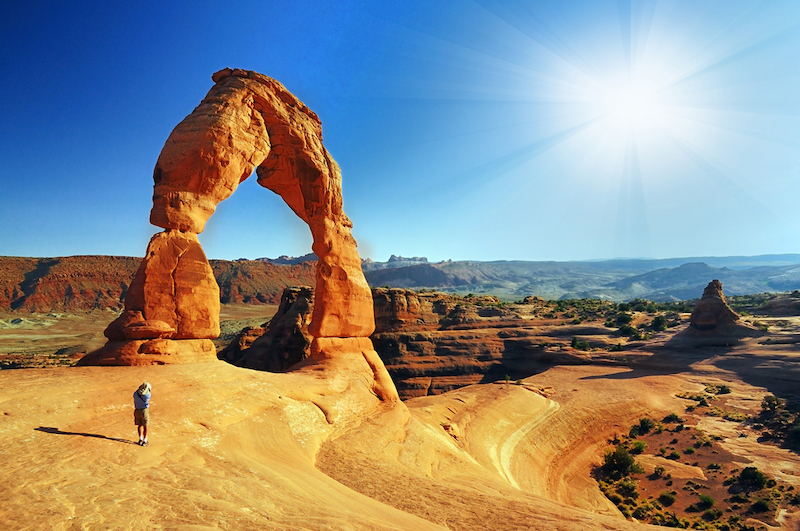 Not only does Arches National Park have the highest density of natural sandstone arches on the planet — over 2,000 — but it's also one of the most visited national parks in the country. Skip the hoards of travelers and the summer's scorching sun and visit during the spring, when blue skies provide a striking backdrop for the mandarin-hued arches. We like Arches National Park because it's approachable for hikers of all levels and you can explore most of the park in less than three days. While there is no shortage of arches at the park, you're here to see Delicate Arch, the fairest of them all, and accessible via the Park Avenue Trail, a moderate, three-mile hike round-trip. On the Devils Garden Trail, you can take in over seven arches including Landscape Arch, one of the longest arches on Earth. Pack your gear to camp in the park or check out hotels in the nearby town of Moab, roughly five miles away. Arches National Park is also within a five-hour drive of Canyonlands, Capitol Reef, Bryce, and Zion national parks, which means you can check all five off your list during a springtime vacation to Utah.
Cuyahoga Valley National Park – Ohio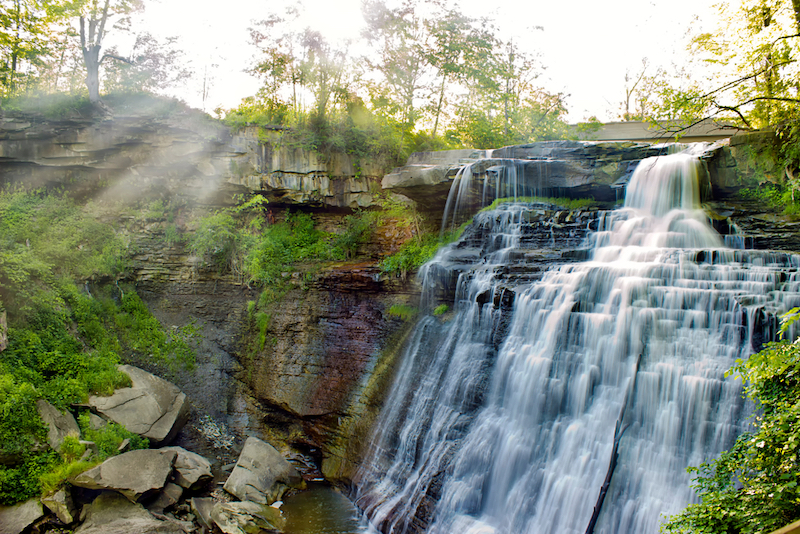 Rich with deciduous forests and over 1,500 wetlands, Cuyahoga Valley National Park is an elongated, narrow natural treasure located in northeast Ohio between Akron and Cleveland. The Cuyahoga River runs through the park and is the star of the show here, feeding wetlands like marshes and swamps along with plunging waterfalls. We recommend checking out Blue Hen Falls, Bridal Veil Falls and Brandywine Falls — the latter being a stunning 65-foot waterfall that's the most heavily trafficked spot in the park. Late spring is the best time to visit, when winter has abated and wildflowers are fully in bloom along the Ohio and Erie Towpath trail — an 87-mile gravel footpath that runs parallel to the Cuyahoga River and is great for biking, hiking and running. If you're more of a spectator, book a ticket on the Cuyahoga Valley Scenic Railroad in the glass dome observation car for the National Park Scenic Excursion.
Everglades National Park – Fla.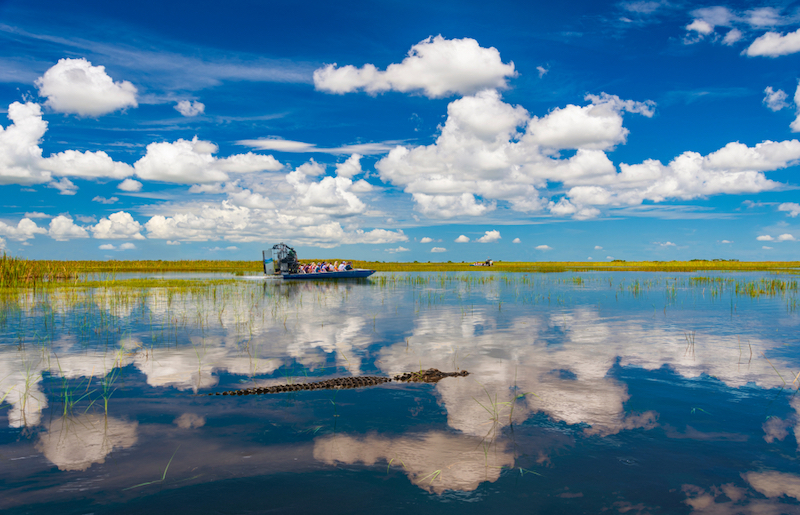 As the largest subtropical wilderness in America, Everglades National Park spans a staggering 1.5 million acres in south Florida, so there's lots of land to explore after you fill up on Cuban sandwiches in Miami. Visiting the national park in early spring ensures that the weather will be less humid and hot than it is during the peak of summer, and less tourists means more chances to see wildlife like storks, otters and Florida panthers. Sign up for an airboat tour and prepare to see plenty of alligators along with exotic birds, manatees, turtles, toads and more as you navigate the wetland preserve. If you're more comfortable staying on land and aren't keen on hiking, set out on the two-hour Shark Valley tram tour and take in stunning panoramic views at the Shark Valley Observation Tower along the way.
Hawai'i Volcanoes National Park – Hawaii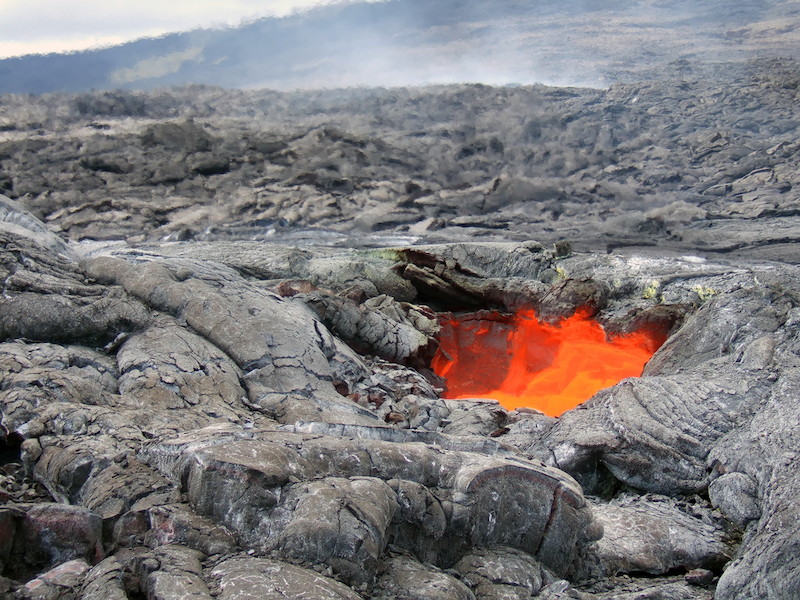 You don't really need an excuse to visit Hawaii, but if checking national parks off a bucket list is your thing, spring is the best time to head to the Big Island and explore Hawai'i Volcanoes National Park. High tourist seasons are during summer and winter, so visiting in the spring means accommodations will likely be cheaper and the weather will be slightly cooler. As the name suggests, the big draw here are the two active volcanoes: Kilauea and Mauna Loa, the latter of which is the largest volcano on the planet. Those volcanoes are surrounded by some of the most unique terrain on Earth, though at times it will feel like you're on another planet. You'll hike through volcanic steam vents, lava tubes and of course molten-hot flowing lava. Back in the 1980s, the national park was designated an International Biosphere Reserve and a UNESCO World Heritage Site, making it an important research location for work related to climate change and building sustainable ecological systems. Between days of hiking and majestic drives on places like Chain of Craters Road, rest up in one of the suites at Volcano Village Lodge — an award-winning bed and breakfast close to the park's entrance.
Hot Springs National Park – Ark.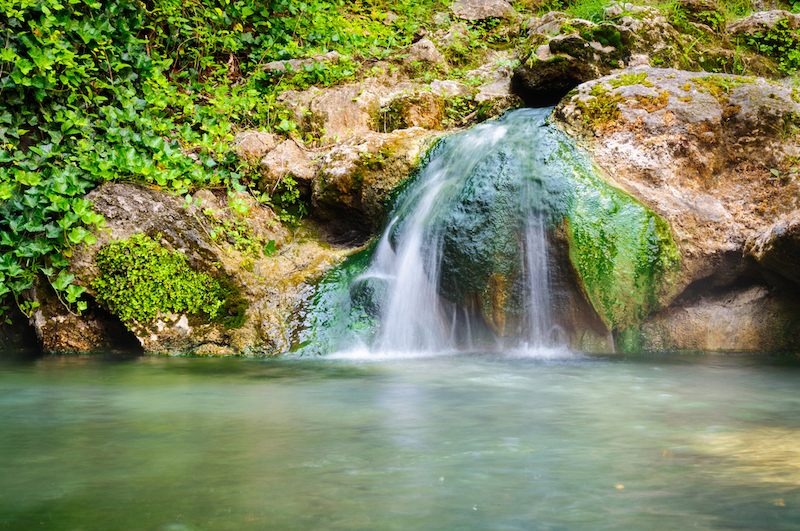 Hot Springs National Park may not be as off the beaten path as other national parks, but what it lacks in seclusion, it makes up for with natural beauty, rambling trails and the most historic bathhouses in Arkansas. Less than an hour's drive from Little Rock, the park is uniquely located in the namesake town of Hot Springs, which means one minute you could be exploring the 26 miles of hiking trails, and the next, you could be enjoying a beer on the patio of Superior Bathhouse Brewery. We like Tufa Terrace Trail during the springtime, a verdant path that passes by Hot Water Cascade, the largest visible spring in the park. When you're ready to unwind, head to Quapaw Baths & Spa and soak in one of their luxe thermal pools, or head to the Bathhouse Row to Buckstaff Bathhouse, a historic soaking spot that's been in continuous operation since February 1912.
Kenai Fjords National Park – Alaska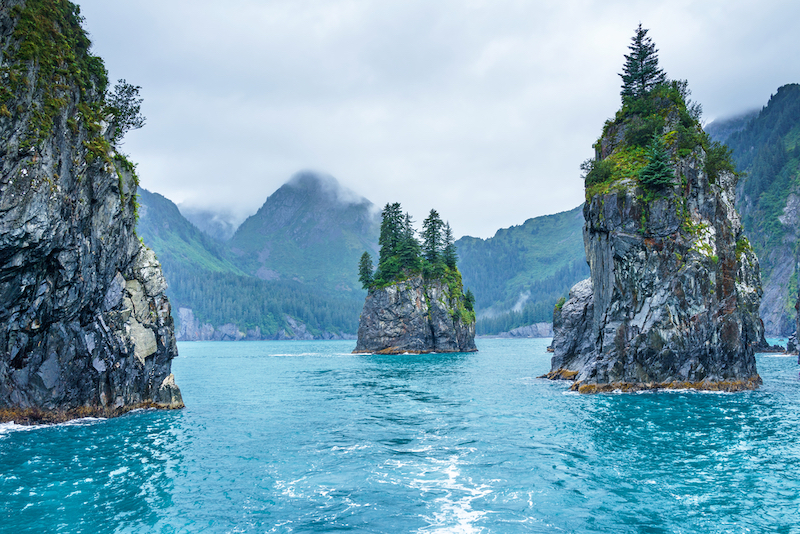 With its ice fields and substantial glaciers, Kenai Fjords National Park is a treasured Alaskan wonder near the lovely harbor town of Seward. Visit in the spring and there's a more than good chance you'll see massive gray whales in the fjords, flocks of puffin birds, sea otters, seals, sea lions and, if you're lucky, the occasional black bear. People come to marvel at the natural ice formations whilst screaming, "Iceberg, right ahead!" or maybe get into a dystopian headspace about climate change, but the piece de resistance of Kenai Fjords National Park is hiking to one of the most visited glaciers on the planet: Exit Glacier. Just outside of the Harding Icefield, Exit Glacier is composed of jagged and sloping thick, blue ice that you can actually drive up should you dare, though we like the short Glacier Overlook Trail that's just over two miles out and back on foot. Boat excursions like Kenai Fjords Tours will allow you to get a closer look at the wildlife and 'bergs without fear about sliding down an icy glacier. 
Mesa Verde National Park – Colo.
Mesa Verde National Park is home to more than 600 ancestral Pueblo settlements that are said to have been inhabited from 550 CE to 1300 CE — which makes them ancient. The park was established in 1906 by President Theodore Roosevelt, who vowed to protect the legacy of the cliff dwellings that the Indigenous Puebloans established so long ago. As the name suggests, these preserved cliff dwellings are carved into the sandstone-shale rocks and are accessible via a ranger-led ticketed tour that is available between May 14 and October 22. Strike out on your own and see the well-preserved rock carvings on the Petroglyph Point Trail, an out-and-back path that's just under two and a half miles round-trip. Beyond these Indigenous settlements, the southwest Colorado park has an archeological museum, gorges, forests and animals like wild horses.
New River Gorge National Park and Preserve – W. Va.
Take us home, country road, to America's — and West Virginia's — newest national park. New River Gorge National Park and Preserve was established in 1978, but only officially designated just over two years ago in December 2020, making it the country's 63rd national park. While the national park may be the newest, the New River is one of the oldest rivers in the world, clocking in at between 10 to 360 million years old — that's a lot of birthday candles. The record-breaking park is also home to the New River Gorge Bridge, one of the longest single-span steel arch bridges in the Western hemisphere. In the spring, colorful wildflowers bloom across the park's 70,000 acres and wildlife like bald eagles, osprey, river otters and mink can be seen via canoe, bicycle or even whitewater raft. Stop by Sandstone Falls, the largest waterfall on the river, which stretches 1,500 feet across.
Redwood National Park – Calif.
You can visit Redwood National Park all year round for an entrancing experience, but we recommend visiting in the late spring when the deciduous trees have their leaves again and the vibrant rhododendron flowers are in bloom. Situated near the Oregon border in northwest California, the park is celebrated for its old-growth forests with some of the planet's tallest trees, many of which are over 2,000 years old and tower more than 300 feet tall. Along 37 miles of California coast, you can follow rambling paths like Big Tree Loop Trail through the redwood groves. State parks like Jedediah Smith, Prairie Creek Redwoods and Del Norte Coast Redwoods are located in the park, putting hikes at Fern Canyon Trail and Tall Trees Grove are at your fingertips. Before you leave, hop in the car and take a ride on Newton B. Drury Scenic Parkway or down Howland Hill Road, and get one last glimpse of the thick forests and pristine meadows.
White Sands National Park – N.M.
Covering roughly 146,000 acres in the Tularosa Basin, White Sands National Park is arguably one of America's most stunning places to visit. The park was established as a national monument in 1933, but didn't receive the national park designation until 2019. Since then, it has become New Mexico's most visited site. You're here to explore the largest gypsum dunefield on the planet, consisting of rolling, white sandhills that stretch on for what seems like eternity. Sure, you may see the occasional twisted tree while navigating the black diamond trails, but dreamy white dunes set against blue skies is why this park is billed "like no place else on Earth." Visit in the spring before summer's temperatures reach their boiling point, and don't forget to bring a plastic snow saucer and wax so you can effortlessly sled down the sloping dunes.