One might not immediately think of winter as "new hotel season," as aside from ski resorts, new properties often wait for warmer months to open their doors. But in the year-round warmth of the American Southeast, a number of creative new spots hit the scene in early 2022, including a restored Green Book hotel in North Carolina and a high-tech marvel in Orlando. Mountain states weren't left out, though, as Jackson Hole got a cool new retro lodge and Denver scored a gleaming new Thompson. Check out the rest of America's coolest new hotels, and get your summer travel planning going early.
Magnolia House, Greensboro, N.C.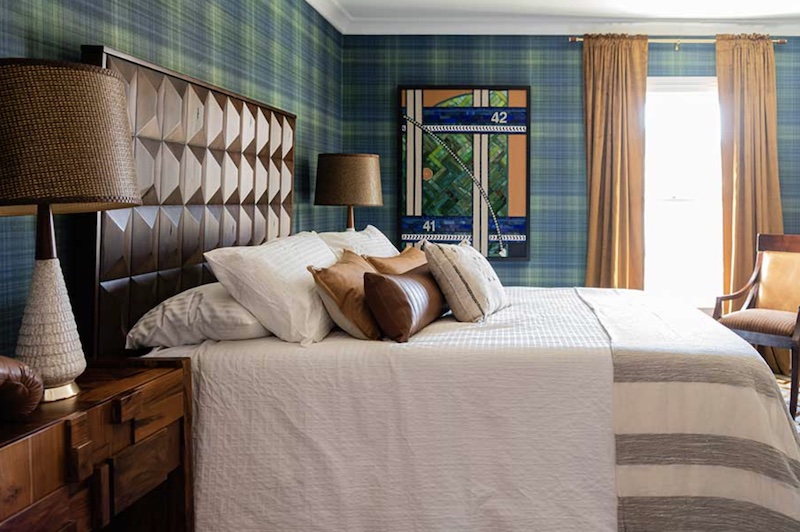 This historic, Green Book hotel – one of the few Southern hotels open to Black travelers during segregation – reopened after 50 years in January. Designers painstakingly recreated the original color and decor, so guests can have a sense of what it looked like when the likes of Jackie Robinson, Ray Charles and James Brown stayed here. Of course, the rooms have been updated for 2022, but still feature the midcentury-modern design and bright colors of the era. Each one is themed after a famous guest, from the Miles Davis "Kind of Blue" suite to the "Carlotta" decked out in bright pink.
Hotel Forty Five, Macon, Ga.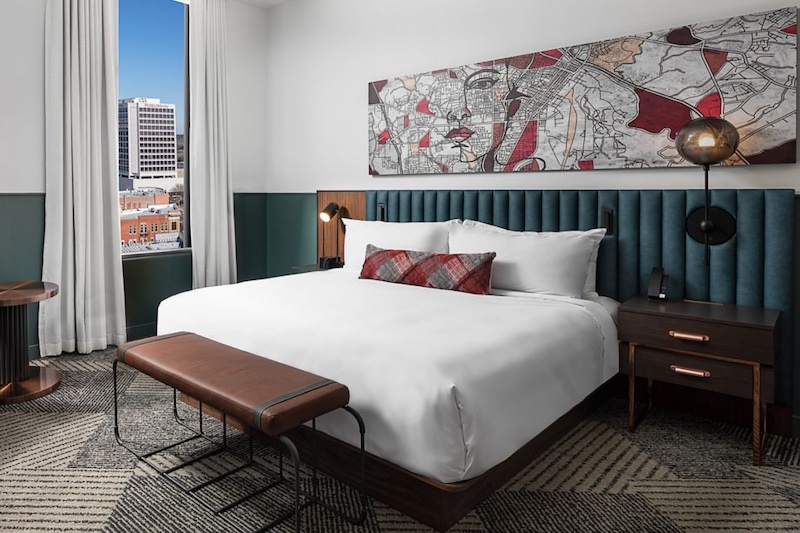 Macon welcomed its first boutique hotel in February, a 94-room property set in a historic building at a 45-degree intersection. The flatiron-style structure was originally set on these streets to allow freer movement of cotton barges in Macon's once-thriving textile industry. The interior reflects that legacy, with cotton-shaped light fixtures and tributes to historical figures near the elevators. The Forty Five brings Macon its newest rooftop bar at Hightails, where guests can mingle with locals among sweeping views of downtown. They can also opt for dinner at Loom, a Southern-inspired eatery boasting stuff like fried green tomato napoleon and pork belly carbonara.
Hotel Tupelo, Tupelo, Miss.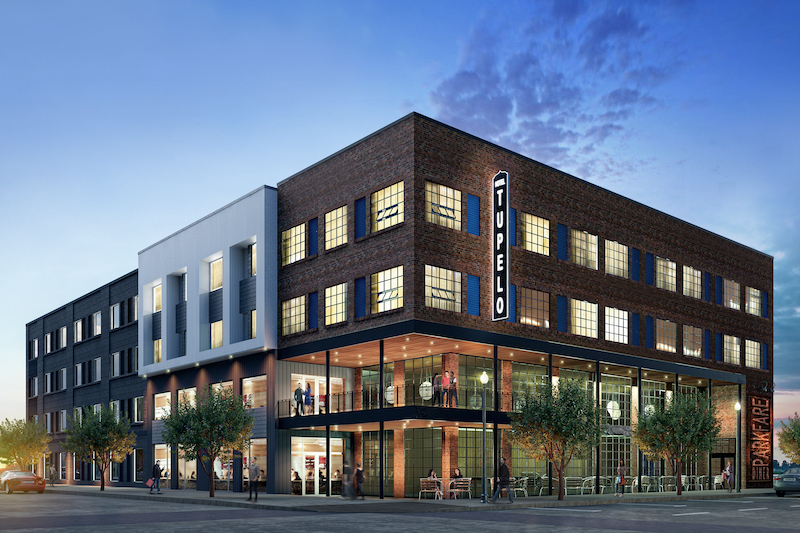 The birthplace of Elvis Presley welcomed this music-inspired boutique hotel, the city's first set along its historic Main Street. The façade is done up to look like an old-time theater, the kind of place one might have gone to hear the King before he was famous. It also brings Tupelo a sleek new restaurant and lounge in Jobos, where Asian-inspired entrees pair surprisingly well with Latin American cocktails. For local flavor, Hotel Tupelo offers an onsite market where guests can peruse local creations, from pottery and Blue Delta jeans to selections from Queen's Reward Meadery.
Thompson Denver, Denver, Colo.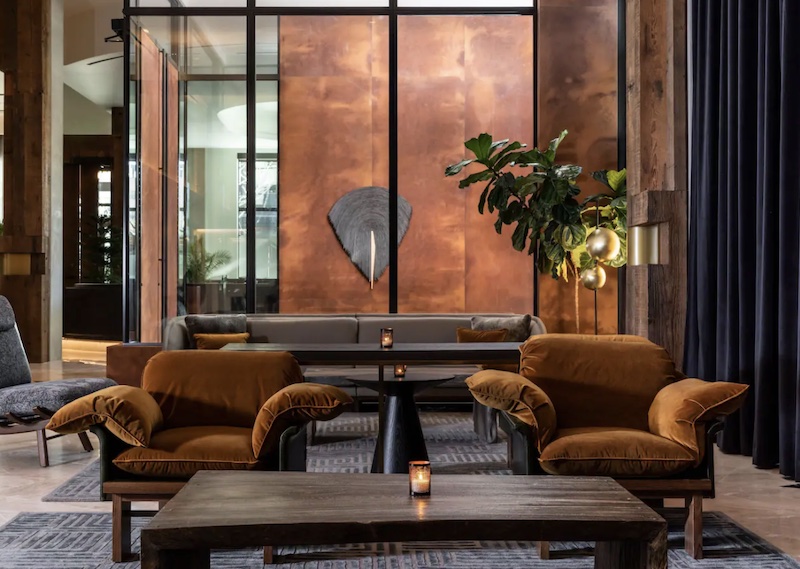 Hyatt's Thompson brand has been opening hotels like mad over the past couple of years, and its coolest new entrant landed in Denver's LoDo district. Its wood-heavy interior brings to mind ski chalets in the Rockies, though light woods and modern furniture make it feel every bit the big-city boutique. It sets itself apart from other new Thompsons by bringing Ludo Lefebvre's first restaurant outside Southern California at Chez Maggy, making the year's best hotels for foodies. Guests can also bask in the Colorado sun with a craft cocktail in hand at Reynard Social, the sixth-floor lounge filled with skylights and giant windows.
Blossom Hotel, Houston, Texas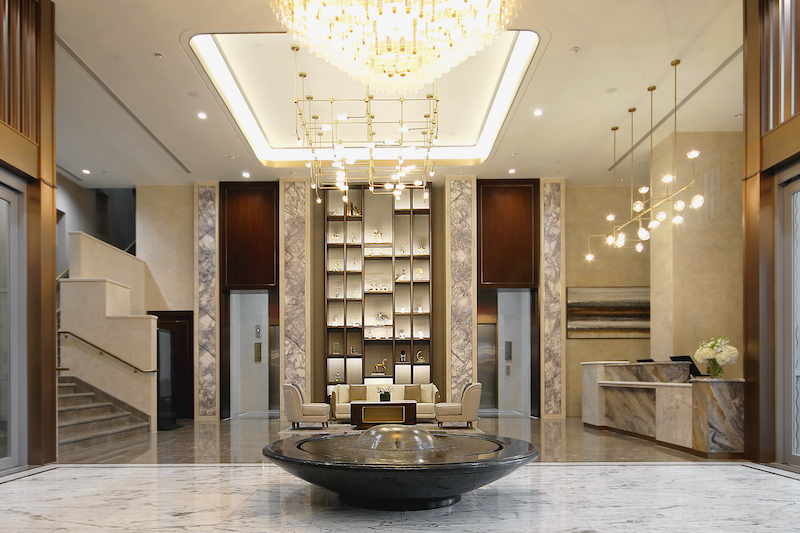 Texans love to say everything is bigger in Texas, but when it comes to 2022's newest hotels they're not just spewing hyperbole. This 267-room behemoth near the Texas Medical Center is the spring's most epic new opening, offering astronomical amounts of space from entry-level rooms on up. Each oversized room boasts a full living area, complete with sofa and desk. And the larger suites feel like kitchenless apartments. The decor is a nod to Houston's space history, with midcentury orbital light fixtures and twinkling stars illuminating the property. Blossom also brings Houston its newest rooftop pool, and though it's not Texas shaped it does offer stunning views of downtown and beyond. Later this year, it'll add two new restaurants from Michelin-starred chefs Ho Chee Boon and Akira Back.
Wave Hotel, Orlando, Fla.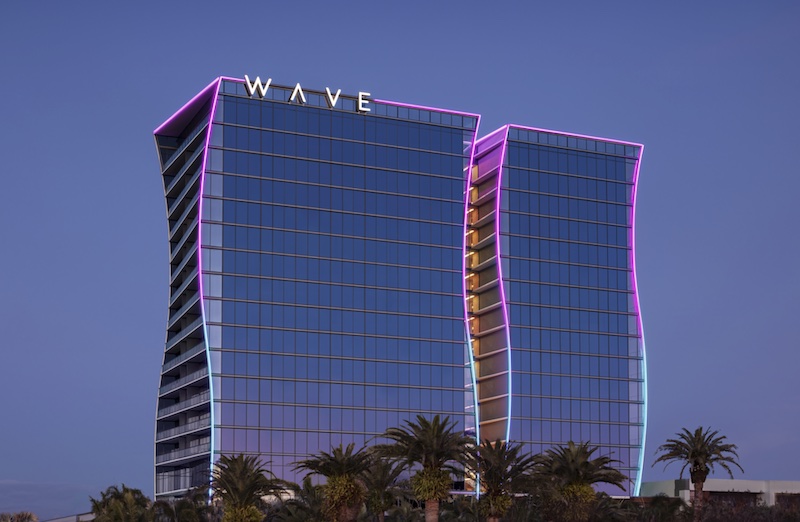 High technology meets fine art at Orlando's newest attraction, a 16-story tower of tinted glass and undulating curves. A collection of curious artwork fills every space, from the lobby to the elevator banks to the outdoor sculpture garden. Rooms can be controlled remotely via an app, allowing you to pre-set the A/C or open the windows before you get home. The Wave also serves as a social hub for the burgeoning suburb of Lake Nona, where a creative cocktail bar has become the default hangout for those living nearby. It's also got a stellar pan-Latin restaurant at Bacan, an especially appealing option as the Wave is offering $100 dining credit with all new reservations.
Liberty Trust, Roanoke, Va.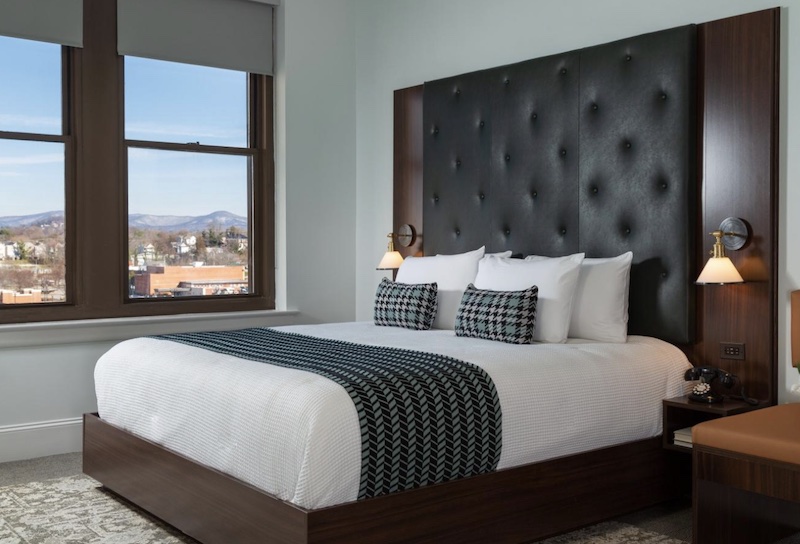 No new hotel exudes old-style opulence like Roanoke's Liberty Trust, a 54-room stunner set inside a 1910 bank building. The lobby is a marvel of marble and brass, instantly transporting guests to an era when architecture conveyed strength and longevity. As converted bank hotels do, the Liberty Trust opened a cocktail lounge in its old safe, serving up stiff drinks in the Tasting Room. Guest rooms are all fronted by vintage copper doors, giving guests the impression they could be sleeping in a vault too. While decor is minimal, the views are fantastic, as the onetime tallest building in Roanoke boasts vistas of the city and Virginia hills.
tommie Austin, Austin, Texas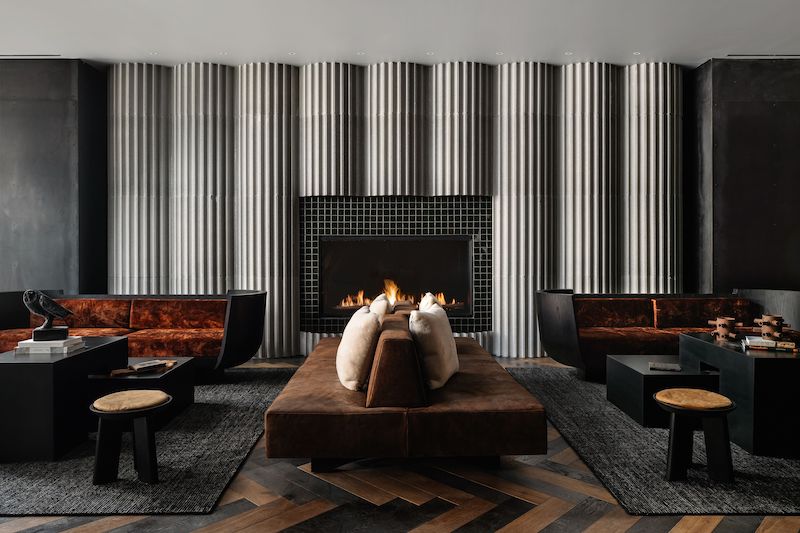 The experiential-focused tommie hotel opened its first location in Texas, attached to the luxe new Thompson on San Jacinto Street in downtown Austin. The hotel encourages guests to socialize and explore, creating an entrance through a coffee shop and wine bar, and keeping rooms small and simple. The in-room decor is still decidedly Southwestern, with brown-and-gray carpets complementing landscape photography from Kenny Braun. The 193-room hotel will share a pair of restaurants from James Beard winner Mashama Bailey with the Thompson, too. The Southern lunch counter-inspired Grey Market opened with the hotel in January, while the Diner Bar will open in April.
evo Hotel, Salt Lake City, Utah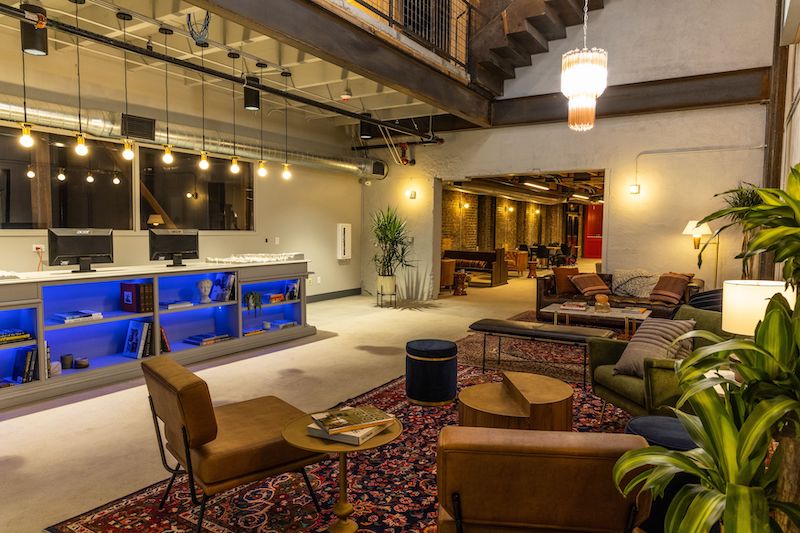 The evo Hotel is the lodging centerpiece of Campus Salt Lake, an ambitious project in SLC's Granary District transforming five old warehouses into an urban adventure sports park. As part of their stay, guests have access to the campus' onsite climbing gym and skate park, but they're equally encouraged to get out and explore northern Utah's wilderness. Rooms are lined with exposed brick, ranging from the luxurious Wasatch Rooms with private patios boasting mountain views to the ultra-industrial Rafter Rooms, literally set in the warehouse rafters. Groups can opt for Bunk Rooms, if your crew just wants a place to crash after a hard day of playing. Or opt for a Boulder Room, set right above the campus' bouldering center.
The Virginian Lodge, Jackson Hole, Wyo.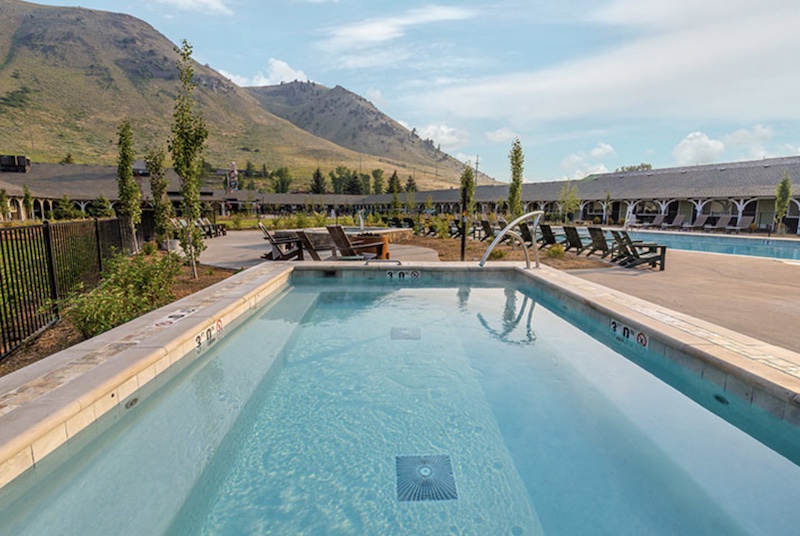 Though once-rustic Jackson Hole has gone decidedly upscale in recent years, this new retro motor lodge brings back at least a little bit of its old mountain grit. The original property opened in 1965 but was reinvented in January as a 165-room resort with the city's largest year-round outdoor pool. The lobby is filled with wagon wheel chandeliers and stuffed animal heads, as one might expect. And rooms are done up in wood paneling that recall childhood motel road trips through national parks. The airy courtyard is filled with lawn games and lounge chairs, making The Virginian one of the more social properties in new, high-society Jackson. Later in spring, it'll welcome the return of local legend Billy's Burgers, as well as a throwback bar at The Virginian Saloon.