It's been over a year since the world shut down because of the Covid-19 pandemic, and our collective wanderlust is palpable. While many folks shied away from traveling in 2020 (with good reason), according to a recent survey conducted by Fifty Grande, 77% of respondents said that they are planning to travel this year or would travel right now.
And with the number of coronavirus cases currently dropping across most of the country and vaccinations on the rise, folks are ready to hit the road or take to the air. Of course, you'll still want to be smart when planning and follow health and safety protocols. As the recent cautionary tale out of Miami shows us, vacations can quickly turn into nightmares. (ICYMI: The city had to declare a state of emergency because of hard-partying spring breakers.)
So whether you're planning to travel via planes, trains or automobiles, here are some tips to take a socially distanced summer trip.
Make sure to do research.
How do you take a socially distanced summer trip? In addition to the usual things like where to eat and what to see, be sure to study up on the local Covid-19 regulations of your chosen destination. For example, are masks required indoors? What's the outdoor dining situation? Do the museums offer timed entry? The more information you know, the better you'll be able to plot out your visit and make the most of your time there.
Get tested and/or vaccinated.
Right now, the U.S. requires air passengers coming into the country, including U.S. citizens, to have a negative Covid-19 test result or documentation of recovery from Covid-19 before they board their flight. The Centers for Disease Control and Prevention (CDC) is currently considering applying this same requirement to all domestic flights. Although it's unclear whether that will actually happen, the CDC does recommend taking a viral Covid-19 test one to three days before your trip and to get tested again three to five days after you return.
Also, some states continue to enforce their own travel restrictions and quarantines, but more and more have begun loosening up their rules. Since guidelines are in flux, before you travel, remember to review any testing and quarantine rules in your home state as well as your destination. For example, Alaska no longer requires visitors to present a negative test result to enter the state, while Los Angeles County requires visitors to self-quarantine for 10 days. And even if you've been vaccinated, you should continue to follow all official travel requirements and guidelines.
In the future, for international travel, governments will likely require proof of vaccination similar to how some countries mandate vaccinations for other diseases like yellow fever or polio. Destinations such as the Seychelles and Poland have already lifted quarantine requirements for visitors who are able to prove they've been vaccinated.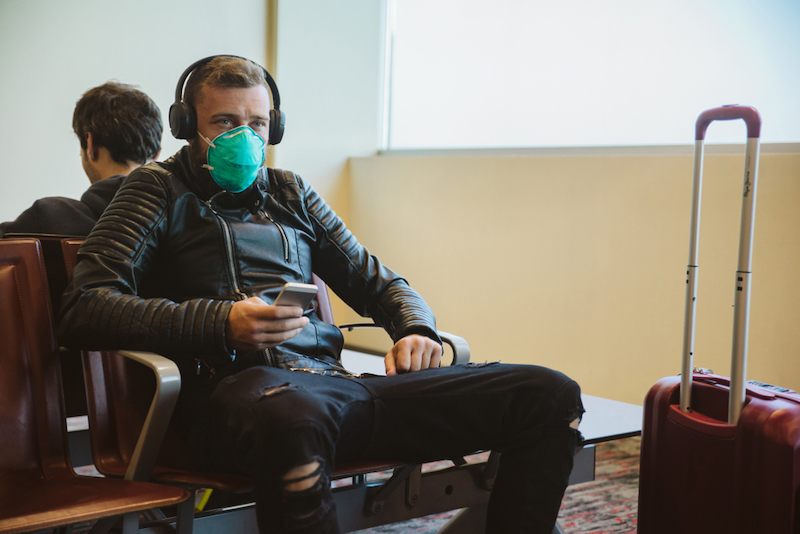 Map the best route.
According to our survey, the majority of folks (77% of respondents) were more comfortable with taking a road trip right now than other common activities, including going to a grocery store and staying in a hotel. That's because road trips are still the safest form of travel, with a low risk of Covid-19 exposure.
And if you're traveling via a recreational vehicle or camper van, you can enjoy even more seclusion and social distancing. Similar to a car rental company, the booking site Outdoorsy lists RVs and camper vans including Airstreams, teardrop trailers and more that are available for rent; pricing ranges from around 50 dollars per day up to 800.
Before you hit the road this summer, take a gander at AAA's COVID-19 Travel Restrictions Map to help you easily identify regulations along the way. And to find RV and glamping sites, download apps like Hipcamp and the Dyrt to read user reviews, get booking info and find out what's open from state to state.
When you're on the road, try to keep stops to a minimum in order to limit your exposure. For example, along the Blue Ridge Parkway, which meanders through the Appalachian Highlands, drivers are discouraged from stopping at crowded overlooks and trails and are encouraged to explore the park's less-traveled areas. Plus, if you're new to the #vanlife, consider the type of roads you'll be driving on and whether you'll be able to navigate them with an RV.
Like the idea of a road trip but not the driving part? Hire someone to do it for you. Roadies rents its high-end buses — like those used by on-the-road rock stars — to private groups for custom tours such as skiing in the Rocky Mountains or visiting the Grand Canyon. The company handles all of the logistics, including meals, excursions and other luxe amenities, so you can easily live out your Almost Famous fantasies.
Pack responsibly.
Socks, undies, toothbrush and hand sanitizer — that should be your new packing list. The TSA allows travelers to pack one oversized liquid hand sanitizer container, up to 12 ounces, in their carry-on bags now. Plus, remember to bring extra masks, disinfecting wipes, a thermometer and a copy of your negative Covid-19 test result. For a road trip, stock the car with a multipurpose cleaner, paper towels, toilet paper and gloves.
Consider buying travel insurance.
Even if you typically waive travel insurance, you'll definitely want to consider it now, especially if you're flying abroad. Look for a policy that includes coronavirus coverage in case you need to cancel a trip because you, a covered travel companion or possibly someone you need to care for contracted Covid-19 or your trip is delayed due to changing Covid-related guidelines. It should also include travel medical coverage in case you become ill with Covid-19 while traveling abroad and incur health care expenses or require an evacuation.
Most airlines and hotels are currently offering flexible cancellation policies, but be sure to read the fine print, and keep in mind that there's a chance the airline might cancel or reschedule your flight, which can derail your plans.
Choose destinations that mitigate Covid-19 risk.
Until more people are immunized and the pandemic is clearly behind us, maintaining a safe distance from other travelers will remain important if your aim is to take a socially distanced trip. That's why destinations boasting wide open spaces such as national parks, beaches and lake and mountain houses are still your best bet when choosing where to go. While pools are probably OK, steer clear of water parks where crowding is common. Also, keep in mind that a small town with limited medical facilities and resources might not be equipped to handle an influx of travelers, so travel responsibly.