This story about the great RV vacation appears in The Food Issue.
Artist/muralist Victor Ving and photographer Lisa Beggs did what most of us have dreamed of since our official adulting phase began. In 2015, they said, "Eff it!" to the grind and decided to hardcore see the country. After ditching their professional gigs and New York City apartments, they bought a small RV, made minor renovations and then hit the road for the next five years. (Yes, five years.)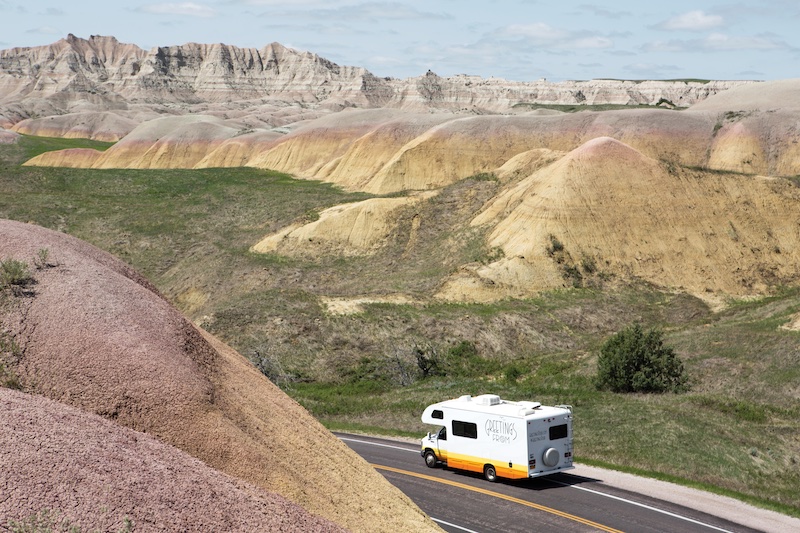 Their trek was part exploration and part art venture, as they set out to create a nationwide mosaic of murals while traveling. They worked with local groups — tourism boards, hotels — across the country and turned public walls into their signature brand of street murals. A take on the classic postcard design, each one featured "greetings" painted in classic large letter type and unique local icons that embodied that place's spirit, all set using vibrant colors that jump off the walls.
About halfway to their goal, the couple has produced 53 murals in 24 states so far.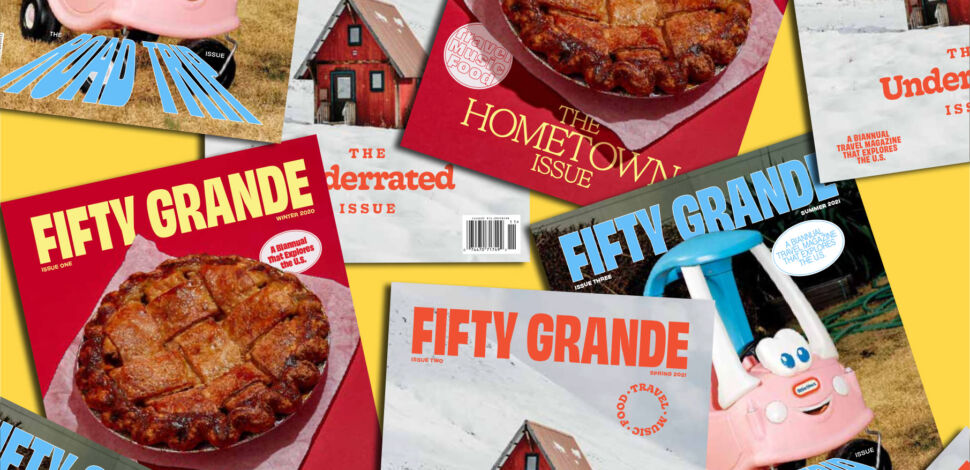 "We've been told [by locals] that the murals mean so much to them, to their communities. It's a source of pride and identity that they talk about years later," says Beggs by phone from her home with Ving in Pasadena, Calif. Once COVID hit, they made their roaming lives more permanent, settling in Pasadena in May 2020. The couple is now married and just had their first baby in March 2022.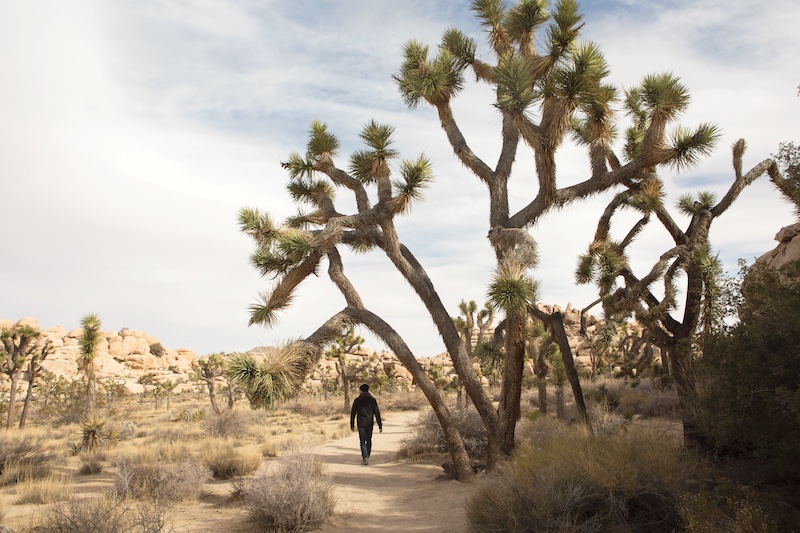 They plan to begin the project again in summer of 2023 and, in the meantime, paint one-off murals for communities around the country (West Virginia is next) as well as walls that are close to home. Though they're opting to fly to locations now too.
"We'll finish," says Beggs when asked about the prospect of calling it quits since having a baby. "It's a lifelong project, but we'll finish."
We picked their brains for the best parts of their five-year trek across the U.S.
Part of the U.S. they were most excited to see
"I'm from New York and, when we started, the Southwest landscape fascinated me. Part of that was the yearning to try and see new things, to travel and see something other than what I knew growing up. Pretty much any landscapes or natural elements. I loved seeing anything new," says Ving.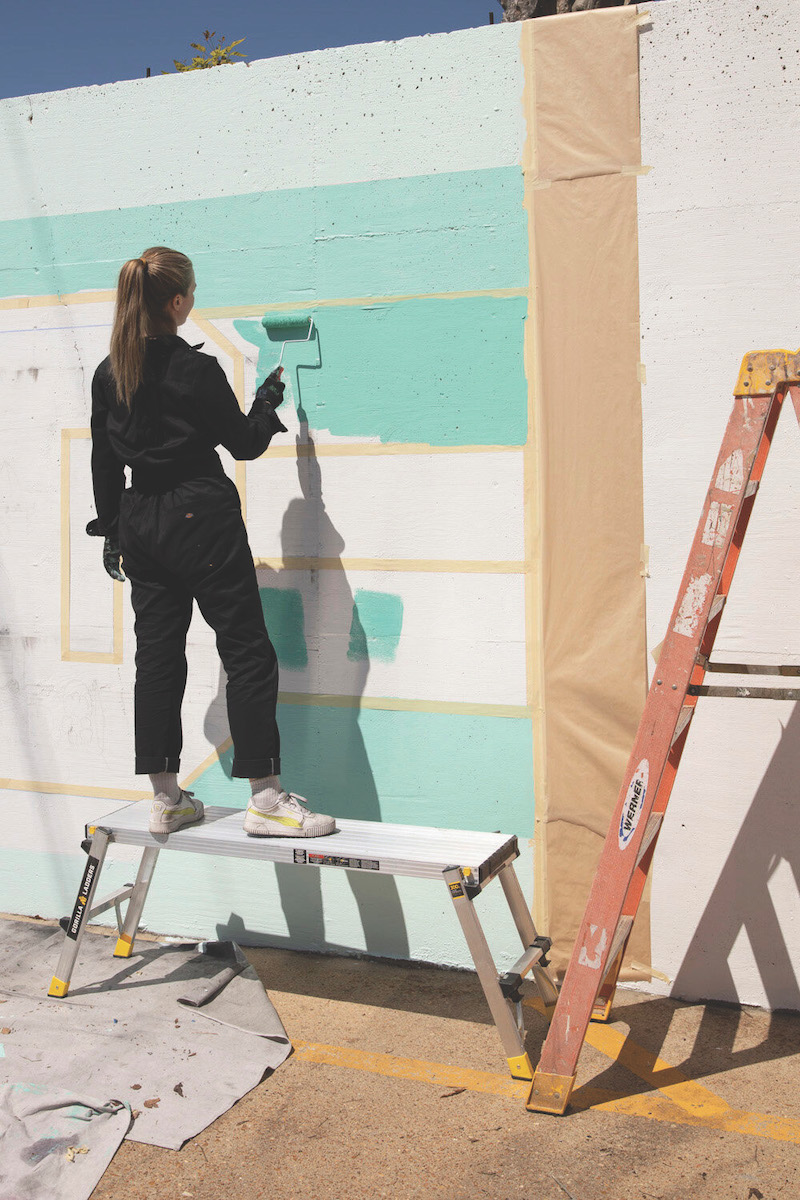 Best places for food
"Really, every big city has something going on [food-wise]," says Ving. "We were able to experience each big city's food scene. But, if I had to pick one, the restaurants in Fargo [N.D.] will surprise you. They had Nordic food that I'd never had anywhere else. Anywhere in the country. And it's such a cool city."
"El Paso, Texas, for their great Mexican food," says Beggs. "And San Diego, for the California Mexican."
Places you should visit
"Again, Fargo, N.D. That said, we weren't there in the winter. Everyone there talks about how bad the winter is," says Ving.
"Oxford, Miss. It surprised us how many great, James Beard Award-winning restaurants were in the city," says Beggs. "There was a lot of interesting history and culture in Oxford, and it's always fun to paint in a college town."
"Alaska. We drove up on the Alaska Highway and spent a summer there, being out in nature," says Ving. "We took a float plane to Katmai with a guide and got up close to wild bears. There's also tons of mosquitoes. It was pretty exciting to see tidewater glaciers from a boat and even walk on some glaciers."
"Oregon coast. I'll never get tired of it," says Beggs. "It's gorgeous. Ariya's Beach is my favorite spot there."
What surprised them
"The crowds," Ving says. "The one thing you notice when going on a trip like this is how crowded everything is. You see all these pictures of well-known scenes or places on Instagram, and what you don't see is all the people right off camera."