This story appears in The Food Issue, which is on sale here and is in stores now.
On Saturday mornings, Spencer Marley loads his car with large plastic buckets and the kind of sheers with a curved blade used for cutting grapevines. Though he is based in San Luis Obispo, Calif., a region known for its zinfandel and Rhone-style wines, he's not off to help with a winery harvest. He's going to go pick seaweed and to teach others how to do it safely and sustainably.
Marley, owner of Marley Family Seaweeds, began leading tours a little more than two years ago — the classes were requested by regulars at his farmers market stand with even more often than the kelp varietals not in stock on any particular day.
During the 90-minute classes, he takes small groups out to some of the gravelly, protected Central California coves where foragable kelp is the most abundant. More often than not they're the only ones there. While it's legal to harvest kelp in California, it's not as common a practice, partially because kelp isn't particularly popular with Americans. To be blunt, not many seem to care. But they should.
Finding a foothold in the market
Kelp is found in abundance from New York to Maine and throughout the West Coast, though very little of the seaweed consumed in the United States is locally grown or harvested. Right now, more than 95% of seaweed used in this country is imported from Asia.
"The global seaweed market is larger than the global market for limes and lemons. We're just not big participants in it," says Markos Scheer, founder of Seagrove Kelp, a commercial seaweed company. "Thirty million tons of seaweed a year [are] produced globally, and we produce almost none of it. Why? Because we haven't. It's not because we can't."
It's only been about six years since commercial kelp farms have begun operating in many coastal U.S. states. While it has been legal in some form for longer, there weren't many farmers looking to get into the business until more recently. But despite being in its infancy, the market has grown exponentially. Among all farmers nationwide, the farmed weight of wet seaweed (the processed weight is one-tenth this) went from about 25,000 pounds in 2015 to more 550,000 pounds in 2019, with Alaska and Maine accounting for the majority of the growth and market share since 2017.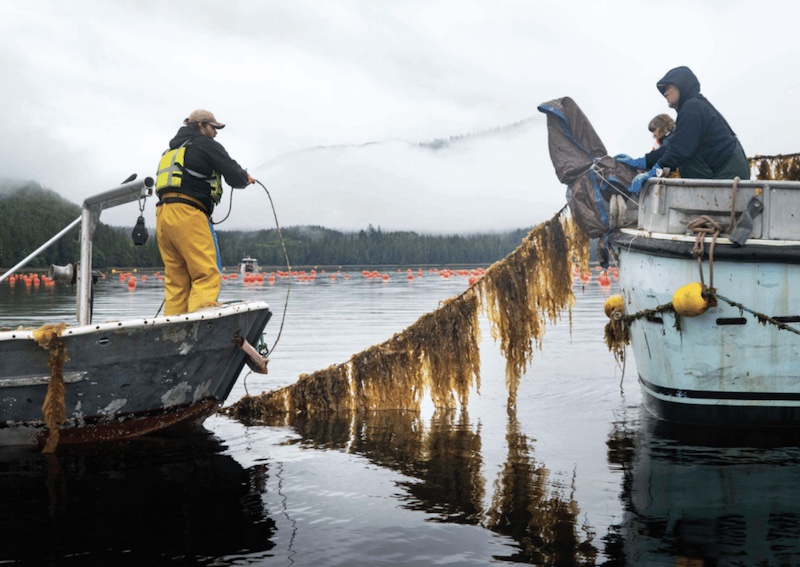 Domestically, the total edible seaweed production (including wild harvest and farmed kelp) was estimated to be slightly under 1 million pounds of wet harvest in 2019. That number is estimated to increase to 4.1 million by 2035, according to the Edible Seaweed Market Analysis produced by Island Institute, an organization that aims to sustain Maine's coastal communities.
There's certainly growing demand, but for Scheer and others in this sector of mariculture, finding their spot in the food web means looking for areas untouched by their Asian counterparts.
"We get competitive in the market by not going after that market," says Andrea "Trey" Angera of Springtide Seaweed in Maine.
Rather than fighting for sales from those already purchasing the bulk of seaweed used in the U.S., like ethnic markets, specialty stores and Asian-menu restaurants, both Angera and Scheer hope to create a new market.
"Our opportunity lies in changing the way people eat and what they eat," Scheer says.
Kelp: It's what's in your dinner
You've probably read or heard about kelp being the new or next superfood, since it pops up every year or so in health and food publications as such, much like seaweed on the beach after a storm. The challenge, of course, lies in creating consumer demand. And therefore, changing perception.
"Think of your own lifetime — what new foods have you introduced to your diet?" Angera says. "My guess is that you'd probably have a short list of foods you're eating on a regular basis now that you didn't eat when you were growing up. Diet is culture, right? I think the future of the industry is where seaweed is incorporated into familiar flavor profiles and products that people can get a handle on."
Neither Seagrove nor Springtide produces center-of-the-plate main courses with their kelp. Instead, they focus more on selling to others who can use it as an ingredient in other foods, something Angera (who also does consulting work) says most other U.S.-based companies are angling to do as well. Some of those companies have included: Barnacle Foods, which makes kelp pickles and salsa; Atlantic Sea Farms, which crafts kimchi with it; Brodo, a broth company; and Blue Evolution, a brand that infuses popcorn with it.
Making it approachable, says Heritage Seaweed owner Josh Rogers, is how the ingredient can make inroads. The most popular products he sells at his store in Portland, Maine, are power bars, chocolates and tea blends infused with seaweed — all items that are easy for those intrigued by kelp to try.
"The downside for kelp is that it's not taking up much space on grocery store shelves or restaurant menus," Rogers says, adding that the current lack of presence makes people skittish to try it, and those who might to be curious often don't know how to cook with it, so they don't buy it.
The thing is, you've likely been eating seaweed derivatives your entire life without knowing it. Various species of kelp are used as emulsifiers or thickeners in foods such as creamers, salad dressings, candies and processed meat, among countless others. These newer value-added products just put seaweed at the forefront.
Beyond getting consumers to consider seaweed, there are other challenges at play, particularly because commercial seaweed farming is lacking certain infrastructure in many parts of the country. Kelp is very perishable — it needs to be processed within 24 hours of harvest.
"[Infrastructure is] the bottleneck that keeps us from really taking off," Angera says. "It's why we [at Springtide Seaweed] focus on ingredients, because extracts and gels and other products like that don't require as much processing infrastructure."
Maine jumped from four farmers producing 15,000 pounds in 2015 to 24 farmers bringing in 325,000 pounds in 2019, much of which is due to the expanded capacity of processors.
Angera's two farms are the largest in Maine, topping out at 35 and 20 acres. Just off the coast, the kelp seeds grow on what are essentially long fishing lines, arranged in rows along the bottom. The lines are planted when the kelp is seed-sized, and they're able to grow dozens of feet long. The average farm in Maine is much smaller than Angera's, coming in at 1,200 square feet or less, though a handful of new three- and four-acre farms have recently sprung up.
The challenge for those wanting to get into consumer packaged goods is needing incredible amounts of product. Angera says he was approached by a major spice company about including dried seaweed in a blend. Exciting, until they said the first order would need 10 tons of dried flakes, which would take 100 tons of wet seaweed to produce. There are no farms in the U.S. currently with the means to do that. Even in Asia, that would be a huge order, Angera says.
But, Angera says, he's optimistic that's a sign of changing tides.
"This is going to be a really important part of how we feed the planet and how we get valuable nutrients, especially as the population grows and with the changing climate," he says.
A brighter (and greener) future
Scheer argues that farmed kelp isn't just good for you, it's also good for the planet.
While there is a growing scarcity of land suitable for growing crops and environmental concerns surrounding farmed animals, neither is much of a concern for kelp. It's non-waste-producing, doesn't require food or fresh water, and it's beneficial for its ecosystem.
Kelp provides both a habitat for fish and helps absorb carbon dioxide (coastal ecosystems can sequester up to 20 times more carbon than land), which helps with counteracting the effects of ocean acidification. In ideal conditions, kelp can grow 18 inches a day. And studies have indicated that when cows are fed seaweed, it could reduce methane production by up to 99 %.
The majority of kelp farmers nationwide are also professionally engaged in other seafood-related commercial activities, including fishing, lobstering and harvesting shellfish in the summer months. Because the growing season for kelp falls over the winter, it could prove to be a new revenue stream for those who already have boating- and water-related skills, but few opportunities in cold-weather months.
"I think this is the kind of opportunity that in 50 years, even 20 years, maybe even 10, coastal communities will look back and say, 'Why didn't we do this earlier?'" Scheer says. "This is the kind of thing that can change the economic trajectory of a region."
Om, nom, nom
At the tail end of Marley's foraging classes, when baskets are overflowing with sea lettuce, golden rockweed and bull kelp, he shows his guests how to enjoy their spoils.
Over a little camp stove, he heats a pot of freshly chopped onion and garlic. When they're browned, he adds water and a good soy sauce, rich in salt and umami. When it's boiling, he adds the just-picked seaweed and a package of dry ramen noodles. When the noodles have softened, he serves bowls of the noodle soup on the gravelly beach.
"I don't think most people know they can do this," Marley says. "But hopefully afterward they feel more connected to their food source. And hopefully they have confidence in themselves to sustainably harvest seaweed again in the future."
But even if they do forget some of the finer points, Marley says not to worry. He offers free follow-up questions for life.