Even before the pandemic brought the Great American Road Trip back to the forefront of America's travel consciousness, motels were making a comeback. But now that more of us are seeing our cars as the gateway to a great vacation, the retrofitted motor hotel is becoming a chic travel staple. From homey spots in big cities with craft cocktail bars and firepits to mountain escapes with waterfall views, restored motels have become as cool as they've been since the 1950s. Here's a look at 11, in cities big and small, that are leading the way.
Vagabond Hotel – Miami, Fla.
Before Interstate 95 took road-tripping snowbirds into Miami, US-1 was the main highway into the city. The stretch leading to downtown is still lined with neon-filled motels of yesteryear, most notably the fully updated Vagabond. The hotel boasts one of Miami's top pool parties, with a swanky bar set next to a mermaid-adorned pool. The Vagabond also boasts Mr. Mandolin, a Greek and Turkish outpost of one of Miami's most popular Middle Eastern eateries. You can enjoy their kebabs, pizzas and mezzes poolside or in your pastel-filled guestroom.
The Dive Motel – Nashville, Tenn.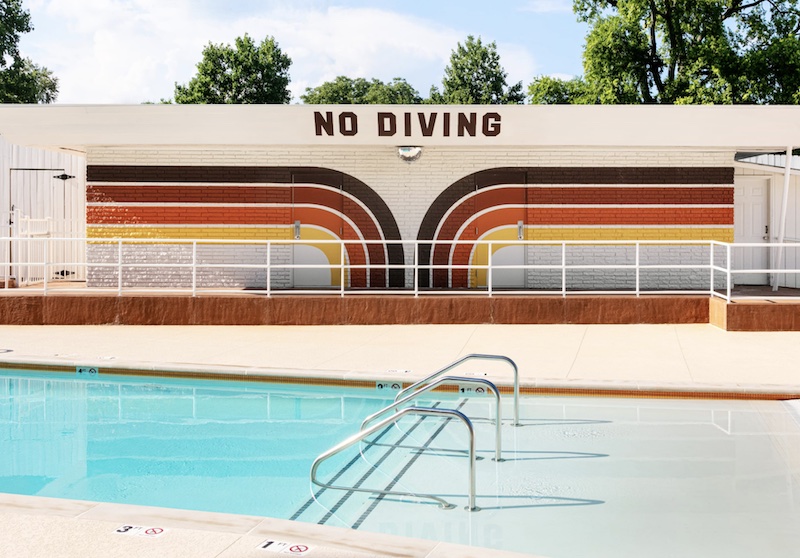 The award for best motel wordplay overwhelmingly goes to this retrofitted motel in East Nashville. It's home to a wood-lined dive bar, where guests can enjoy "cold beer and good times" in vinyl booths that are far less worn than they should be. And it also hosts a public swim club at its spacious pool, where locals can purchase day passes. The scene is part community pool, part pool party, and gives the hotel an on-property social space. The rooms are no falloff either: Each one is equipped with a "party switch" that drops a disco ball and starts a specially curated playlist set for Sex, Drugs, Rock and Roll or Sleep.
Badlands Motel – Medora, N.D.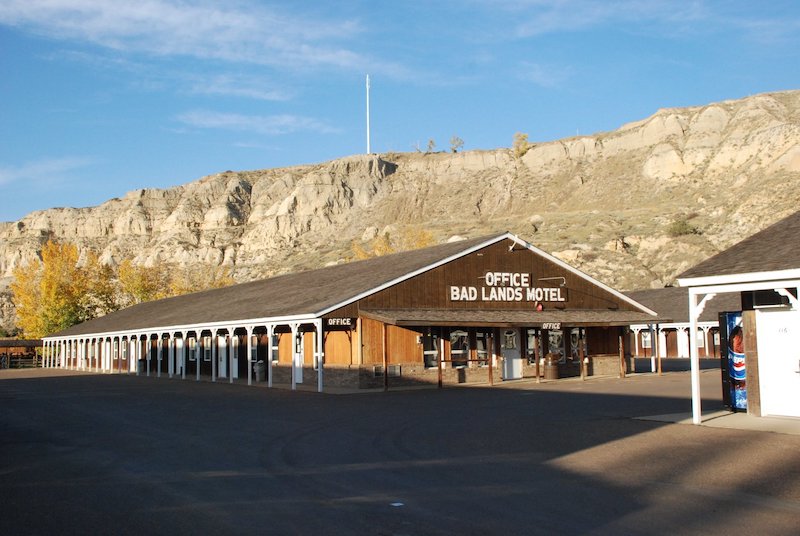 Medora, North Dakota (pop. 134) is the gateway to Teddy Roosevelt National Park. Less than a mile from the front gate you'll find this lifestyle motel, set at the base of a butte overlooking the town and park beyond. Its sun-soaked pool deck is an ideal spot to relax after a long day exploring the park. It offers easy access to the Pancratz Trail, which is a mere 100 feet from the motel, which you can use to enjoy the bluff's panoramic vistas. And how often can you say this: There's also a zipline and mini-golf course right outside your window, and you're only a short walk to the Western-themed streets of Medora.
Blue Swallow Motel – Tucumcari, N.M.
Route 66 has its share of iconic motels, but none has entered the realm of lore quite like the Blue Swallow Motel in Tucumcari, N.M. The place began rather inauspiciously, as an ordinary motor court along a famous highway — that indelible 2,448-mile long "linear village" that was once home to hundreds of similar properties. But over time, it became an unlikely survivor, thanks mostly to one legendary owner and the string of preservation-minded owner-operators that followed, each of whom worked tirelessly in their own ways to keep the spirit of the place alive. Today, the Blue Swallow is an icon that transcends itself: it is an avatar, the platonic ideal of the classic motel, and a spiritual vessel for a fondly remembered way of moving along the highway. See our full story on the Blue Swallow Motel from issue #3 for more.
Downtown Clifton – Tucson, Ariz.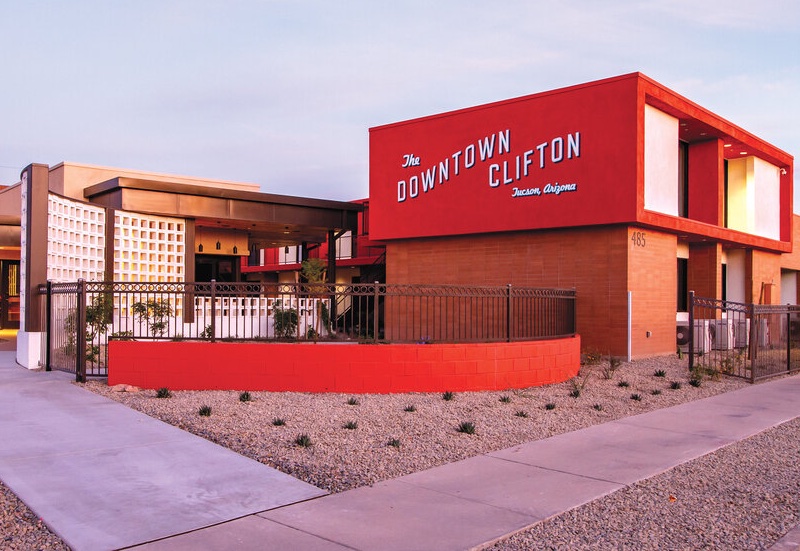 The '50s glam hotel feels like the kind of place where cross-country wanderers would have posted up for a few days of illicit activity on their way west, though the vibe now is completely cleaned up. The renovated buildings offer modern rooms, but lean into original touches like wood beam ceilings, brick walls and concrete floors. Downstairs, the indoor-outdoor Red Light Lounge bills itself as "a neighborhood bar tucked inside a neighborhood hotel," and the vibe makes it a perfect place to kick back with a drink in the early Tucson evening, or later for a nightcap when it turns from hotel patio to local hangout. Red Light Lounge serves local and regional wine and beer, and the food might be the best motel fare in America, with Southwestern specials like sweet potato tacos and green chile mac and cheese on the menu.
Jupiter Hotel – Portland, Ore.
The Jupiter captures the communal feeling of the great American road trip, in the heart of Portland. The rooms are lined with comic book murals and chalkboard walls, giving the place a creative energy that's especially present in the courtyard, where you're likely to run into a traveling regional band, roadies or a smattering of other interesting people partying well into the night. There's also an art gallery and the Doug Fir Lounge, a diner/music venue that draws local crowds on the weekends. The Jupiter concept proved so popular, it spawned a sequel at the Jupiter NEXT across the street.
Skyline Lodge – Highlands, N.C.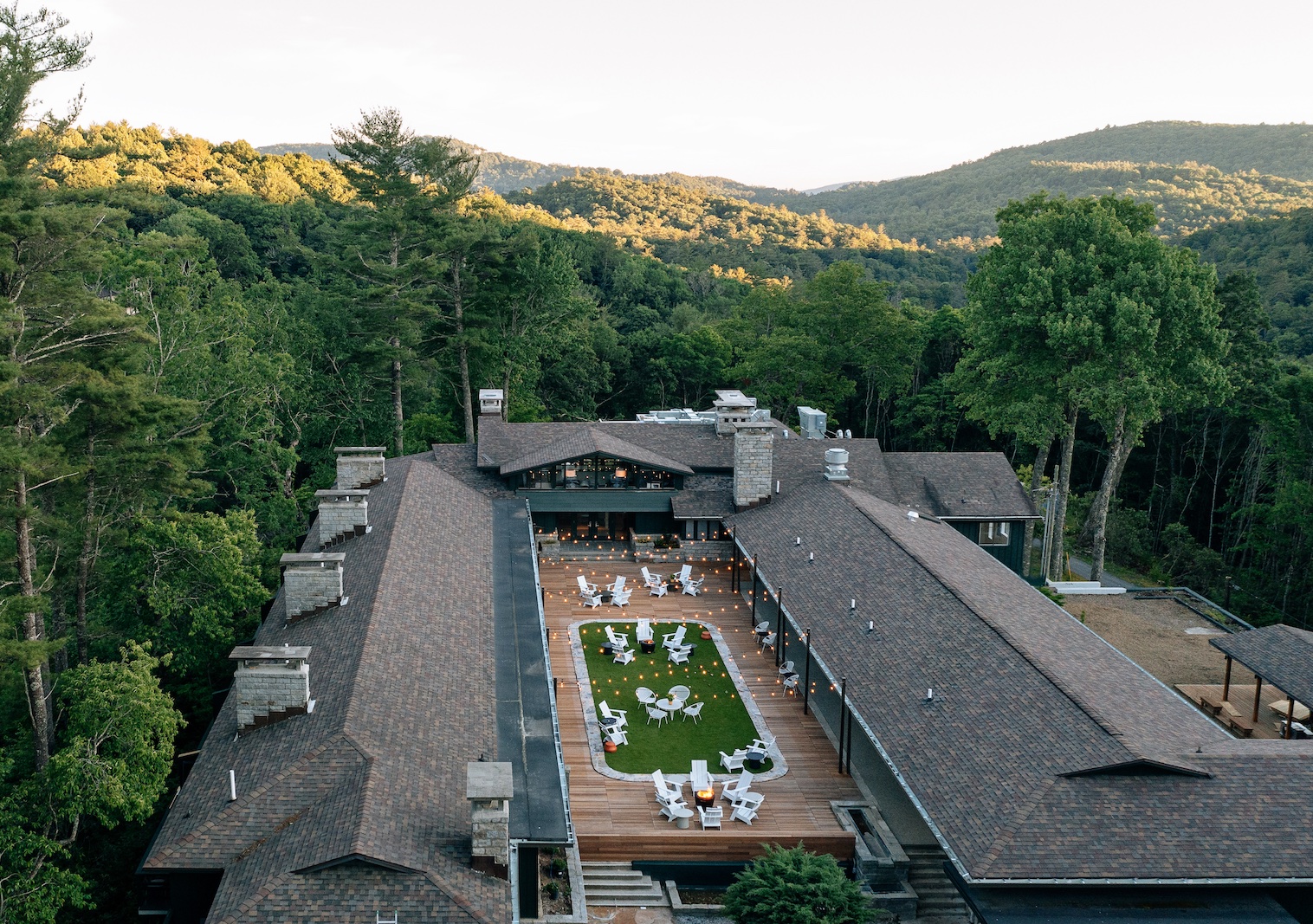 This 1930s motor lodge harkens back to the budget wilderness escapes of childhood, set in the heart of North Carolina's Blue Ridge Mountains. The big, bright lobby boasts views of green hills and cascading waterfalls, while the rooms are filled with reclaimed wood and patios that lead into treetops. The building was designed by Arthur J. Kelsey, who studied under Frank Lloyd Wright, so the lines are sleek and outside seeps inside. The motel is also home to Oak Steakhouse, where you can enjoy a certified Angus steak after a long day in the mountains.
Greens Hotel – Sacramento, Calif.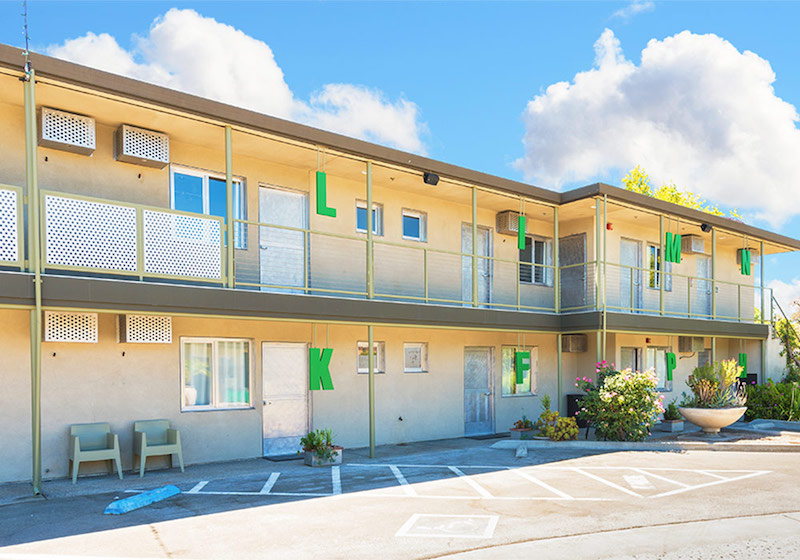 Set in Sacramento's artsy, gritty Del Paso Heights neighborhood, this updated motel offers midcentury furnishings with modern amenities, plus a brewery right across the street. The shady pool area gives guests a welcome respite from the hot Sacramento sun, and the private courtyards offer an inviting place to enjoy cold drinks and meet other travelers. The Greens is also a short ride to Sacramento's scenic American River Bike Trail, and only a few miles from downtown.
Modern Hotel – Boise, Idaho
As Boise cements its place as the Portland of the 2020s, a converted Travelodge seems like the quintessential place to stay. It's become as much a hit with locals as with visitors thanks to its namesake bar, where exclusive cocktails draw an eclectic crowd. The Modern's sunny courtyard also plays a big part in its popularity, serving as a spot for visitors to take in the surrounding mountains with a cold craft beer in hand, then warm up by a fire pit when the sun goes down. "Modern" is a bit of a misnomer, though; while the hotel has present day amenities, the room decor is decidedly 1970s.
Big Texan Motel – Amarillo, Texas
Deep Texas meets the Caribbean along the ghost town façade of the Big Texan Steak Ranch's motel. The Wild West movie set is painted in bright pastels, creating some of the most unusual motel frontage in America. The rooms keep the vibe going, with wood-trimmed everything and swinging saloon doors. It's set in the South of the Border of Texas, too, where you can stroll out of your room and take the 72-oz. steak challenge, or try a craft beer from its onsite brewery.
Red Caboose Motel – Ronks, Pa.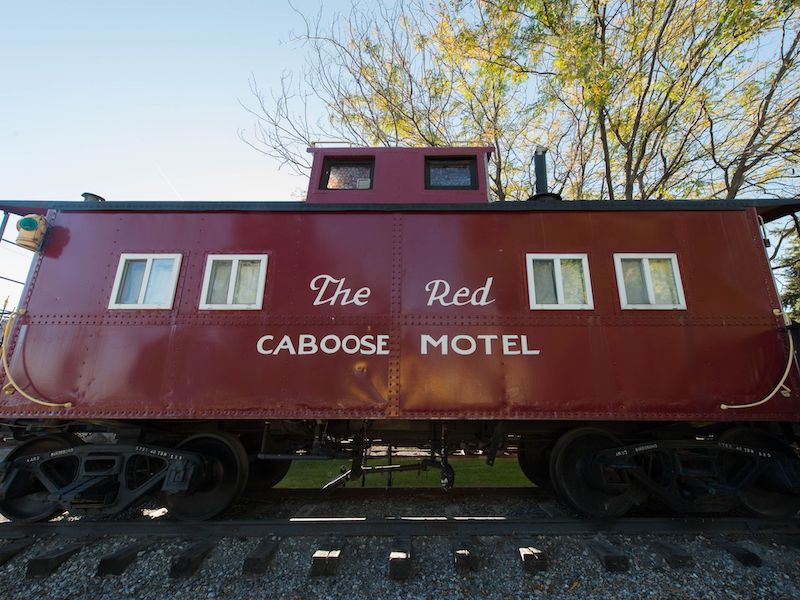 Train enthusiasts would be well served to plan a pilgrimage to Ronks, Pa., where this motel has stung together 38 cabooses decorated in styles of America's great railroads. The rooms range from bunk bed cabooses to a honeymoon caboose with whirlpool, and even offer a mail car and baggage car to complete the motif. Onsite, you'll find Casey Jones' Restaurant, which will fill you up with American comfort food, and possibly leave you with a Grateful Dead earworm for the rest of the night.