As soon as that first bit of crisp air rolls in and tugs a leaf from its branch, I get that familiar, magical sensation. I want to feel pumpkin spice aggressively coursing through my veins. I want to listen to "Autumn Sweater" by Yo La Tengo on repeat. I want to go for a scenic drive on a winding road while hanging my head out of the window like a golden retriever. I exclusively want to eat hearty soups and apples pulled straight from an orchard branch, and I want to jump into a giant pile of red and orange leaves.
Pumpkinphiles across America are keenly aware that fall is the best time to travel, as verdant leaves turn varying shades of yellow, orange and red before the chill of winter sets in. There's fewer crowds, cooler temperatures and lower prices for flights and lodging. Whether you want to see America at its most colorful or are just trying to avoid hordes of tourists, we've raked together a pile of leaves — I mean a list — of some of America's best places to visit this fall. If you've already checked these places off your travel list, look at some of our other favorite fall destinations.
Asheville, N.C.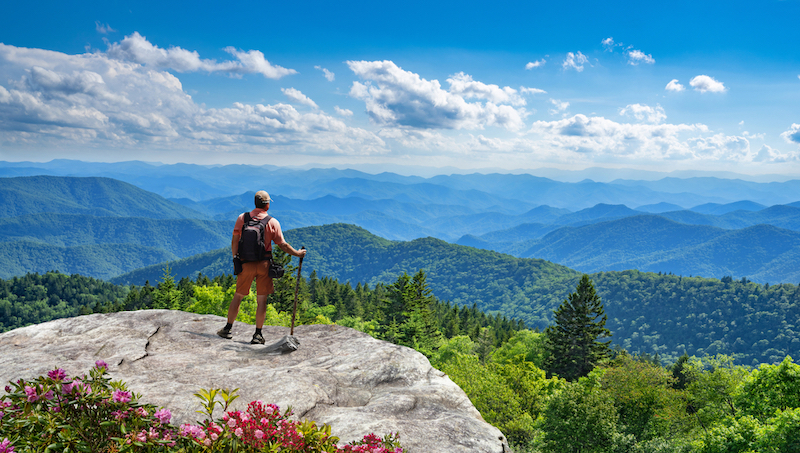 We concurred when Hurray for the Riff Raff sang "my heart is a Blue Ridge mountain" on her 2014 album "Small Town Heroes." Nestled in the foothills of North Carolina's Blue Ridge Mountains, Asheville is one of our favorite places to visit in the fall. With plenty of scenic roads to drive, trails to hike and a bevy of festivals, the picturesque town is a leaf peeper's paradise. Plan to drive part of the Blue Ridge Parkway, a 469-mile all-American road that connects Shenandoah National Park in Virginia to the Great Smoky Mountains National Park. You can see spectacular fall foliage between mile markers 339 and 419, take a hike at Crabtree Falls and check out the Folk Art Center along the way. Visitors can also take in the panoramic views at Mt. Pisgah and Fryingpan Mountain Lookout Tower before taking a short hike through the vibrant Graveyard Fields.
If a stroll is more your speed, head to the Botanical Gardens at Asheville, where you can see the colorful leaves spread across 10 acres free of charge. Fall festivals like the Asheville VeganFest and CiderFest NC are a great way to taste the local flavors. Stop into one of the town's famed breweries, like Rye Knot, sip on a pumpkin ale and chow down on smoked wings.
Aspen, Colo.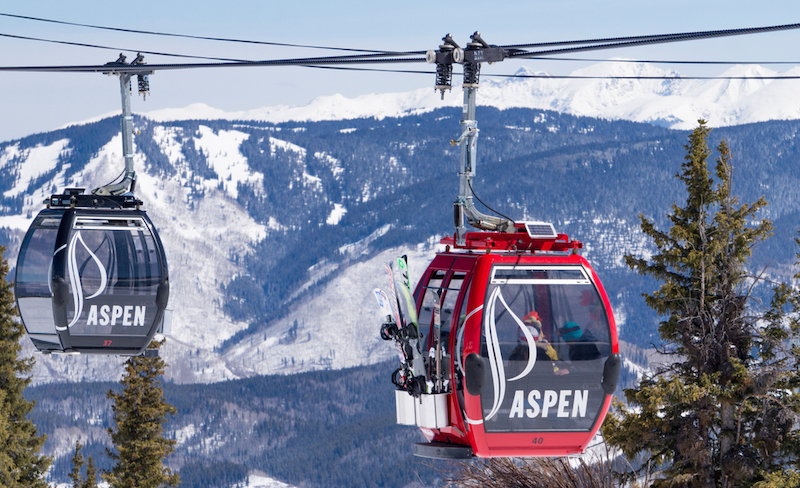 Whenever anyone mentions Aspen, the first thing that comes to mind is winter sports. While there are many first-class slopes in Colorado, Aspen has garnered a reputation as the state's premiere ski destination and a beloved getaway for the rich and the famous. That's why we recommend visiting the centrally located resort town during the off-season when the crowds have thinned and the foliage is at its most majestic.
The region is full of scenic drives, but none so iconic as Independence Pass, perched on the Continental Divide in the Sawatch Range of the Rocky Mountains. Originally known as Hunter's Pass, the road connects Aspen to Twin Lakes and is the highest pass in continental North America, sitting 12,095 feet high. Voyagers can enjoy epic views of alpine lakes, dense forests and plenty of colorful trees along the route. One of the best fall hikes in the area is the Maroon Bells Scenic Loop Trail, an easy 1.9-mile trek near North America's most photographed mountains, Maroon Bells. If you're interested in wandering off the beaten path, visit Ashcroft, an abandoned mining town just south of Aspen, surrounded by lush and vibrant trees.
The Berkshires, Mass.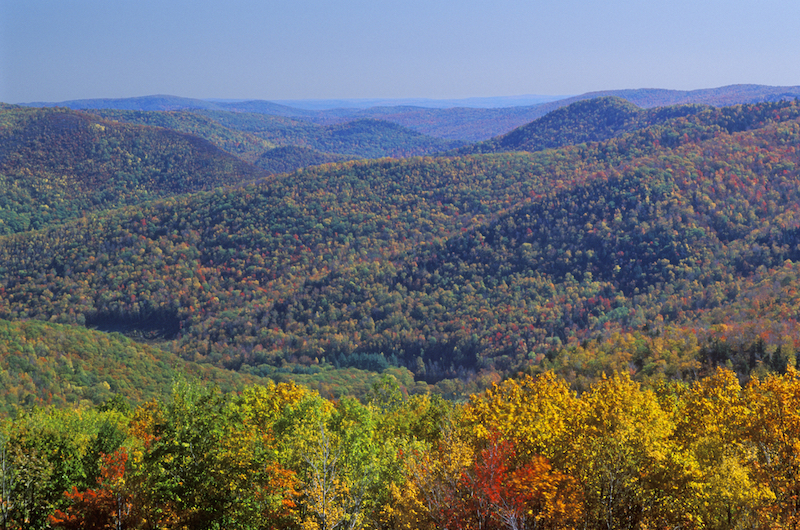 If The Berkshires aren't on your radar, they should be, especially in the fall. Nestled in the Berkshire Mountains in western Massachusetts, bordered by Vermont to the north, New York to the west and Connecticut to the south, the region is known for rolling hills and a broad canvas of multicolored leafage. There are several quaint towns in the area. Still, we recommend focusing your leaf-enamored gaze on Great Barrington, Lee, North Adams, Stockbridge, Pittsfield, Williamstown and Lenox for peak fall festivities. The region boasts several postcard-like roads like Jacob's Ladder Scenic Byway. This 35-mile stretch follows Route 20 and passes through forested groves, sites like the Keystone Arch Bridges, October Mountain State Forest and a portion of the Appalachian Trail where hikers can get their steps in.
The Berkshires are also known for historical spots like the Norman Rockwell Museum in Stockbridge and The Mount, a Lenox landmark and the former country estate of writer Edith Wharton. The ultimate Berkshires fall showstopper is the family-friendly annual Incredible Naumkeag Pumpkin Show in Stockbridge, which runs through the end of October. During the show, the gardens light up with over 1,500 jack-o'-lanterns and gourds you can stroll through while sipping on cider. At the end of a long day, check into The Red Lion Inn in Lenox, a historic boutique hotel circa 1773.
Columbia River Gorge, Ore.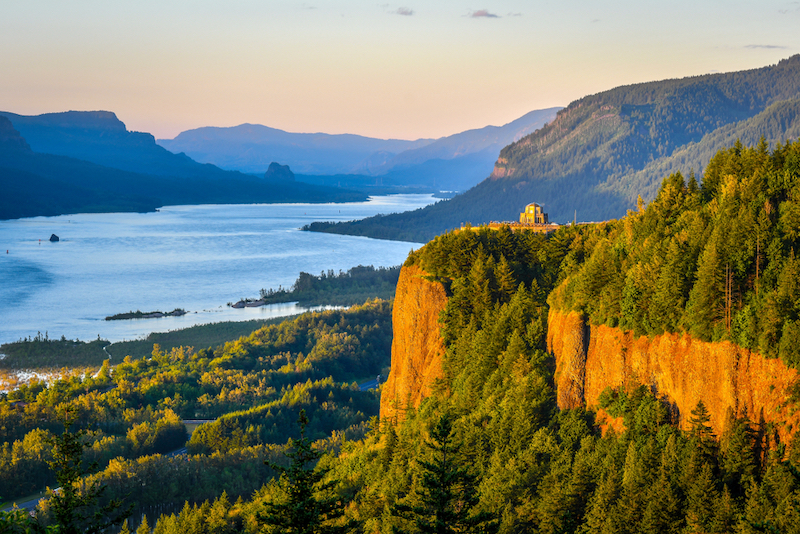 If you are going to see anything in Oregon, make it the Columbia River Gorge. The 80-mile canyon sits along the divide between Oregon and Washington and features extraordinary views of the Columbia River. The best time to visit the Gorge is from late September through late October; its trees put on one of the best fall flora shows in the Pacific Northwest. Start your journey by heading east on I-84 out of Portland — stopping at Sugarpine Drive-In for a seasonal sundae along the way — and you'll arrive in the region in roughly an hour. There's no shortage of leafy hikes in the area, but the crème de la crème is the Multnomah Falls trail, a 2.6-mile out-and-back hike that leads to the namesake two-tier waterfall. Trot across the Multnomah Creek Bridge, listed on the National Register of Historic Places, and gaze at the orange and red foliage surrounding the plunging falls.
The region is also home to the Hood River Fruit Loop, a 35-mile scenic drive that loops around from the Columbia River to the Hood River and back, dotted with local farms, orchards, cideries and wineries. Along the way, stop in at Kiyokawa Family Orchards, the largest U-Pick Orchard in the Mt. Hood valley, and pick some apples straight from the branches or purchase local honey and cider from the fruit stand. Since you're in the Pacific Northwest, don't miss the opportunity to visit the Bonneville Fish Hatchery from September through October to watch as the Chinook and Coho salmon return from the ocean to spawn.
Door County, Wis.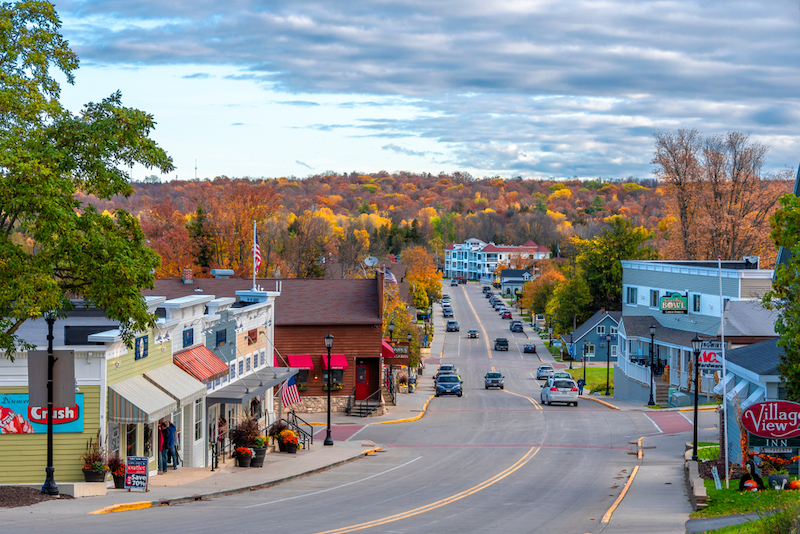 If you've ever dreamt about taking scenic cliffside drives during the peak of fall, surrounded by vibrant foliage and lighthouses, then Door County, Wis., is a-knockin'. Pack your favorite L.L. Bean flannel because you're headed to the jagged peninsula nicknamed the "Cape Cod of the Midwest." Roughly 45 minutes from Green Bay, Door County is dotted with quaint villages and 300 miles of magnificent Lake Michigan coastline. A beautiful place to visit year-round, Door County comes alive in the fall when the weather turns crisp and autumn skies change the hues of leafy trees. Leaf peepers who crave a scenic drive set to the tune of their favorite fall playlist can set out on the Door County Coastal Byway, an official national scenic route where Highway 42 meets Highway 57. Here, visitors can make the day of it and embark on a 66-mile self-guided tour of the peninsula, stopping at all the charming spots along the way.
The region is also known for the signature Door County Fish Boil, a historic ode to the Scandinavians who initially settled on the peninsula. The beloved White Gull Inn at Fish Creek kicks off its boil by cooking whitefish from Lake Michigan over an open fire with small potatoes and salt. After a burst of flames signifies that the meal is ready, the fish and potatoes are served with various sides and Wisconsin craft beers. Foodies looking for hands-on cooking experience can head to the Savory Spoon Cooking School in Ellison Bay and take fall-inspired classes like "That Fall Feeling of Taste" and "Harvest Table Farm Feast." Before wrapping your trip up, head to Newport State Park, an excellent place to view vibrant foliage and Wisconsin's only designated Dark Sky Preserve.
Fishlake National Forest, Utah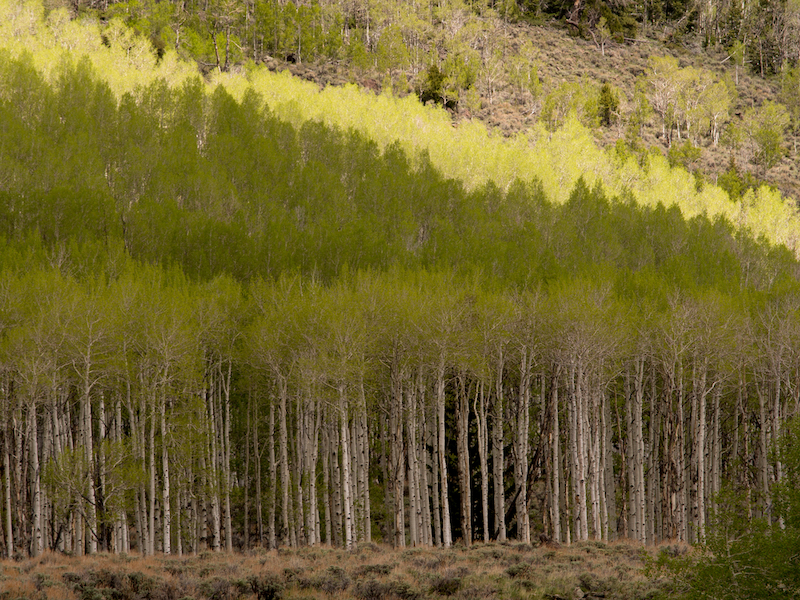 You're here to see the "Trembling Giant," or Pando, a giant aspen grove in south-central Utah. Latin for "I Spread," the Pando grove is a colony of a single quaking aspen tree and one of the oldest and heaviest living organisms on earth, tipping the scales at nearly 13 million pounds. The single root system spans 106 acres of over 40,000 trees at Fishlake National Forest, so all the leaves change color at once. Pando is most vibrant in late September through October, when the entire grove turns a deep and rich shade of yellow, providing a flaxen canopy for visitors to stroll under.
Aside from outdoor recreation, there aren't many activities at Fishlake National Forest, so this fall getaway is best for leaf peepers looking to unwind in the great outdoors. Travelers can book a wide range of cabins at the nearby Fish Lake Lodge ranging from $85 to $645 per night, depending on the size and amenities. Visit Fishlake National Forest for a day or plan a weekend away to spend quality time in Pando — either way, the destination is just an hour and 45 minutes from Salt Lake City.
Leavenworth, Wash.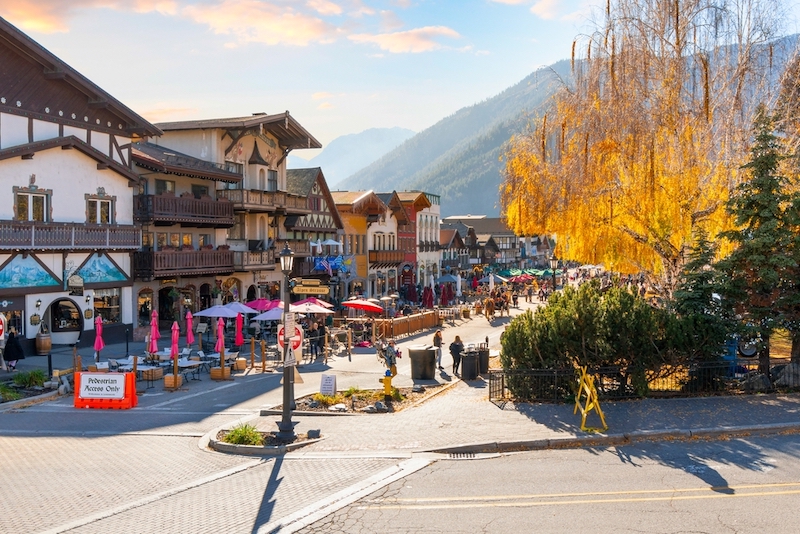 Nestled on the eastern side of Washington's Cascade Mountains, Leavenworth is the premier destination for Oktoberfest devotees looking to sport their dirndl and lederhosen. While the German-inspired town is a beloved Christmas spot, fall is equally stunning as flaxen and orange vegetation illuminates the region. You'll begin your journey by heading west from the Seattle area on Highway 2 through Mt. Baker-Snoqualmie National Forest and into the Wenatchee Valley, sandwiched between towering mountains on one side and a babbling river on the other. There is no shortage of fall festivities in this miniature Bavaria, including hiking, mountain biking and ziplining.
Travelers interested in less action-packed fun can take a horse-drawn carriage ride through Leavenworth's streets or shop at one of the many boutiques before stopping into restaurants like Leavenworth Sausage Garten by Cured for some sausage and imported German beer. That said, the piece de resistance of a trip to Leavenworth in the fall is attending Oktoberfest celebrations. They're as close to Bavarian festivals as you are likely to find outside of Germany. This year, Leavenworth will host two Oktoberfests: the original, which will celebrate its 24th anniversary in the nearby town of Wenatchee, and a second, new Leavenworth Oktoberfest that will take place off the town's bustling Front Street. Both festivals will kick off the weekend of September 30 and run each weekend through October 15. Dueling Oktoberfests sounds like volksmusic to our ears.
Napa Valley, Calif.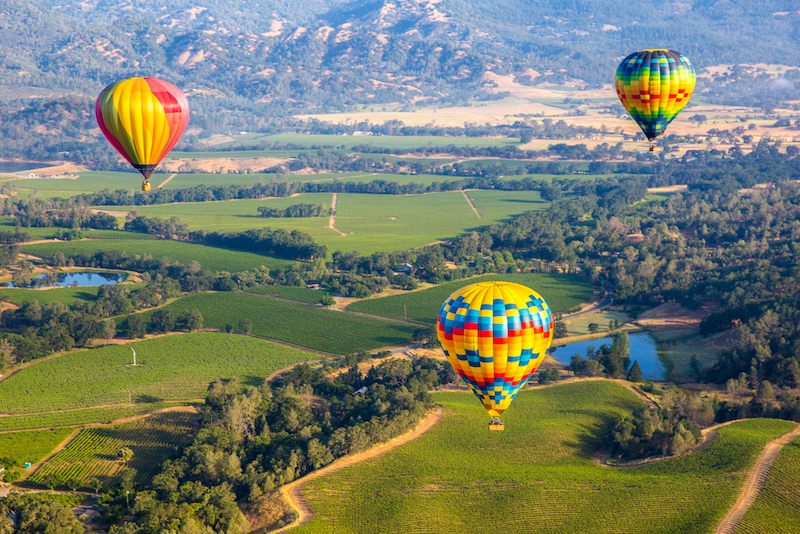 While there's no wrong time to visit Napa Valley, fall is when you'll find it at its most breathtaking. From late August until late October, the region experiences its peak harvest season as the smell of grapes fills the air and the vine-ripened foliage changes to gorgeous shades of yellow and orange. Rent an e-bike from Fat Tire Bike Rentals in downtown Napa and pedal to Yountville's Mill Road to ride under a canopy of golden leaves in mid- to late October. Afterward, ride to Washington Street and stroll down the painterish block, stopping at Thomas Keller's famed Bouchon Bakery to enjoy an apple crumb bun and a coffee.
Napa is also home to several scenic routes experienced best via car, like the tree tunnel on state route 29 between Beringer Vineyards and St. Helena's Culinary Institute of America or the colorful driveway at Far Niente Winery in Oakville. To sip on wine during the pinnacle of the harvest season and take in the valley views, try ZD Wines or Jordan Winery in Healdsburg, where colorful red ivy covers the chateau walls in autumn. Whether you're having Cabernet or Chardonnay, wine pairs best with live music, and no place does it better than Blue Note Napa.
Stowe, Vt.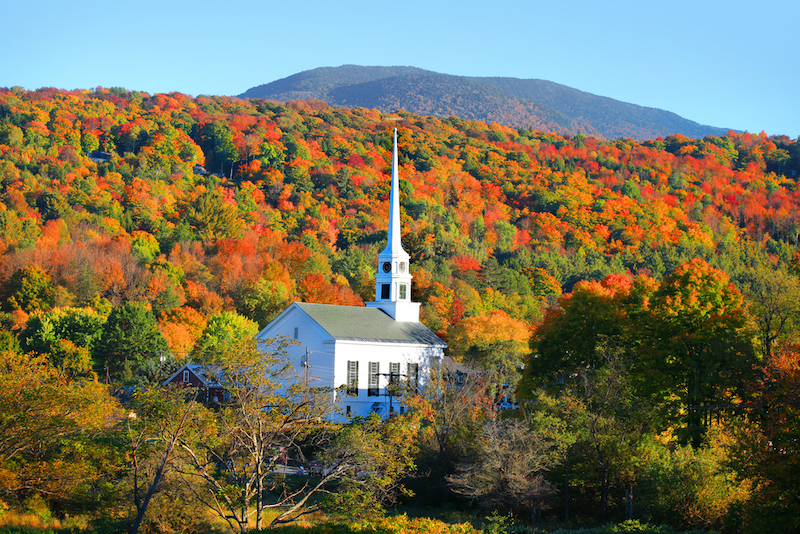 When we dream about the perfect fall getaway, Vermont is always at the top of the list. The state that brought us Ben & Jerry's and Bernie Sanders also happens to be one of the best locations to view fall leaves in America, and the mountain town of Stowe is a spectacular place to stay. Situated just 36 miles from Burlington, the city is nicknamed "the Ski Capital of the East" and is rife with excellent ski terrain at Mount Mansfield and Spruce Peak. The radiant leafage here is second to none, and if you're planning a trip to Stowe, book now (or yesterday), as travelers flock here in droves once October rolls around. Make sure to take a cruise on the Green Mountain Byway between Waterbury and Stowe. The Route 100 road travels through rolling meadows, forests and mountains across the Vermont countryside with the backdrop of red, orange and yellow leaves. If Green Mountain Byway doesn't cut the mustard, check out Stowe's scenic drive guide for some more leaf-peeping inspiration.
The spectacular getaway also boasts no shortage of outdoor activities, including plenty of hiking trails and the nearly five-and-a-half-mile Stowe Recreation Path, perfect for a leisurely bike ride. Elsewhere, Halloween lovers can get haunted on the Stowe at Night Lantern Tour, where they'll carry candlelit lanterns and listen to ghost stories through the end of October. Before returning to reality, stop by the Cold Hollow Cider Mill to try fresh-pressed cider and some donuts.
Taos, N.M.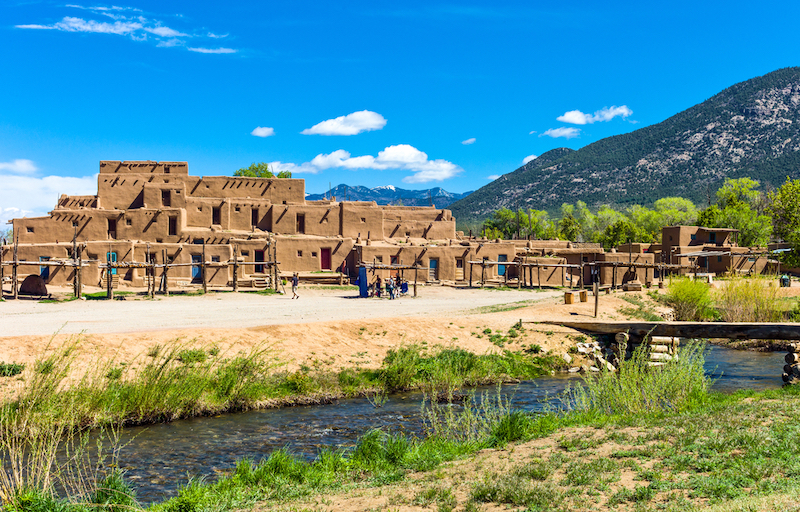 New Mexico may not be the first place you'd think of heading for a fall trip, but autumn is an ideal time to visit the Land of Enchantment — specifically, the high desert hub of Taos. Snuggled in the Sangre de Cristo Mountains, the historic town is great to visit all ski season long, but, if you want to see the changing colors, you'll have to visit in October. This time of year, you're here for outdoor adventure and fall festivals like the Red River Oktoberfest from October 7-9 and the 39th annual Taos Mountain Balloon Rally, where hot air balloons will light up the New Mexico sky from October 28-30.
The region also boasts trails for viewing the changing leaves, like Cruces Basin Trail, a seven-and-a-half-mile out-and-back hike where you can see golden aspen trees. When your legs are tired, head to Angel Fire Resort and take the chairlift up to the summit at 10,677 feet, taking in the stunning views of the Eagle Nest Lake State Park and Wheeler Peak. One of the best ways to enjoy autumn in New Mexico is via the Enchanted Circle Scenic Byway, an 82-mile loop that encircles the Taos ski valley and passes through Angel Fire, Eagle Nest, Questa, Red River and Taos.