New hotels are sexy and all, what with their fresh paint and as-yet-unstained carpeting. But new doesn't always mean cool, because establishing a rep like that takes more than just a fresh face. Sometimes it takes decades of history, celebrity guests and local legendmaking to deem a hotel cool. Other times it's imaginative use of old spaces like train stations and sharecroppers' shacks, or filling your lobby with quizzical contemporary art. Whatever the cause, certain hotels just emanate cool, and here are 13 around America that'll have you considering a trip just to stay there.
Amangiri – Canyon Point, Utah
If you've ever dreamed of posting up in the middle of the vast red rocks in the Utah desert, but aren't into stuff like "camping" or "sleeping without an on-call masseuse," this resort is absolute heaven. Aman's ultra-luxe resort is a bastion of five-star pampering in a totally remote desert. It sits on 900 acres of undeveloped land, but it might as well be 10,000, as laying out at the 50-foot infinity pool and sipping a cocktail is the ultimate juxtaposition of modern and prehistoric. It offers easy access to water sports in Lake Powell, and on-land recreation hiking through the colorful cliffs. When the sun goes down, stargazing by the fire pits is as mesmerizing as it is cozy.
Crowne Plaza Union Station – Indianapolis, Ind.
The glory days of train travel live on at the converted Union Station in downtown Indianapolis, a grand structure that was the first of its kind when it opened in 1888. The intricate Gilded Age architecture has been stunningly restored, best appreciated when enjoying a drink at the bar in the grand hall where wagon windows, porticos and elegant ceilings recreate a bygone era. Statues of conductors and other rail workers dot the lobby, and Pullman cars on actual tracks double as the Crowne Plaza's most coveted rooms. For railway enthusiasts, it's destination travel at its finest.
FlopHouze – Round Top, Texas
A model of starry-skied sustainability, FlopHouze is a collection of repurposed shipping containers set on a sprawling ranch between Austin and Houston. But these rooms are far from simply spending the night in an aluminum shell. They're small luxury homes filled with weathered wood, cushy couches, kitchenettes and floor-to-ceiling windows on either end. Many houses offer private patios, perfect for laying out and enjoying the big, bright Texas stars. Groups can also opt for the 10-person FarmHouze or the two-bedroom BeachHouze, complete with private jacuzzi.
Goodtime Hotel – Miami Beach, Fla.
While the Fontainebleau is certainly rich in history and musical lore, to truly understand Miami in 2022, head a little south to the Goodtime Hotel. The place is a livable Instagram museum, where every aesthetic detail has been attended to from the books in the picture-perfect library to the metal palm trees by the pool. It's a dream of pink and pinstripes, and the co-ownership of Pharrell Williams and Miami club owner David Grutman ensures the rooms are filled with celebrities and the pool parties helmed by top DJs. The onsite restaurant Strawberry Moon makes a mean chicken kebab too, and its monthly poolside full moon dinners are one of the best outdoor dining experiences in America.
The Grand Hotel – Mackinac Island, Mich.
It's become cliché to say this stately hotel between Lake Heron and Lake Michigan transports you back in time, especially since it was literally the setting for a movie called "Somewhere in Time." But the throwback aura at the Grand isn't just from the horse-drawn carriages that traverse the island. It's from the white columns along the longest covered porch in the world, or the elegant dining room service that's inspired cruise ships the world over. Sure, the floors might be a little uneven and the walls might as well be made of Cheerios boxes, but with an updated pool deck and an offsite restaurant that feels like dining in a woodsy fairy tale, you won't spend much time in your room anyway.
Hotel Donaldson – Fargo, N.D.
The windswept prairies of Fargo hardly seem like the setting for anything that would be considered cool, other than the weather. But this downtown hotel offers one of the most unique collections of rooms anywhere in America. Each suite is the creation of a different artist, meaning you might find Asian-inspired pottery lining the walls in one room, and colorful Impressionist paintings in another. Each is full of exposed brick and beamed ceilings, giving them an industrial chic touch. You'll also find Fargo's best rooftop bar at Sky Prairie upstairs, and though its popular cocktail lounge recently shut down, word is it'll be replaced with an Irish pub soon.
Liberty Hotel – Boston, Mass
The irony of the name isn't lost on many, as this Beacon Hill hotel was once the Charles Street Jail. The 1851 structure is an imposing granite palace, though the place has been spruced up a bit since it was declared unfit for human habitation in 1973. Now, rooms are set in a modern cell-block arrangement around a 90-foot atrium, where redbrick walls, arched windows and plenty of bars pay tribute to the building's past. You'll learn the hotel's history during Wednesday afternoon tours, then dine next to a cell door at seafood-heavy Clink. The late-night bar, Alibi, is set in the jail's old drunk tank. And if hanging out in jail starts making you stir-crazy, the Liberty lets you leave on one of its loaner bikes. Just make sure you return it.
McMenamins Kennedy School Hotel – Portland, Ore.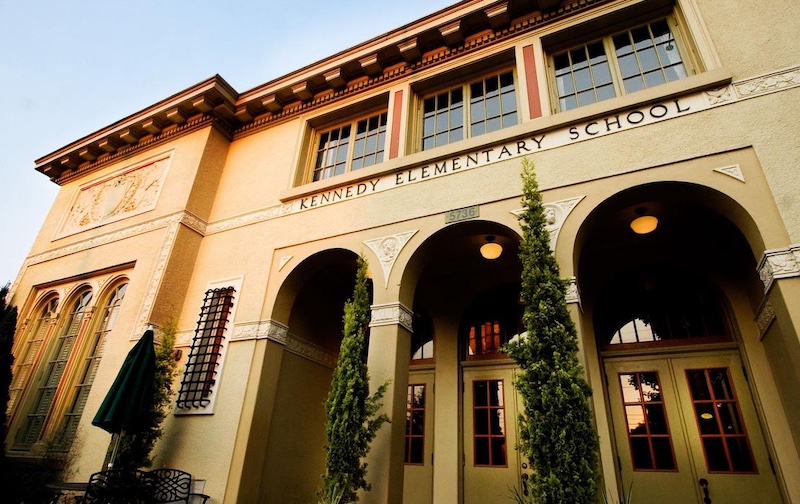 Though McMenamins has done their high school rehab routine on a number of properties now, the coolest is still the OG in northeast Portland. Rooms in the main building are set in converted classrooms, and the new English Wing rooms are themed after works of English literature. You can watch movies in the old high school gym, have drinks in the boiler room or eat in the onetime cafeteria. There's even a brewery in the old girls' bathroom, and a detention-themed cigar bar
Nativo Lodge – Albuquerque, N.M.
Nobody has ever done more in the history of offramp chain hotels than the owners of the Nativo did with an old Wyndham off I-25. The 14-foot shaman who stands over the lobby is a good indication you're in for a trippy experience when you check in, but booking one of the 60 Artists Rooms is a cool hotel experience unlike any other. Motifs range from the obvious desert scape and traditional Hopi designs to more avant garde stuff like the Edd Sisters' spaceship theme and Kayla Shaggy's Sixth World.
Old Victorian Mansion – Los Alamos, Calif.
The Vick — as it's called — is a true work of art, where murals, intricate furnishings and detail-heavy themed suites combine to create individual escapes into other times and places. The 1950s suite features a '56 Cadillac parked in front of a screen for a private drive-in experience. The wood-walled pirate suite gives guests a treasure map to the bathroom, cannons and a captain's chest filled with gold. Other suites are themed to Ancient Rome, Egypt and France, and the hotel offers spa and wine tasting packages in Santa Barbara. The entire project took nearly two years to complete — longer than it takes to build a 300-room Marriott. 
The Shack Up Inn – Clarksdale, Miss.
For blues fans, no hotel in America matches the immersion you'll find at this funky hotel deep in the Mississippi Delta. The birthplace of the blues is also home to this collection of updated sharecroppers' shacks where you'll live like a real bluesman — albeit a bluesman with AC and cable. Spartan rooms are anointed in period detail to the early 20th century, and the hotel also boasts its own live blues venue at the Juke Joint Chapel and onsite gin bar. It's only a few miles from the famous Crossroads, and sits a stumbling distance from more blues clubs like Ground Zero or Red's Lounge.
TWA Hotel – New York, N.Y.
If you flew through JFK on TWA airlines, back when TWA airlines was a thing, you most certainly went through the airline's neo-futurist flight center. While the airline is long gone, its terminal lives on as the coolest airport hotel on the planet, transformed into a 512-room property complete with the biggest hotel gym in the world. The hotel is a treasure chest of flying nostalgia, from the onsite museum exhibits to galleries of vintage travel posters. There's a cocktail lounge set inside an old Lockheed Constellation, and an entire flight center filled with restaurants and retail. Staying at the airport never felt so cool, especially if you're old enough to remember when TWA rules the skies.
The Wave Hotel – Lake Nona, Fla.
This high-tech hotel just outside Orlando is more than just a showcase for hospitality gadgets. Sure, its glass panels change color depending on the sunlight, and you can turn up the AC in your room before you get there via a useful app. But it's also got an astounding collection of modern art, so you can enjoy craft cocktails on a sideways couch or work on your tan in a shady sculpture garden. Additionally, the Wave offers access to the Lake Nona Performance Club, a 130,000-square-foot fitness facility with a climbing wall, golf simulator and group glasses galore.