I absolutely love to travel and I absolutely hate flying. Unless you've been living under a rock for the past three years — or in a lovely place you never want to leave, like Hawaii — you've likely noticed a major shift in airplane travel. Canceled and delayed flights, lost luggage, a $14 breakfast sandwich that's ice cold in the middle and never-ending TSA lines are just the tip of the iceberg.
Emerson once said, "It's not the destination, it's the journey," and while I definitely believe it is in fact the destination, a peaceful and stress-free journey sets a great precedent for what's to come. Luckily, America has tremendous, albeit highly underrated, train routes. While our train system may not be as sophisticated and ultra-fast as what you'd find in Japan, trains are a tried and true way to get to where you're going and allow passengers to take in the scenery along the way. Below, we've rounded up a list of the most scenic train routes in the country. From long routes that snake down the West Coast to shorter trips through celebrated regions, America has no shortage of bucolic and serene vistas to see via train.
Alaska Railroad Coastal Classic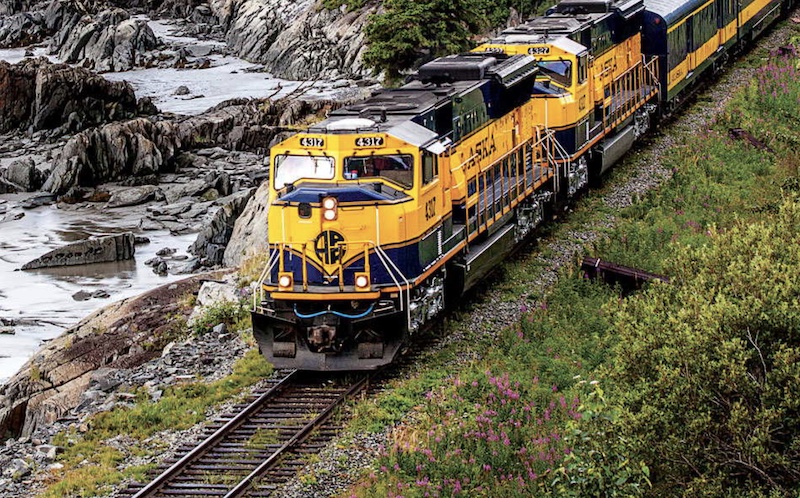 If you're looking for scenic trains and an unparalleled way to explore the Last Frontier, it doesn't get better than the Alaska Railroad Coastal Classic. Widely considered to be one of the most beautiful train routes in America, the four-hour ride sets off south from Anchorage, hugging the coast around Turnagain Arm waterway and briefly stopping in Girdwood. The journey continues through the thick hinterland of Kenai Peninsula before pulling into Seward on Resurrection Bay in the late morning. Spend the day exploring the port city or explore Kenai Fjords National Park before returning to Anchorage later in the day. You can book a trip on the Alaska Railroad Coastal Classic between May 13 and September 25 this year. 
California Zephyr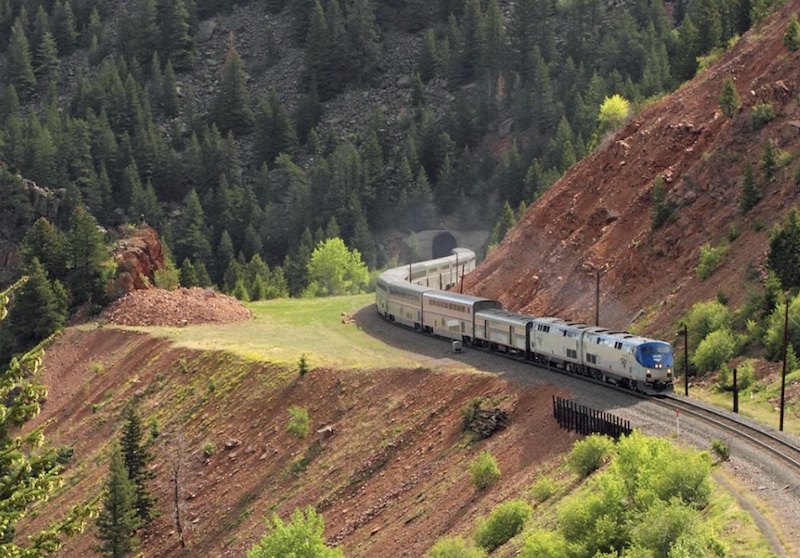 As you cruise along Amtrak's California Zephyr route from Chicago to Emeryville just outside of San Francisco, take a moment to appreciate that you are on one of the most iconic train rides in North America. First run back in 1949, the California Zephyr is a 51-hour trip through the heart of America that covers a plethora of terrains. After making its way through Illinois and Iowa, the train travels across Nebraska's vast plains and into northern Colorado, where it crosses the Continental Divide by way of the Moffat Tunnel. The Zephyr then heads into Utah through Salt Lake City and into Nevada through Reno before chugging along into California. A ticket aboard the train ensures you'll be able to enjoy the Rocky Mountains, Sierra Nevada, Utah's breathtaking Red Rocks and majestic views of the Golden Gate Bridge only rivaled by the "Full House" intro.
Cape Cod Central Railroad Coastal Excursion
Each year from May through October, the Cape Cod Central Railroad Coastal Excursion (say that three times fast) ferries passengers from Hyannis and West Barnstable on two- and three-hour voyages to marvel at the splendor of Cape Cod. The scenic train passes by colorful cranberry bogs, pristine New England landscapes and through miles of woodlands before a one-hour stop at Cape Cod Canal. Along the route, you will learn about the history of Cape Cod via a local narrator while enjoying a lunch, sunset dinner or Sunday brunch. 
Coast Starlight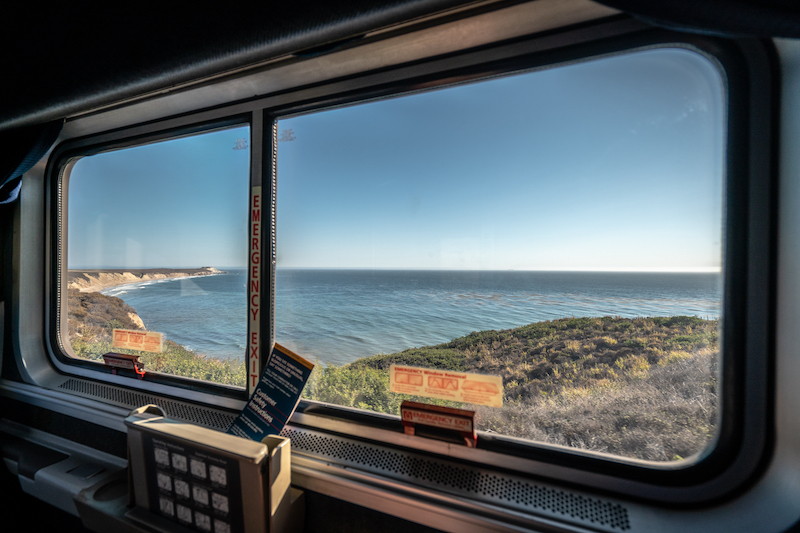 Amtrak's Coast Starlight route is the elevated version of your fantasy West Coast road trip. Sure, the idea of riding down Highway 1 in a convertible with your best friend sounds appealing now, but wait until you're faced with traffic jams that last hours, frustrated drivers and portions of the road that are closed due to unforeseen factors like mudslides. Instead of begrudgingly stress eating corner store candy and turning around, opt for the 35-hour train ride between Los Angeles and Seattle — a 1,377-mile journey that makes stops in Santa Barbara, the Bay Area, Sacramento and Portland. The train runs continuously with daily routes between the two West Coast hubs and has a sightseer lounge car with floor-to-ceiling windows so you can enjoy uninterrupted views of sweeping shorelines and mountains. Look out for stunning sights like the beaches of San Luis Obispo, Mount Shasta, Crater Lake and the Cascade mountains along the way.
Empire Builder
You can fly between Chicago and Seattle in less than five hours, but then you'd be missing out on a cinematic voyage aboard Amtrak's Empire Builder. Trains run daily between the two cities, traveling 2,206 miles along a route that largely follows the Lewis and Clark Trail, pushing through the backcountry of the Great Plains and into America's west. Along the pioneering route, you'll travel over the Mississippi River and through Minneapolis, North Dakota and Montana's big sky country into the Glacier National Park area. Once you cross the border into Washington, you have the option of moving on to Seattle or traveling south by way of the Columbia River Gorge into Portland. You'll spend plenty of time having a main character moment while you gaze longingly out the window, but we recommend reserving a sleeper car for the 46-hour trek.
Grand Canyon Railway
On this two-hour-and-15-minute trip, you'll depart the quaint town of Williams and travel through Ponderosa pines, high desert and verdurous, open prairie of Arizona before arriving at the bustling South Rim of Grand Canyon National Park. Since 1901, the Grand Canyon Railway has been chug-a-lugging through the Copper State, using the same historic rail cars they started with, though they've since been restored. You can now ride in the Observation Dome — a glass-enclosed streamliner — to take in the sights and glimpse wildlife like bald eagles and elk. The scenic train also has Western musicians and characters that will narrate your journey until you're dropped off. After roughly three and a half hours of exploring the arid trails and colorful rocks at the Grand Canyon, you'll head back to Williams via the railway. We recommend checking into the Grand Canyon Railway Hotel when you arrive and exploring Williams and the historic Route 66. 
Great Smoky Mountains Railroad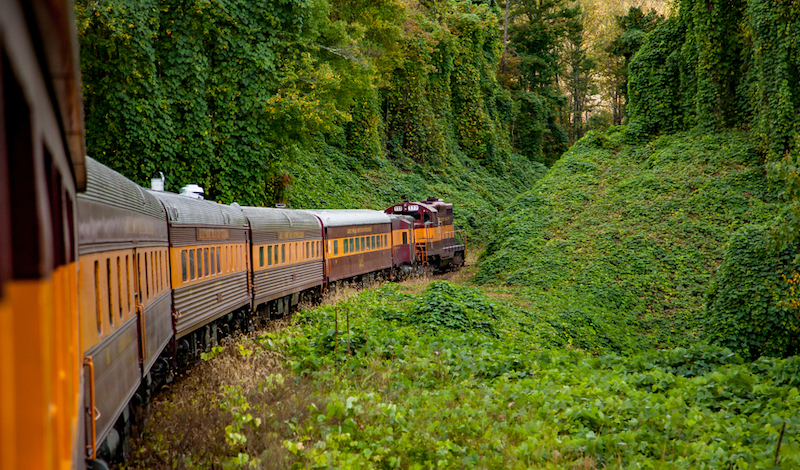 When the leaves of North Carolina's rolling hills turn from green to varying shades of red, orange and yellow, it's time to take a trip along the Great Smoky Mountains Railroad. Trains here run year-round, but we recommend hopping aboard in the fall when leaf-peeping is at its prime. There are two main excursions offered here: the Tuckasegee River Excursion and the Nantahala Gorge Excursion, the latter being a favorite among tourists. The 44-mile trip leaves from Bryson City and follows the Nantahala River, traveling through surrounding forests that give way to breathtaking views of Fontana Lake before arriving at Nantahala Gorge. If you can't make it during fall, spring for the Carolina Shine Moonshine Experience, a zhuzhed-up trip to Nantahala Gorge on a copper-lined train car where you'll learn about North Carolina's moonshining history, taste a variety of fruity 'shines and feast on local barbecue.
Hawaiian Railway Society
While visiting Oahu is enough cause for celebration, taking a trip on the Ewa train via the Hawaiian Railway Society is an added bonus and a fantastic way to learn more about the tropical history of the island. At just two hours round-trip, the fully narrated voyage is a low-commitment way to take in sights on Oahu beyond Waikiki and Honolulu. You will hear stories about the Oahu Railway and Land Co. and learn about the sugarcane trains that were once used on the island before passing through the ghost town of Gilbert and taking in the Pacific Ocean at Kahe Point. The train runs every Wednesday, Saturday and Sunday. On the second Sunday of each month, you can also take a ride in a parlor train car circa 1900.
Sunset Limited
Since 1971, Amtrak's Sunset Limited train has rolled along America's southernmost route between New Orleans and Los Angeles three times per week. During the 48-hour trip, passengers can take in stunning views of America's colorful Southwest while passing through the Louisiana bayou, the Texas Hill Country, Big Bend and Saguaro National Parks, expansive New Mexico and Arizona deserts and the infamous Coachella Valley. After 1,995 miles aboard the train, check out some of our favorite Los Angeles foodie hotels.